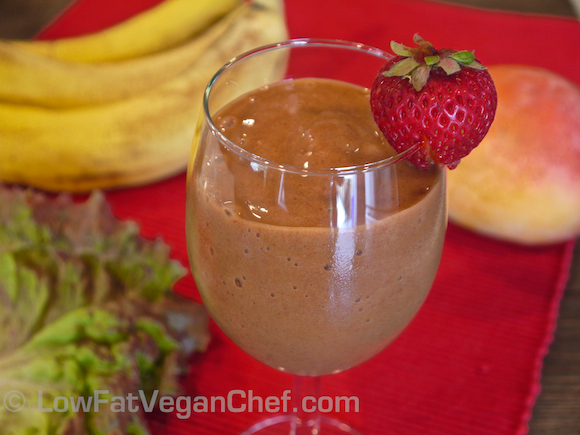 So last week I launched my new ebook 'Simply Decadent Smoothies' as part of my combo recipe package with 'Savory Raw Dinner Recipes' and 'Comfort Soups To Keep You Warm' and gave it away as a free bonus.
The combo package was incredibly popular, but a few of you wanted to know if you could get just my smoothie ebook if you had already purchased one or more of the other products before. So I just wanted to let you know that  'Simply Decadent Smoothies' is now available at a special discounted price here.
Today I'm going to share with you a tasty new green smoothie recipe that is featured in the recipe ebook. Often people have a hard time finding enough green smoothie recipes that they like and that contain different greens so they are not just eating the same ones all the time like baby spinach.
So because I have a few greens growing in my garden (like leaf lettuce, Swiss chard, kale and spinach) I like to at least rotate through those ones and think up new combinations that work well while masking the taste of the greens with sweet fruit.
This green smoothie recipe features banana, mangoes, strawberries and red leaf lettuce and looks more of a burnt orange color than green for a typical green smoothie recipe.
So let's check it out:
Raw Vegan Strawberry Banana Mango Green Smoothie
Serves 1
Ingredients:
2 ripe bananas
1 ripe mango (flesh only)
2 cups whole strawberries (fresh or frozen)
1 handful of red leaf lettuce or other mild green
1/2 cup of water
Directions:
Place ingredients into VitaMix or blender in order listed. Blend on medium speed and use the tamper (if necessary) to push the lettuce down until they are incorporated. (If you have a regular blender you may want to chop the lettuce first into smaller pieces.)
Garnish with a fresh strawberry and serve!
What do you think of this smoothie recipe? Have you ever used red leaf lettuce in a green smoothie?
For more delicious smoothie recipes check out:
Simply Decadent Smoothies
Over 50 raw fruit and green smoothie recipes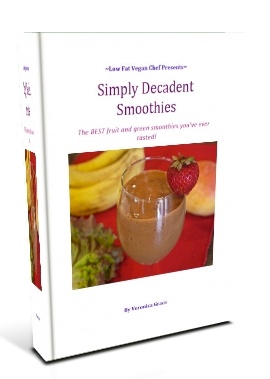 In this 46 page ebook, you will discover:
What tools are necessary to create the best tasting smoothies
How to tell if your fruit is ACTUALLY ripe
How to design your own fruit smoothies that taste great every time
How to design your own green smoothies that taste great every time
How to make your green smoothies more appetizing and attractive
25 delicious raw and vegan fruit smoothie recipes
26 delicious raw vegan green smoothie recipes