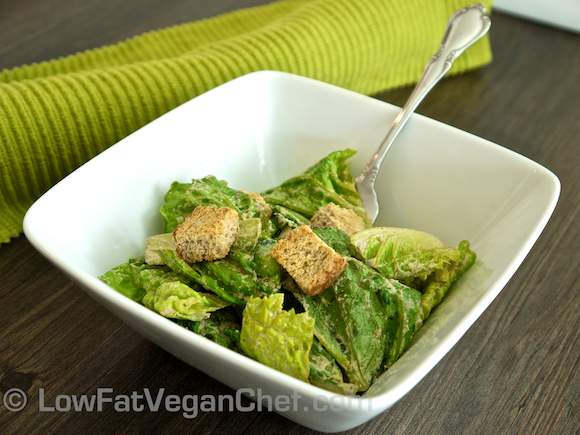 Today I have the PERFECT savory salad recipe that I want to share with you. This raw vegan Caesar salad dressing probably my most requested dressing recipe. My friends and family cannot get enough of it. Whenever I make it for potlucks (even for omnivorous barbecues) it's the FIRST salad to be devoured and people can't stop raving about it.
They don't care that my dressing is oil-free, dairy free, or vegan, they just know it's freaking delicious and they want to know how they can get the recipe!
Well I don't usually give away my top secret recipes, aside to my close friends, but I wanted to share this recipe with you today.
I don't know if you've ever made your own Caesar salad dressing at home before, but there's one ingredient in traditional Caesar dressing that just grosses me right out.
Do you know what it is?
Anchovies!
I know… who wants to eat blended fish in a salad dressing…
But this recipe is very close to tasting like a traditional Caesar salad dressing. There is one key ingredient that makes my version very tasty and savory.
It's miso paste and this gives it that strong tangy flavour that vegan Caesar dressings are sometimes missing.
You can buy miso paste at the health food store or asian markets. There are many different types of miso, but my favourite for salad dressings and gravies is Genmai (Soy and Brown Rice) Miso Paste. You can also use miso paste to make Japanese miso soup or other sauces. If you don't have access to miso locally, you can also get it from Amazon, so don't worry. *For a soy free version I have now seen CHICKPEA based miso sold in glass jars at the health food store. So definitely check that out too.
Check it out below. I know you are going to love it 🙂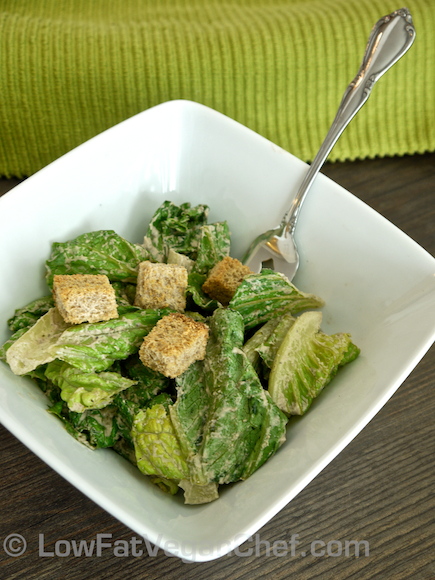 The Best Raw Vegan Caesar Salad Dressing/Dip
Yields about 1 cup, which covers more than 2 heads of romaine hearts chopped.
Ingredients:
1/4 cup raw cashews (or raw sunflower seeds)
1/8 cup raw sesame seeds (or raw pine nuts) or 2 tbsp tahini
1/8-1/4 cup sunflower seeds (depending how thick you want it)
3-4 tbsp freshly squeezed lemon juice
1-2 medium cloves garlic, chopped
1 1/2 tsp mild miso (I use Genmai soy and brown rice miso)
1/4 tsp kelp granules or other seaweed seasoning *optional
1/2 tsp of dried dill
2 dates or 1-2 tsp agave or other liquid sweetener
1/2-2/3 cup filtered water (to thin as desired)
freshly ground black pepper to taste
Directions:
Using a hand blender or in a regular blender, combine all ingredients(starting with 1 date or 1/2 tsp agave nectar) and purée until very smooth.
Taste test. Add additional dates or agave nectar, garlic or lemon if desired to achieve the taste you are looking for.
Add additional water to thin dressing if desired.
Additional Tips:
This dressing will thicken after refrigeration; you can thin it by stirring in 2-3 tsp water if desired. When thick, this dressing can be used as a veggie dip.
Cashews are higher in fat than sunflower seeds, so it's up to you which you would prefer to use. Cashews will yield a creamier dressing, but be higher in calories.
Do you love Caesar salad? Have you ever tried a vegan version?