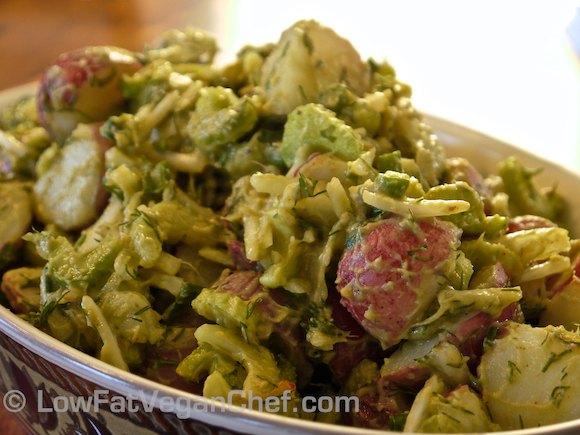 Now that it's Spring and some of us are thinking about barbecuing, picnics and potlucks, I thought it was the perfect time to dig out this recipe I haven't yet shared with you. It's a delicious twist on potato salad using avocados instead of mayonnaise. I'm sure many of you have loved potato salad and often enjoyed it in the summer with your families. But traditional potato salads are really rich and not very healthy because of the mayonnaise and sometimes eggs they contain.
This version of potato salad is much better for you and is packed full of flavour. I particularly love the addition of celery and dill to this potato salad recipe. In fact, I'm sure it will become a family favorite and you'll no longer crave the store bought kind.
I like to use baby red skinned potatoes for this, but you can use whatever waxy potatoes you like. Leave them skinned, or peel them your choice! Since mashed avocado is perishable you'll want to eat this recipe the same day or the next day for best results. Enjoy!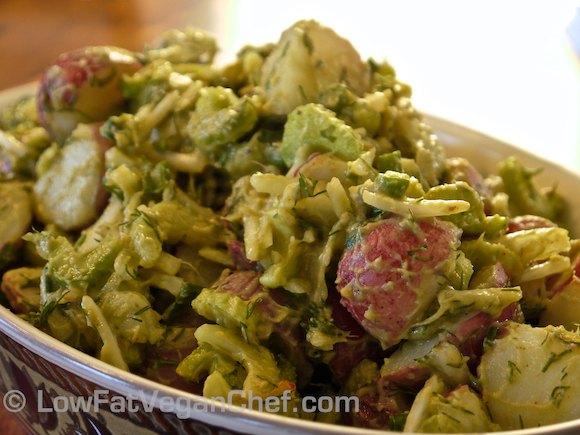 Vegan Avocado Dill Potato Salad
Serves 4-6 side servings
Ingredients:
2 lbs/908 g small baby red skinned potatoes (or other potato of choice)
3 stalks celery, trimmed and sliced
1/2 white onion sliced and diced
1 Large ripe avocado (should be soft and give to pressure)
2 tsp lemon juice
1 1/2 tsp honey, maple syrup or liquid sweetener *optional
1 tbsp dijon mustard
1/4 tsp smoked paprika
1/2 teaspoon herbamare or salt *or to taste as desired
Freshly ground black pepper to taste
1/3 cup dill, packed and then chopped
1/2 bunch green onions/spring onions, sliced (top green parts only)
Directions:
1. Wash potatoes and cut out any bad spots or eyes.
2. Steam, or pressure cook the potatoes gently until they are just fork tender through the centre, but al dente. Immediately run the potatoes under cold water to prevent from cooking further.
3. For best results, refrigerate cooked potatoes for about an hour until cool. (This ensures they don't fall apart when slicing)
4. Quarter the potatoes and peel if desired.
5. Peel and mash the avocado in a small bowl. Add lemon juice, and seasonings (except fresh herbs) and stir into avocado to create a dressing.
6. Turn potatoes into a large bowl. Add the fresh herbs and avocado dressing. Toss gently until everything is coated. Taste test and adjust seasonings if desired.
7. Serve or refrigerate until needed. Best consumed same day, or next day (as the avocado changes color and breaks down quickly)
What's your favorite addition to potato salad and what type of potatoes do you like to use?