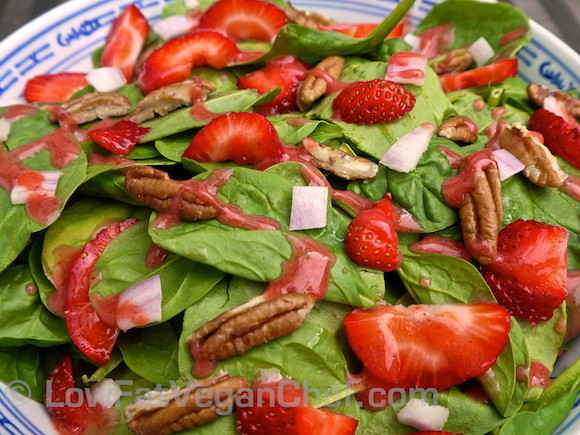 I wanted to share this special and healthy salad recipe with you today for a few reasons. It's also my friend Karmyn Malone's top favourite raw recipe. She is a raw foodists and is always on the look out for delicious and simple oil free raw recipes, so this is right up her alley.
Another great thing about this recipe is that it has few ingredients and is easy to make. You don't have to spend a lot of time making it and the ingredients are fairly easy to find at the grocery store.
As spring is here and it's looking like it's going to be a nice warm summer you'll be able to make this recipe many times for yourself or for entertaining. It's perfect to bring to a potluck, barbecue or to serve as a first course for dinner guests.
The problem with most salads is that they rely on store bought dressings that are neither nutritious or great tasting. The ones that people generally do like are full of cream and fat and are not part of a healthy life style if you eat them every day. The oil free ones are basically vinegar, sugar, salt and flavourings and after a while most people can't stand another vinegary dressing!
I prefer to make my own salad dressings at home with fresh ingredients and combine them in a blender. You can even use a basic blender or a hand blender to make this recipe.
This Raw Vegan Strawberry Pecan Spinach Salad recipe is delicious AND nutritious! Even Karmyn's young son Andrew loved this recipe, and as you know it can be hard to get some kids to eat raw greens and vegetables. But not Andrew, he was begging for more!
This recipe is part of my Savory Raw Dinner Recipes DVD and book collection that has received many rave reviews from friends and customers. They're 100% oil free and much lower in fat than traditional gourmet raw salad and nut heavy entree recipes.
———-

For more yummy recipes go to:
(We even have a 100% digital version for those who don't want to wait for shipping!)
———
With this set of recipes you'll be on your way to enjoying more fresh salads and learn my tips and tricks for making delicious oil free low fat vegan dressings that you will actually enjoy eating! No more buying expensive store bought dressings that only last a few meals that don't tickle your taste buds anymore.
I have to say that I wish I could have this salad right now as we bought a big bag of spinach and I'm having a craving for it! (Sadly I did not bring any chia seeds with me to Hawaii!)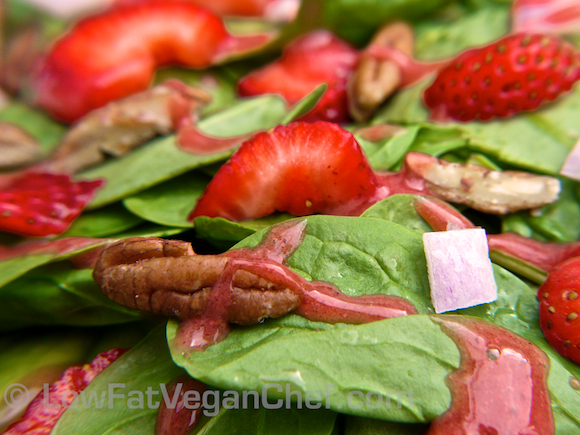 Raw Vegan Strawberry Pecan Spinach Salad
Makes 2 dinner servings or 4 side servings
Ingredients:
Strawberry Pecan Spinach Salad:
11 oz. container baby spinach leaves
2 cups of sliced fresh strawberries
1/2 cup red onion, diced or sliced (your choice)
1/3 cup raw pecans
Strawberry Chia Dressing:
1 cup fresh sliced strawberries
1/4 cup clementine mandarin orange juice (use the sweetest FRESH oranges you can find)
4 small dates, pitted (or you can sub 1-2 tbsp of liquid sweetener)
2 tsp apple cider vinegar
1 tbsp chia gel (or 1 tsp chia seeds)
Directions:
Slice pecans lengthwise on a cutting board so they are in long halves. (This makes them go farther and you'll use less in the recipe)
 Arrange salad ingredients into 2 large bowls or 4 medium sized bowls for starter salads.
Blend dressing ingredients together and drizzle over salad.
Serve immediately.
Additional Tips:
I don't recommend using frozen strawberries for this recipe as they are usually too tart and sour. Use dark sweet strawberries. Store bought orange juice is also not a good base for this dressing. I don't like store bought orange juice because it's highly processed and quite acidic compared to fresh squeezed orange juice. Clementines or mandarins are preferable because they are mild and sweet, but you can also use Cara Cara or Valencia oranges if that's what you can find.
You can make this dressing and keep it for 2-3 days in the fridge. Raw dressings ARE perishable and will not stay fresh for weeks like cooked salad dressings. So this is best enjoyed soon after making it.
What is Chia Gel?
Chia gel is just chia seeds mixed with water. I learned this from Victoria and Valya Boutenko when I met them in my home town of Calgary.  When chia seeds absorb water they create this gel that suspends them and it great to add to dressings because it will hold it together much like oil would. So when you use blended fruits or juices for the base of your dressing it will be a little thicker and a better consistency. You can also use psyllium husk powder if you don't have or don't want to use chia gel. Psyllium husk powder is something people often add with some flavour to water to get extra fibre in their diet (not something we generally need as a whole food vegan) BUT it is useful in making dressings because it add some bulk to the liquid and holds it together nicely. You cannot taste it and it will not affect the flavour of your dressing. It just makes it more into a thin gel than just stay a watery dressing.
To make chia gel I mix 1/3 cup chia seeds into a container (that can go in the fridge) with 2 cups of water. You have to add chia to the water, and not pour water over the chia to prevent it from clumping together in uneven clumps. This lasts for 2-3 weeks in the fridge and you can add a tablespoon or two to your dressings or smoothies to get some whole food omega 3's into your diet. This is more of a recommendation for raw foodists, if you're not into raw food and won't use this amount of chia gel you can just add 1 tsp of chia seeds to your dressing or smoothie if desired instead.
————-
For more information go to:
————-
What do you think of this recipe? Have you ever had strawberry spinach salad before or chia seeds?