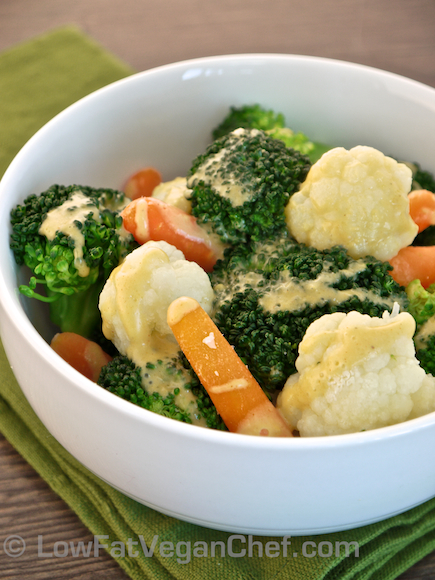 Today I wanted to share a recipe with you from my upcoming second recipe ebook: Low Fat Vegan Chef Presents: Vegan Comfort Foods From Around The World. All the recipes are done and photographed, I just have to write it and put it together. In total there is going to be about 60 recipes in it all with photos! It should be available in a few weeks, so keep your eyes out if you're missing some home cooked comfort meals!
As I'm currently in Kauai (our second stop in Hawaii) and pretty much away from the kitchen (aside from throwing together cut up fruit, basic salads and steamed vegetables) I haven't been making any new actual recipes in a week. I kind of feel like I should be making food, but when you're on vacation you'd rather be snorkelling, swimming or taking pictures! (If you're like me I guess!)
I thought this would be a great recipe for those not sure what to put on their steamed vegetables for dinner. Most of you have probably had some sort of cheese, Cheese Whiz or cheese sauce on your vegetables prior to eating vegan and have a craving for something cheese-like at the dinner table. Also sometimes kids (and even grown ups!) like to dip their veggies into a sauce or dip and don't enjoy eating them plain.
Growing up my mom would always make this homemade butter+flour+milk+grated cheese sauce for us when we had pierogies, ham, mixed vegetables, or even a dish called Welsh Rarebit (essentially a fried egg on toast topped with cheese sauce. Her version anyways and no we're not Welsh or Polish. I have no idea where these recipes came from!). We loved this sauce. We asked for it all the time, we wanted to pour it on everything and we wanted to dip everything into it.
Pretty much everything about my mom's cheese sauce that made it delicious isn't really healthy or vegan, so I wanted to create something that was much much healthier and still tasty for those who miss cheese sauce.
The trick to getting a cheese-like taste in your sauces is to use nutritional yeast (this is yellow yeast flakes that are sold at the health food store, this is not brewers yeast, quick rising yeast nor does it have anything to do with baking) and miso paste. Nutritional yeast has a cheese-like tangy flavour and can be used in sauces, dips, dressings, or even shaken onto salads and pop corn. The miso paste is what gives it a strong fermented salty flavour and gives the cheesiness more depth. Nutritional yeast and salt is really not enough, miso paste is essential. You can find this at the health food store or any local asian market. I usually buy yellow/mild or brown rice miso. I don't use white shiro miso or red miso. But use what you can find. The miso won't go bad and will last a while and you can use it for more asian sauces, dips and add to soup stocks or make miso soup with it. If you use my recipe ebooks you will find it in several of the recipes as well.
For this recipe I just used a pre pack of fresh mixed vegetables that I got at the store. I wanted to make it simple for people who are new to preparing fresh vegetables and don't have a lot of time. You can also cut up your own assorted fresh vegetables, or use frozen vegetables as well. The key is to make sure you don't overcook them and make them mushy. I am constantly checking on them while they steam and testing them with a knife to see if they are soft in the centre. When they are al dente and ALMOST cooked turn off the heat and take off the lid. The veggies will continue to cook with all the hot steam in the pan and they will be overcooked if you continue to leave the heat on them. Leave the cover off so you dissipate some of the steam. No one likes overcooked veggies! This takes some practice, but if you can set a timer and find out the exact time it takes when the water boils you will make things easier next time you make them. Broccoli is the first to overcook and cauliflower is sturdier so I usually put it in the pot for a minute first and then put the broccoli on top to cook.
Low Fat Vegan Cheezy Sauce For Steamed Vegetables
From Comfort Foods From Around The World 
Serves 3-4 for a side dish of veggies
Ingredients:
1 cup almond milk, unsweetened original (I used Blue Diamond brand. Don't use sweetened or vanilla)
1/4 cup nutritional yeast flakes
1/4 tsp smoked paprika (available at Indian stores, spice markets and Amazon. McCormick also makes one available at Walmart)
1/2 tsp miso paste
Fresh ground pepper (if desired)
1 1/2 tbsp flour (GF if desired)
Directions:
Add almond milk to a sauce pan and heat over medium (or medium low on gas stove) heat until warm. Sprinkle in the nutritional yeast and smoked paprika. Whisk it in.
Add the miso paste and try to break it up so there are no large clumps. Let it heat through a little and keep whisking it. Taste test and add a little more smoked paprika and some ground pepper if desired. If you add more miso it will make it saltier so use caution. (You want a tangy zesty flavour.)
Gently sprinkle in the flour and whisk in to combine. Try to ensure there are no clumps. Heat through for a minute or two until it's thickened up. Stir it to prevent it from sticking or burning at the bottom.
Have your steamed vegetables ready or turn off the element and cover to keep warm until your veggies are ready.
Drizzle over vegetables and serve. (Have extra ready for your dinner guests to add more if they wish.)
Variations:
Feel free to use soy milk, rice milk, hemp milk etc as desired. I just have a preference for almond milk and don't enjoy the taste of soy milk myself. To change some of the flavours in this sauce you could omit the smoked paprika and add some garlic and onion granules instead or add some tabasco or chipotle chili powder to make it spicy.
What do you think of this recipe? Did you ever have cheese sauce before you were vegan? What do you like to use now on vegetables?