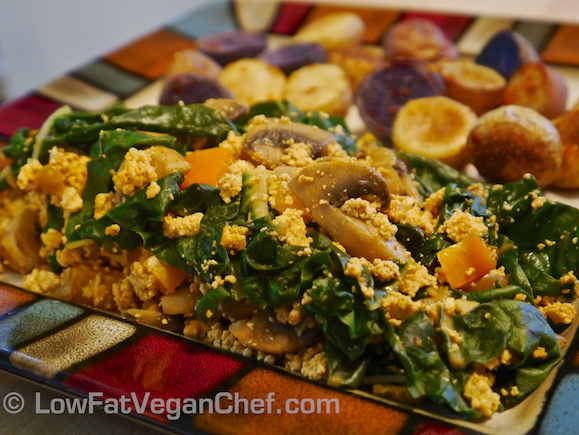 Psst… I have a secret to tell you…
Sometimes I like to make breakfast for dinner. 🙂 I don't eat large or heavy breakfast, maybe only occasionally on the weekend as a brunch, but I prefer fruit, smoothies or fresh juice in the morning. So when I am writing breakfast/brunch recipes I sometimes make them for dinner! I have a favorite tofu scramble as my staple (see the recipe here), but I wanted some more variety. There was some beautiful Swiss chard at the grocery store, so I grabbed it and decided to create a new recipe for it.
I always like to add mushrooms and onions to my scrambles for extra flavor as well. This is such a vibrant recipe it's sure to be a crowd pleaser whenever you serve it. I also roasted some baby potatoes dry in the oven and sprinkled some salt and smoked paprika on them for a little flavor. I hope you enjoy this recipe as much as I did!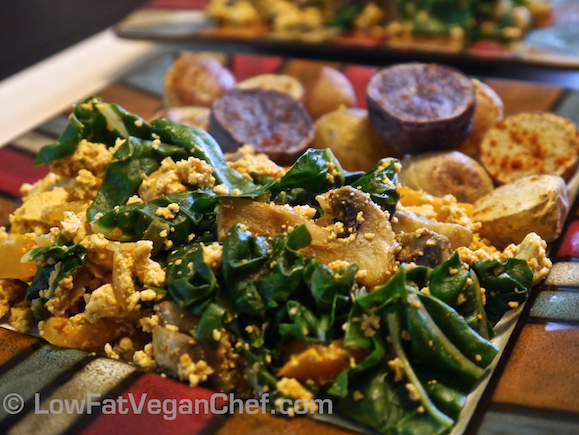 Swiss Chard and Mushroom Tofu Scramble
Serves 2 or 4 smaller side servings
Ingredients:
14 oz package firm tofu
1/2 medium onion, chopped
8 oz mushroomed, sliced
1-2 tsp low sodium soy sauce
1 bell pepper, diced
3 cloves of garlic, minced
1/4 cup nutritional yeast
1-2 tsp smoked paprika
1/4 tsp Herbamare or salt
Fresh ground pepper to taste
1/4 cup almond milk (unsweetened original)
1 bunch chard, stems removed and chopped
Directions:
1. Drain, dry and crumble the tofu. (Try to squeeze out as much water as possible so it absorbs more flavour. I like to press it between clean tea towels.)
2. Heat a large non-stick pan and sauté onions and mushrooms in soy sauce for 5 minutes until soft. Add garlic and bell pepper and cook for 2 minutes.
3. While the vegetables are cooking add the tofu to a bowl and season with nutritional yeast, smoked paprika, Herbamare or salt and pepper to taste. Stir to combine.
4. Add tofu to vegetables and heat through and cook for about 5-8 minutes.
5. Add the chopped Swiss chard or other greens and almond milk. Cover and steam for 1-2 minutes. (Longer if you use kale, less if you use spinach.)
6. Stir and check seasonings.
7. Serve with toast or roasted or steamed potatoes. (I made oil free roasted baby potatoes)
Have you ever made tofu scramble before? What do you put in it?