These vegan banana pancakes are HEAVENLY. If you love pancakes, bananas, banana bread or anything banana related you will love these! You can even see the steam coming off these babies! (I served them with a side of my Deluxe Dijon Tofu Scramble)
I just made these DELICIOUS vegan pancakes for my non veg family this morning for a delicious vegan brunch. Everyone loved them! I was looking for a perfect fat free vegan pancake recipe and thought I'd give these ones a shot. They were amazing.  I made a little modification to the original recipe and it turned out great.
We served these yummy pancakes with real maple syrup from Quebec and topped it with fresh bananas and cinnamon. It was a really great brunch!
My mom commented on how light and delicious  the pancakes were and she felt they were much healthier, even though I first made them with white flour. I think it was the  ground chia seed I added, but really you couldn't see or taste them anyway. It's also a great way to get a little chia into a typically not so healthy breakfast food.
I hadn't really made vegan banana pancakes before, but when I bit into these -wow. It sure reminded me of warm banana bread, which is one of my favourite treats ever. So I will definitely be making these again and again.  It really REALLy depends on having perfectly ripe non-starchy (lots of brown spots) bananas. Make sure your bananas are ripe!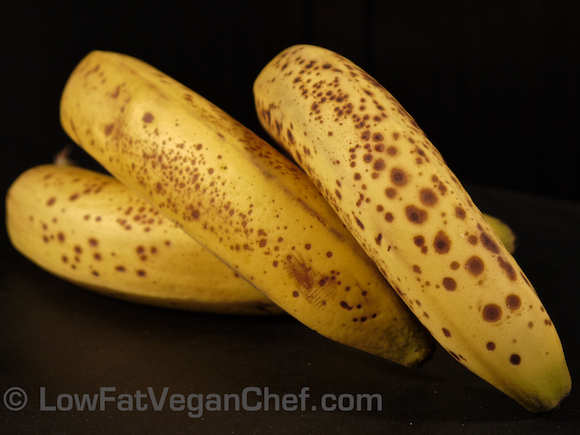 Use bananas with lots of brown spots on them. The one on the right is the sweetest and ripest banana. The two on the left are just starting to get sweet enough. Lots of spots on your bananas make them much better for recipes.
Give these a try this holiday season and no one will know it's oil free or vegan!
This low fat vegan banana pancake recipe is an adaptation from Susan Voisin's Fat Free Vegan Pancakes recipe on the Fat Free Vegan Website
Vegan brunch at home can be easy once you have a few tasty recipes!

(Oil-Free) Low Fat Vegan Banana Pancakes
Ingredients:
1 1/4 cups flour (I use half white, half whole wheat when making for my family. Use a good GF flour if you like, one you know will hold together nicely and not crumble)
2 tablespoons sugar
2 teaspoons baking powder
3/4 teaspoon salt
1 1/8 or 1 1/4 cups almond milk* (depending how thin you want them)
1/2 tablespoon ground chia seed (or flax seed or egg replacer)
2 tablespoons water (to mix with ground chia or egg replacer)
1/3-1/2 cup diced ripe banana (see my ripe banana post if you are not sure)
*To make this recipe nut free, substitute soy milk for the almond milk.
Tip: to combine ground chia with water, put water in bowl first and then sprinkle in chia and mix.  If you pour water over the chia it can get clumpy and not mix properly.
Directions:
1. In large bowl, mix flour, sugar, baking powder, and salt. Add the almond milk, chia with water and bananas and stir just until flour is moistened. Let the batter rest for 5 minutes while skillet heats, and then stir gently one more time before using. Do not over mix.
2. Heat non-stick griddle or skillet over medium heat until drop of water sizzles. Pour batter by  1/4 cupfuls onto hot griddle, making a few pancakes at a time. Cook until tops are bubbly and bubbles burst; edges will look dry. With pancake turner, turn and cook until undersides are golden. Place on warm platter; keep warm.
3. Repeat until all batter is used, spraying a little bit of non stick spray before each batch. Since they are oil free, this will be necessary to prevent any sticking.
4. Serve pancakes with maple syrup or fruit as desired. I also like to add some yummy ceylon cinnamon (this is sweet cinnamon, you can get it here)
Variations:
I also made another batch of blueberry vegan pancakes and put 1/2 cup of frozen wild blueberries in the batter.  They were good, but the banana were the stand out pancakes this morning. Feel free to try both. I think wild blueberries work best as they are small and will keep it cooking evenly. Also if they are frozen when you add them,  they won't turn your batter purple!
Additional Tips:
To grind your own chia seeds, use a coffee grinder or a Vitamix and pulse the coffee grinder, or turn the Vitamix onto high until all the chia is ground into powder.  It should take about a minute or two. Set aside into a container or plastic zipper bag and keep in the fridge or freezer until needed. This keeps it fresh and the nutrients intact longer.
—-
Serve with fruit, hash browns or my favourite Deluxe Dijon Tofu Scramble 
Give them a try! And let me know what you think of these vegan banana pancakes.  What is your favourite kind of pancake?