The other day I was looking at granola bars at the grocery store and I was starting to get frustrated. Most granola bars are pretty unhealthy, they contain a lot of high fructose corn syrup, milk ingredients, oil, nuts and salt.
When you're looking for a quick high energy snack for traveling, hiking or to have before your work out it's nice to eat something that's just as healthy as a home cooked meal. So I decided to make my own homemade no-bake vegan granola bars, and came up with this bar which is high in protein and contains lots of omega 3's and antioxidants in it too.
Instead of using oil and corn syrup to bind the oats together I used really ripe mashed bananas and it almost makes these bars taste a little bit like oatmeal banana bread. I also threw in lots of goodies like sultana raisins, Sun-Maid raisins, dried cranberries, goji berries, ground flax seed, ground chia seed, hemp hearts, dark chocolate, and coconut flakes.
All in all they are pretty darn tasty! I definitely don't mind eating one of these and they're perfect for traveling or hiking too. I decided to make two batches to test out the difference between instant/quick oats and traditional rolled oats.
They basically tasted the same, but the instant oats were a little easier to chew as the oat pieces were smaller. So it's up to you on what type you'd like to use. (But don't use steel cut oats, or oat groats as they aren't cooked yet and are too hard to chew.)
It's also a high raw food bar, as many of the ingredients are naturally raw like the bananas, raisins, goji berries, flax, chia, and hemp.  For this reason they need to be stored in the freezer because raw banana is perishable and it will spoil quickly if left on the counter or in the fridge.
Vegan chocolate chips can be hard to come by depending where you live, almost every chocolate chip I saw at the store contained milk ingredients, so instead I just bought a Lindt 70% cacao chocolate bar which was dairy free and chopped that up to use as chocolate pieces. It's also much lower in sugar than traditional chocolate chips as well.  40 g equals 4 squares out of the Lindt bar. You could also substitute 1/4 cup of dark chocolate chips, or vegan carob chips as well.
Omega 3 Antioxidant Vegan Protein Bars
Makes 10 bars
Wet Ingredients:
2 medium ripe bananas, mashed (about 1 cup)
1/4 cup maple syrup (or other vegan syrup)
1/4 cup smooth peanut butter
2 tsp vanilla extract
Dry Ingredients:
1 1/2 cups quick oats or rolled oats (I tested both)
3 scoops vegan protein powder (I used Vega Sport chocolate flavour, but you can also use unflavored hemp protein powder)
1/4 cup shredded coconut *optional
2 tbsp hemp seed (hemp hearts)
3 tbsp chia seed, ground
3 tbsp flax seed, ground
2 tsp ceylon cinnamon
1/2 cup raisins (I used golden and Sun-Maid)
40 g dark chocolate broken into pieces or chocolate chips
1/4 cup dried cranberries
1/4 cup goji berries
Directions:
1. Mash the banana with a fork and mix wet ingredients in a large bowl.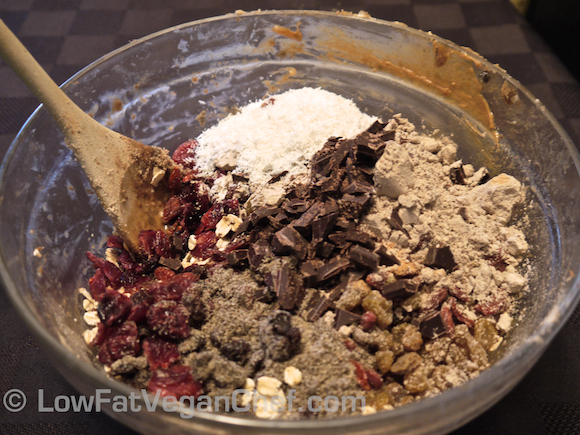 2. Next add the dry ingredients to the wet ingredients.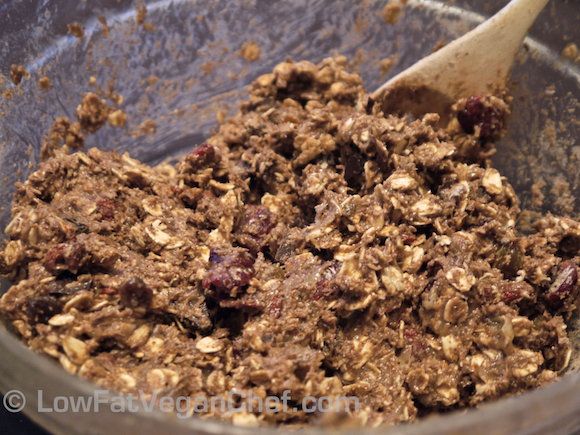 3. Stir until well combined.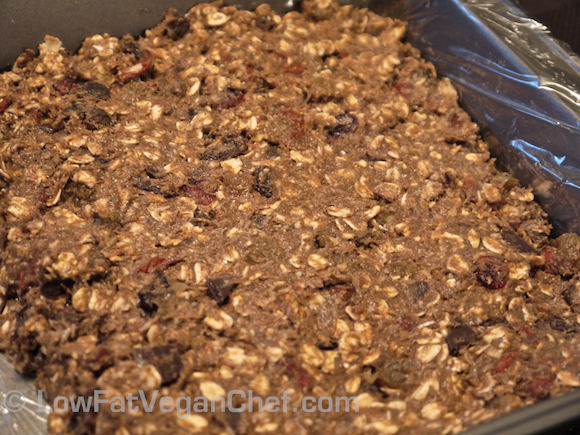 4. Line a square pan with saran wrap and press mixture into pan.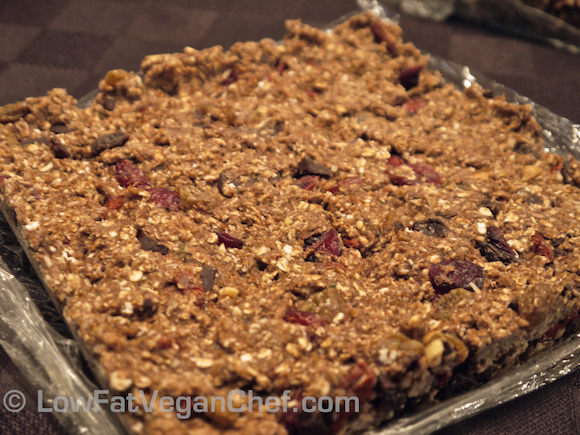 5. Place pan in freezer for 3-4 hours until firm and then remove from pan.
6. Slice into 10 bars with a sharp knife.
7. Wrap each bar in saran wrap and store in freezer.
8. Let come to room temperature before eating.
Nutrition Facts 10 Servings Amount Per Serving: Calories 282.0 Total Fat 10.1 g Saturated Fat 2.2 g Polyunsaturated Fat 2.8 g Monounsaturated Fat 2.6 g Cholesterol 0.2 mg Sodium 335.9 mg Potassium 301.2 mg Total Carbohydrate 34.4 g Dietary Fiber 6.7 g Sugars 18.1 g Protein 15.2 g
Have you ever made homemade granola or protein bars before? What do you put in them?