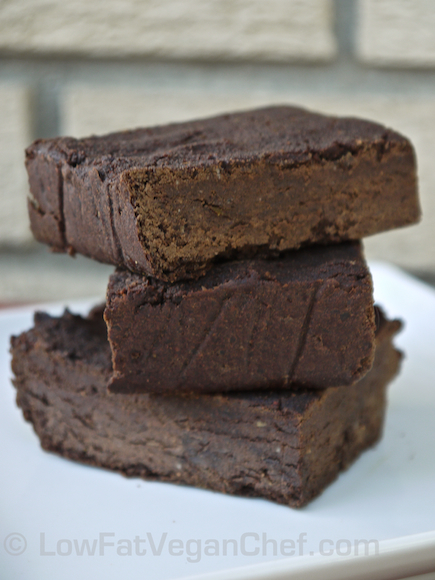 Ooh black bean brownies… Have you ever heard of them before? They're gaining popularity in the vegan, gluten free and health food movement. It's a completely flourless brownie and has very few ingredients.
This is my take on the black bean brownie inspired by Dr. Fuhrman's recipe. If you're looking for something that is vegan and gluten free and a "better for you" treat, check these out.
I promise you will not taste beans in this recipe! When they are pureed they act as the batter in brownies and plain unsalted black beans have little flavor anyway. This recipe is also sugar free! It gets its sweetness from whole pitted dates, so it has natural fibre and vitamins in it instead of plain old sugar.
The only thing really essential to making this recipe is having a food processor or a high powered blender with a tamper such as a Vita-Mix. You need to get these ingredients pureed into a batter/dough to press into the pan.
If you're craving brownies you should give these a try!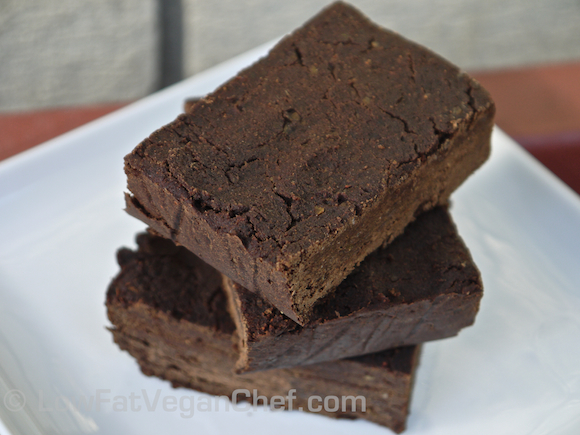 Gluten Free Vegan Black Bean Brownies
(Inspired by Dr. Fuhrman's Black Bean brownies)
Makes 12 brownies
Ingredients:
1 19 oz./793 g can black beans (salt free) or 2 cups fresh cooked black beans, drained
2 tsp vanilla extract
2 tbsp almond butter or peanut butter
12 large medjool dates, pitted (18-24 if using smaller dates)
1/2 cup cocoa powder
1 tbsp ceylon (sweet) cinnamon
2 tbsp quick/instant oats (optional, use only if mixture is too wet)
Directions:
1. Preheat oven to 350 F/ 177 C.
2. Chop the dates into small pieces. Combine black beans, dates, vanilla and almond butter in a food processor or Vita-Mix and blend until smooth. (Food processor preferred.)
3. Add cocoa and cinnamon and blend again. (Do NOT add cocoa until the previous ingredients are blended or it will be virtually impossible to mix)
4. If mixture is too dry, add another tablespoon of peanut butter. If mixture is too wet, add oats and process again.
5. Line a square baking pan with parchment paper leaving enough to fold up the sides.
6. Spoon mixture into pan and spread out with spatula or hands.
7. Bake for 30 minutes.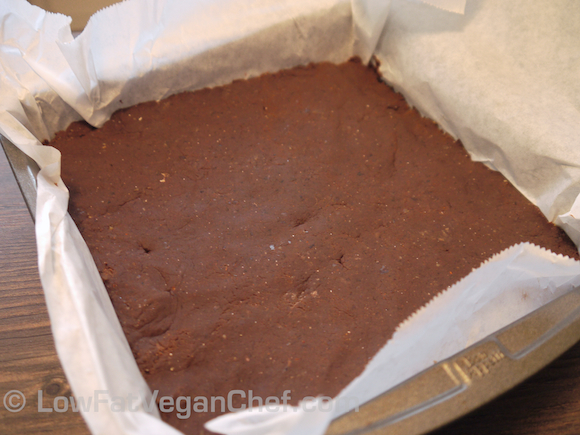 8. Allow to cool and then cool in the freezer for 2 hours to set up before slicing.
9. Top with frosting or fruit if desired and serve.
Nutritional Info: 12 Servings Amount Per Serving: Calories 134.0 Total Fat 2.3 g Saturated Fat 0.5 g Polyunsaturated Fat 0.4 g Monounsaturated Fat 1.2 g Cholesterol 0.0 mg Sodium 10.1 mg Potassium 349.4 mg Total Carbohydrate 28.3 g Dietary Fiber 5.8 g Sugars 16.0 g Protein 4.2 g
Have you ever had black bean brownies before? What's your favorite way to use black beans?