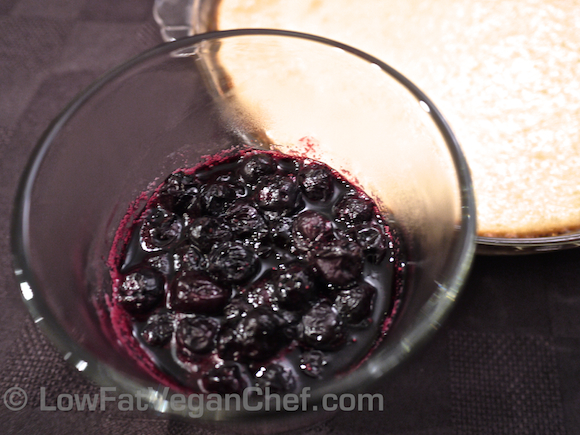 Today I made a special recipe for my friend's birthday. A vegan cheesecake with vegan graham cracker crust and blueberry rooibus compote. When trying to impress friends and especially non vegans, having a great vegan comfort food treat can be a little daunting, but trust me this recipe is easy.
Since I have never made a vegan cheesecake before, and the last time I made actual cheesecake was almost a decade a go, I decided to look online and see what I could find. My friend requested an almond-lemony flavoured cheesecake, and what do you know? I found one here. It uses firm silken tofu and tofutti better than cream cheese. With the almond extract and fresh lemon juice it really tastes nice, and I could not detect any tofu flavour at all. I made the recipe almost exactly as the post, but the only firm silken tofu I could find was by Mori-nu and it comes in a 12 oz size and not 14 oz. It seemed fine and enough filling anyways for the cheesecake.
The cheesecake part was very easy, since I had a Vitamix and I could just combine everything and blend. I still blended a little longer than normal for good measure, just to be sure there was no sugar granules or chunks of corn starch.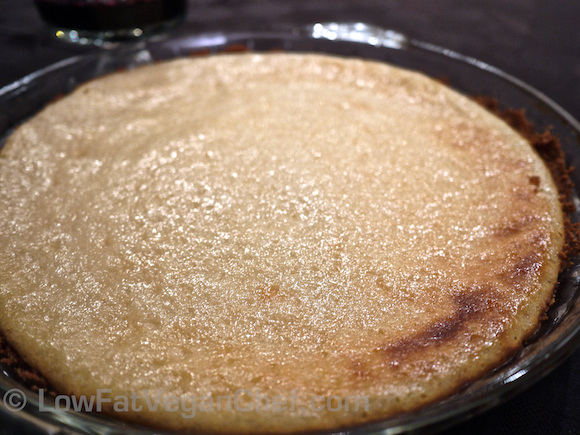 The hard part of this recipe was that there are no vegan graham crackers (they contain honey) or crusts at Whole Foods in Vancouver, BC I could find. So I had to do it old school and make my own graham crackers… I've never even made any crackers before… so here's how what I did…
I found a recipe here for vegan graham crackers and smores. I didn't know how much of the recipe I would need for the crust, so I made the whole thing. But now I know I could have halved or even thirded the recipe, since I now have a lot of extra graham crackers. I froze them for later in case I need a dessert crust again.
You definitely DO NOT need to make a crust for vegan cheesecake, your recipe will be much lower in fat if you don't, since I can't see any way to make a fat free or low fat pie crust.  The graham crumbs are held in by earth balance, which is a highly processed food so I don't recommend making this recipe regularly, just for special occasions like birthdays and holidays for your friends and family. My friend likes graham crackers crusts so that's why I made it.
A note about the graham cracker recipe if you make it, I wouldn't bake them so long. My crackers were baked for the full time and were SO freaking hard. Like dangerous to chew hard. It took me forever to break them down in the food processor. I should have used the Vitamix instead, but it had the cream cheese filling in it. But it took forever to get down to crumbs. It would barely crush with my stone rolling pin! Try baking 30-35 minutes only. They don't need to be totally firm when you take them out, they will solidify. And if you roll them too thin they will turn too brown and burn. The texture is not that great for eating, as it's a little gritty, but if you're into whole wheat treats you might not mind.
Now on to the part where my recipe comes in. Earlier this week some friends and I had a vegan tea cook off and I made a blueberry rooibus tea compote for my raw banana ice-cream made with provence rooibus tea. It was very delicious, I decided to replicate it again for this cheesecake.
Here's the recipe: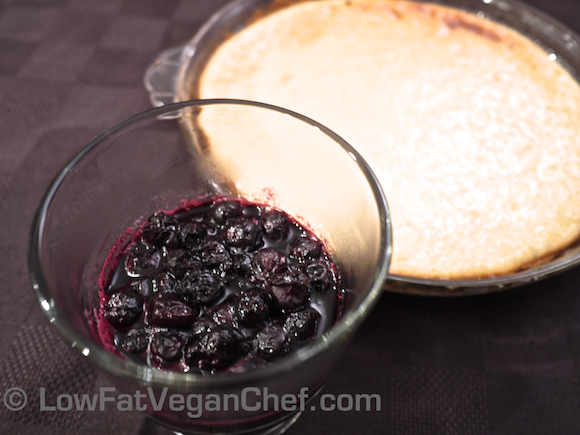 Blueberry Rooibus Compote
3 cups frozen blueberries
1/2 cup blueberry rooibus tea or other rooibus tea (steeped at double strength)
3-4 tbsp sugar
2 tbsp lemon juice
Add 1 1/2 cups of the blueberries, the tea, sugar and lemon juice and cook over medium heat for about 10 minutes. Add the remaining blueberries and cook for another 6-8 minutes. Taste test and adjust to your liking, add more sugar for more sweet, or more tea for less sweet.
Serve over vegan cheesecake, ice-cream, yogurt, and more.
My suggestion for a healthier decadent vegan treat would be to serve this compote like I originally did, over fat free banana ice-cream made in the Vitamix or a juicer. Then it's completely fat and guilt free.
My rooibus banana ice-cream was:
1/2 cup provence rooibus tea (steeped at double strength)
1 tsp vanilla extract
6 frozen bananas (make sure your bananas are ripe, see my post here about how to tell if bananas are ripe)
You'll need a Vitamix to make this, or let the banana thaw a little bit and slice into small pieces for your regular blender or food processor. Add the tea and extract and then the bananas. Turn the Vitamix onto 5 and use the tamper to push it down and cream the bananas. Continue pushing it all down until it's blended evenly. This should take no more than 30-60 seconds, since you don't want your ice-cream to start melting.
Serves 2 large servings, 4-6 small dessert servings.
Let me know what you think!
Update!
I made this vegan cheesecake again crustless and with the same blueberry sauce but without the rooibus tea. If you make the vegan cheesecake crustless, make sure you spray some cooking spray on the bottom of your dish! Mine would not come out, so it was messy.  Also the blueberry sauce was rather 1 dimensional. I really missed the subtle complex flavours left by the fruity blueberry rooibus tea. So I really hope you will try it. It will not be the same if you get another kind of blueberry tea, like green tea because it's less fragrant.