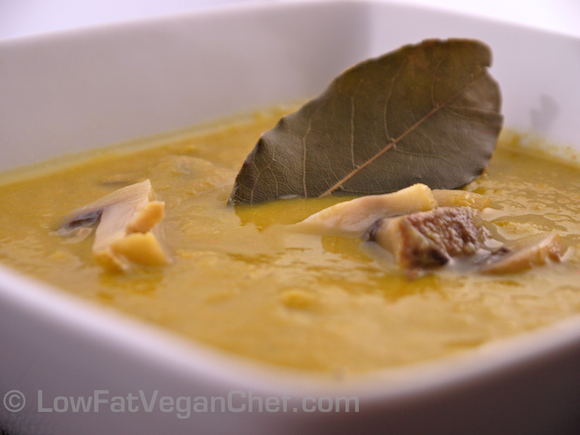 Holy mackerel this "Anti Cancer Soup" recipe makes a ton of soup! You can eat for a whole week off this one recipe.
I decided to try and document Dr. Fuhrman's famous "Anti Cancer Soup" as it seemed like a fairly intensive recipe and I took it as a challenge to make a soup an entirely new way. For this recipe you're going to need a good juicer that can handle juicing a lot of carrots and celery. This is the one I use, it's a medium priced juicer and it does the job.
I met Dr. Joel Fuhrman last February at Dr. John McDougall's 3 Day Advanced Study Weekend and he mentioned in his lecture about chopping onions, cooking them and then blending them into the soup for some additional nutritional benefits on how everything combines together. I do NOT remember the exact processes going on, he had a very scientific explanation for this. I will have to watch the recording of the lecture again to get it straight. But all you need to know is, this soup is HEALTHY for you and highly recommended by Dr. Fuhrman as a nutrient dense soup that's crammed with veggies.
Might I just add that Dr. Fuhrman is totally ripped and in amazing shape and his "Disease Proof" diet is definitely working well for him. I saw some pictures of his wife and daughters and they are all very slim and quite beautiful too. He should be very proud to have such a happy and healthy family setting such a great example on a oil free plant based diet.
I just finished up a low fat vegan recipe book of my own called Comfort Soups To Keep You Warm, so I've made quite a bit of soup these past few months. I have actually nicknamed myself the "Vegan Soup Queen"  I've made so much soup lol!
Dr. Joel Fuhrman's "Anti Cancer Soup" recipe comes from his book Eat To Live (which is actually less than $10 on Amazon right now so check it out.)
One thing about this anti cancer soup is that you can definitely tell it was designed by a man without any need for great culinary skills. It is very simple in presentation as everything is pretty much just blended together, and it's something that you start cooking while you continue to prep the rest of your veggies as you go. So this seems very practical, albeit because of the amount of soup this recipe makes it can be a bit of work.
What I like most about Dr. Fuhrman's recipes is that they are oil free and really healthy, so this is right up my alley and I am happy to be able to make his recipes without any major modifications.
Dr. Fuhrman recommends that you make a big pot of this once and then eat it for the rest of the week, or freeze portions of it. It does take much more time and effort than my other soup recipes, but it makes a ton of soup and if you're only doing this once or twice a month on a Sunday afternoon it's no big deal.
Better yet, get a helper to help you prep the veggies and then you can relax in between cooking steps! I really wish I had had a helper… haha
Since his "Anti Cancer Soup" is such a big recipe with so many ingredients I wanted to estimate the cost of making it. Now just FYI this is approximately what I paid in Canada at a discount grocery store, and none of these items were bought in bulk. If you live in the USA and/or buy in bulk it will probably be a bit cheaper. But if you buy all organic produce it will definitely cost more.
Split peas ~$0.50
Raw cashews ~$5
Onions ~$5
Zucchini ~$4
Carrots ~$3
Celery $2.60
Leeks $3.49
Mushrooms $4.50
Total Cost: ~ $28.09
Divided by 12 servings: $2.34 a serving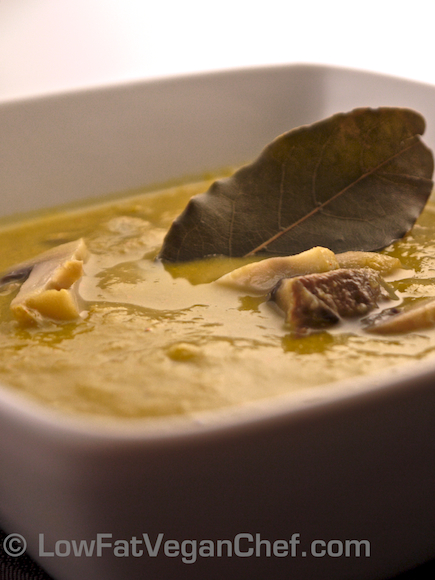 So when you divide the "Anti Cancer Soup" costs out by the number servings (and you will get at least 12 servings) it's not too expensive. It's a little less than the price of an organic canned soup and definitely less than buying lunch somewhere else.
If I had to describe the taste of this anti cancer soup I would say that it mostly tastes like mild split peas with leeks and mushrooms. It's not very strong tasting or in any way offensive. You can definitely eat it as is, or add some more herbs or spices to it. When I make soup I like to add things like thyme, bay leaves or other seasonings. I like really flavourful soups.
Now on to my step by step (with photos!) instructions on how to make this soup. My soup recipes have way less directions btw, I just wanted this to be clear as even I was scratching my head at all the steps when I made it the first time. It also looked very strange while cooking, so I didn't want anyone else to be afraid or discouraged and not know what to expect! I took over 100 pictures of this recipe preparation! I hope you enjoy it. 🙂
Dr. Fuhrman also likes to add a cruciferous leafy green to his soup now too. So you can add a bunch or two of kale (stems removed) or collard greens if you desire.
Dr. Fuhrman's Anti Cancer Soup (From Eat To Live) With A Low Fat Vegan Chef Twist
Total Time: 1 h 30 min
Serves 12
Ingredients:
1 cup dried split peas (green)
4 cups/1 L filtered water
4 large onions
4 large zucchinis or 8 small
3 medium leeks
leafy greens, broccoli or cauliflower (optional, about 2 bunches)
5 lbs./2.26 kg carrots
2 heads of celery
1 cup raw cashews (un-roasted, unsalted)
1 lb/454 g mushrooms
2 tsp granulated garlic powder (his recipe has 2 tbsp VegiZest)
2 bay leaves (my addition)
1- 1 1/2 tsp Herbamare or salt (my addition)
Directions: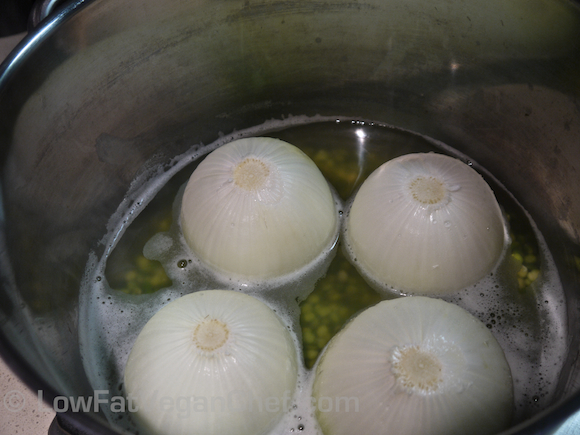 In a large 6 qt soup pot add 4 cups/1 L of water and the split peas and bring to a boil. Slice off the tops of the onions, shave off the roots and peel the outer skins and place them into the pot whole. (Update: Fuhrman now recommends cutting the onions up so their enzymes can react while cooking as this increases their nutrition.) Cover with a lid to start the steaming process. Once at a boil reduce  heat to medium low.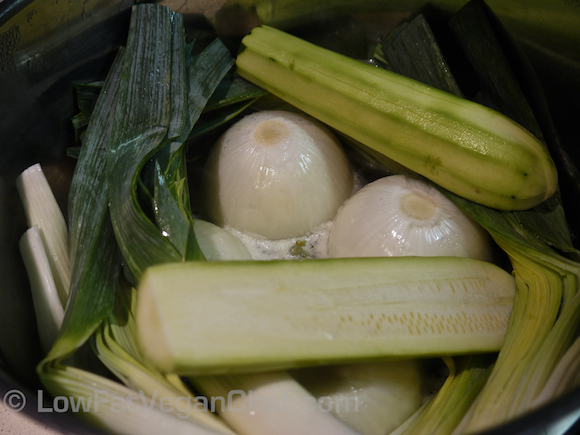 Peel the zuchinnis, and place in the pot uncut. (If they are large cut them in half lengthwise). Cut the bottom roots off the leeks and slice them up the side so each leaf can be thoroughly washed, because leeks have lots of dirt hidden inside. (This is a good tip, I found a little worm in one of my leaves. Gross.) Cut off the top inch of the leeks and discard. Then place the entire leek (leaves uncut) into the pot and cover again.
Oh, so THAT'S what 5 pounds of carrots look like…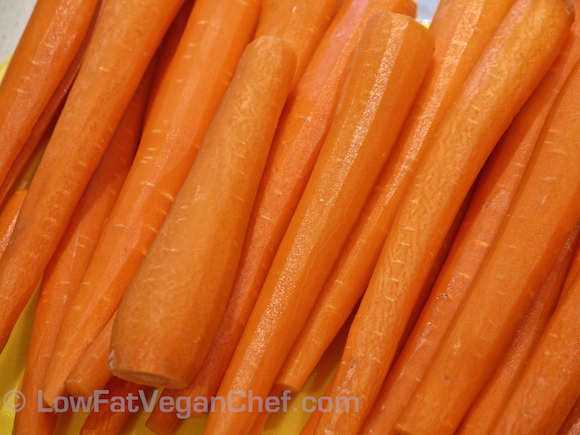 Peel the carrots. (If they are organic, this is optional) Whew that was hard…
Juice the carrots in a juicer.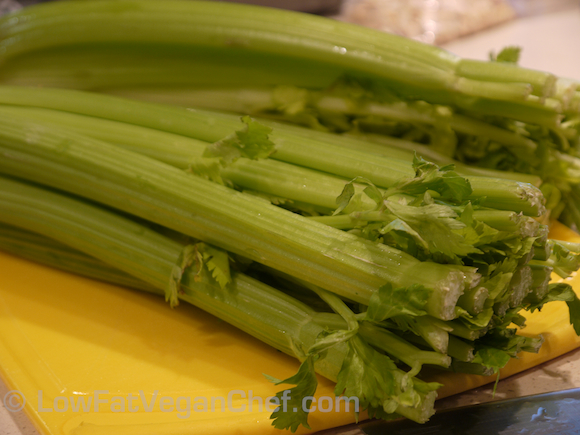 Wash the celery and cut off the tops and bottoms.
Juice celery in a juicer.
Add the juices to the pot.
I got a 1 lb pack of mixed mushrooms for variety. Really it was just a few different mushrooms on top of a layer of dirty white mushrooms… Marketing can be deceptive!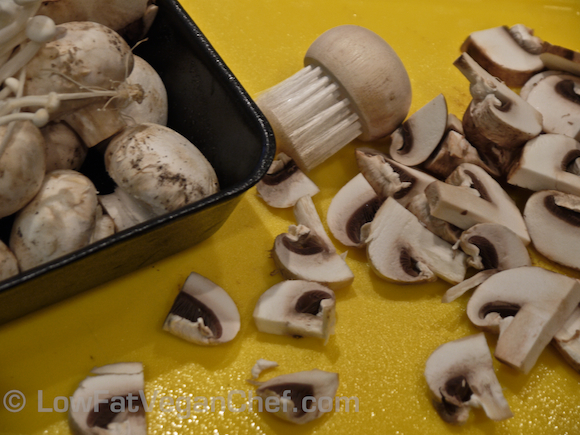 While the soup is simmering, clean the mushrooms with a mushroom brush. Cut and slice up the mushrooms. By the time you get to this stage, the zucchini, leeks, onions should be soft. If they aren't just keep cleaning and chopping the mushrooms.
Pretty mushrooms…
Ladle some of the liquid from the pot into a Vitamix or food processor. Use tongs to remove the soft onions, zucchini, and leeks. Be careful to leave the split peas or beans in the bottom of the pot.
In a few separate batches, completely blend together the onions, zucchini, and leeks. Pour the blended mixture back into the pot.
Add more soup liquid (lots) and cashews to the mixture, and blend in.
Return the blended, creamy mixture back to the pot.
Add the sliced mushrooms and bay leaves. Simmer another 20-30 minutes until mushrooms are tender.
(This time I used to cleaned my kitchen, which now looked like a soup bomb went off in it! The funny part is, this is EXACTLY what Dr. Fuhrman and his wife do too. See how this recipe is obviously designed by a man? Very practical. haha)
Season to taste with granulated garlic and Herbamare or other salt free seasonings if desired.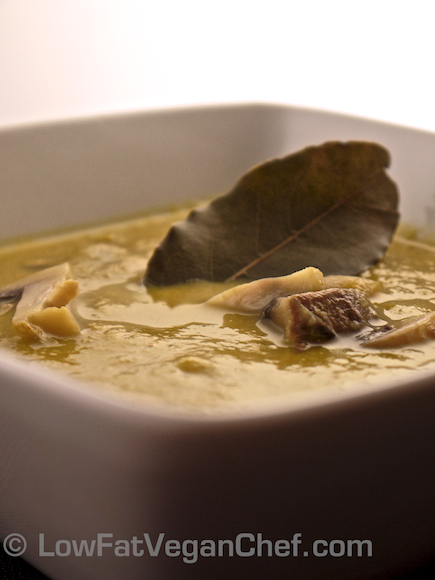 Remove bay leaves and serve. (Now that your kitchen is clean you can sit down, relax and enjoy!)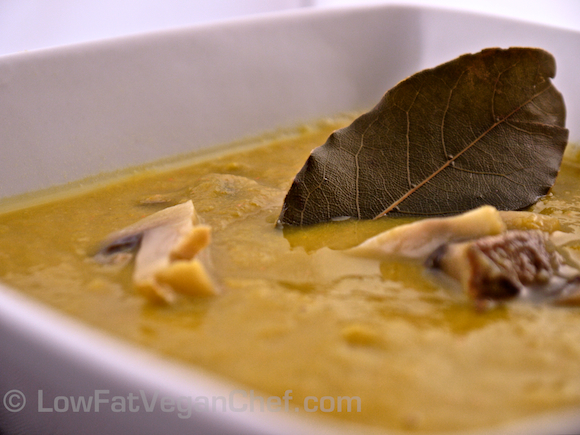 If you LOVED this recipe you'll love my new ebook Comfort Soups To Keep You Warm:
You WILL have lots of leftovers from Dr. Fuhrman's "Anti Cancer Soup". Save the rest in containers and use for lunches for the next week.
Might I add that this was probably the hardest soup I've had to make look delicious in a photo. I tried really hard. It tastes better than it looks!
Nutritional Information: 12 Servings
Amount Per Serving: Calories 179.2 Total Fat 1.0 g Sat. Fat 0.2 g Poly Fat 0.5 g Mono Fat 0.1 g Cholesterol 0 g Sodium 593 mg Potassium 1,577.9 mg Carbs 40.0 g Fiber (unknown due to carrot and celery juice data unavailable) Sugars 12.7 g Protein 7.1 g