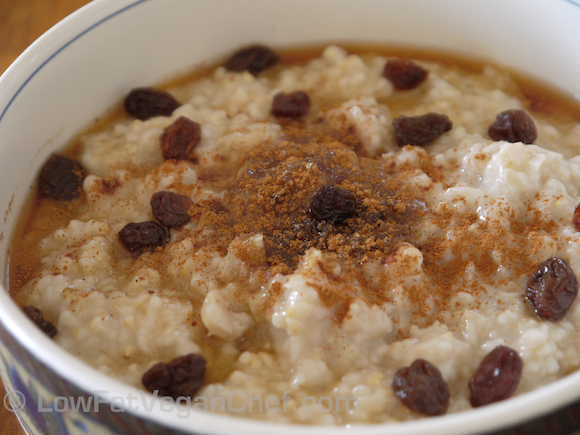 What Are Steel Cut Oats/Irish Oats?
Steel cut oats are whole grain oat groats (the inner portion of the oat kernel) which have been cut into only two or three pieces horizontally. They are golden in color and resemble mini rice particles and are cylinder-like.
LivingPrepared has a good picture of rolled oats vs steel cut oats. Rolled oats are on the left, steel cut are on the right.
How do steel cut oats differ from rolled oats (old fashioned oats)?
Rolled oats a.k.a. old fashioned oats, are flake oats that have been steamed, rolled, re-steamed and toasted. Due to all of this additional processing they have lost some of their natural taste, nutrition and texture. They are just a more refined form. Most people get confused and think rolled oats are unprocessed and naturally come this way, and that instant oatmeal is the only oat that is processed. This is not quite correct. Rolled oats are still pretty processed and have undergone many treatments.
What is oatmeal or instant oatmeal then?
Instant oats are very processed compared to steel cut oats, they are pre cooked, dried and partially powdered with some flakes left. All you do is add hot water since they are already cooked and broken down. They usually come in packets with sugar and seasonings already in them.
This is why some people choose to eat only steel cut oats, or Irish oats as they are like the whole grain version of oats and the least processed.
Oatmeal Helps Lowers LDL (Bad) Cholesterol
Oatmeal is full of soluble fiber, which we know lowers LDL levels. Experts aren't exactly sure how, but they have some ideas. When you digest fiber, it becomes gooey. Researchers think that when it's in your intestines, it sticks to cholesterol and stops it from being absorbed. So instead of getting that cholesterol into your system — and your arteries — you simply get rid of it as waste.
In a study published in the American Journal of Clinical Nutrition, researchers tested cholesterol-lowering drugs against cholesterol-lowering foods in a group of thirty-four adults with high cholesterol. Oat products were among the chosen foods. The results were striking. The diet lowered cholesterol levels about as well as cholesterol drugs. WebMD
Even if you're not eating cholesterol containing foods (all animal products contain cholesterol because only animals produce cholesterol, not plants) you can still lower your LDL (bad) cholesterol by eating oatmeal, which is helpful for some who still have high cholesterol on a vegan diet. The main reason some vegan diets don't completely save you from having high cholesterol, is because of the amount of rich plant fats we tend to eat when compensating for a lack of meat and cheese. Salad dressing oils, battered or fried vegetables, fried snacks, vegan pastries and cakes, cookies, crackers etc. When you eat a lot of fatty foods this raises the amount of cholesterol you produce yourself, which is not good. So switching a high fat vegan meal to a low fat meal of oatmeal can make a big difference in your cholesterol numbers and health.
How much oatmeal do I need to cook for one person?
Steel cut oats can expand up to 4 times their dry size. For one person you can make about 1/4 cup for a single serving. When I'm making steel cut oats for my family, I usually make at least 1-1 1/2 cups because then there's enough for everyone to have a satisfying breakfast. You can also save any leftovers and store it in the fridge for a quick breakfast the next day.
How To Cook Steel Cut Oats (Irish Oats) In a Rice Cooker
(For stovetop or microwave directions scroll down to the bottom)
To make your oats, you have to decide how thin you like them. I personally like mine a little thick, like in the picture, as opposed to a thin porridge, so I use a ratio of 3 parts water to 1 part oats. You can use a 4:1 ratio of water to oats if you like it thinner.
I have used several different types of rice cookers. At home I have a Zojirushi 5 1/2 cup rice cooker which has a lot of functions like white rice, brown rice, mixed rice, porridge and even a cake setting! It works awesome and I use the porridge setting for steel cut oats on it. What's great about the Zojirushi is it has an internal programmable clock and you can tell it EXACTLY what time you want your rice/grain/porridge ready. So if you want to eat breakfast at 7 am, you set it for 7 am (in military time 07:00) and it will be ready to go at that time. Just do the process below, put the oats and water in and press start the night before and your breakfast will be hot and ready with no hassle the next day. If you're a single or a couple they have a smaller version the Zojirushi 3 cup rice cooker as well.
I've also used this Hamilton Beach Digital Deluxe Rice Cooker that is great for a family on a budget, it has a white rice and a whole grain setting. I use the whole grain setting on this rice cooker for steel cut oats. It works a little differently, it has a delay timer. So what I do is set it so that it starts while I'm sleeping. If I go to bed at 11 pm and want to eat at 7 am, I would set the delay timer for about 5-6 hour delay. 5 hours for a large portion, 6 hours for a smaller portion (single size) and then it will start cooking when the delay timer hits zero and your oats will be ready for breakfast.
(Please do NOT put anything like dairy or animal products that should be refrigerated into a rice cooker overnight as this is a health risk. Only use water and dry grains when using a delay or programmed timer. So don't add milk or cream to your oats and let it sit out all night, you can stir it in in the next morning before eating)
This is great for when you don't have time to cook steel cut oats on the stove and want a quick breakfast.
Step 1: Measure out 1 cup of steel cut/Irish oats (or your desired amount). Pour it into a mesh strainer. Give it a rinse to clear any dust or debris. Pour it into the rice cooker.
Step 2: Measure out 3-4 cups of water (or your desired amount) and pour it into the rice cooker.
Step 3: Press the porridge/whole grain/brown rice setting (whichever setting your rice cooker has) and let it cook. It's going to take a while to cook, similar to cooking brown rice. It should take about an hour to hour and a half depending how much you put in.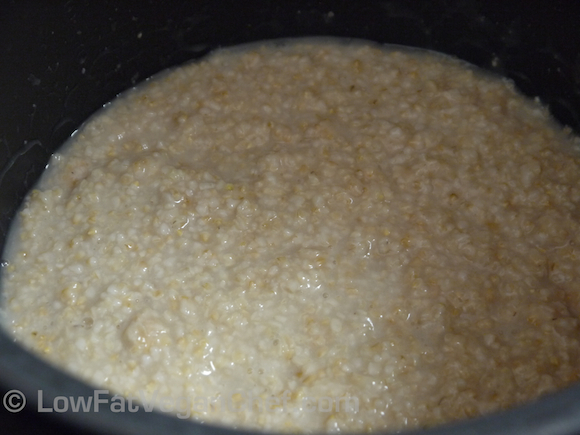 Step 4: Your steel cut oats are done and ready to season. You can add more water to thin if desired, add almond milk, maple syrup, brown sugar, cinnamon, raisins, sliced bananas, granola etc. Whatever you'd like to dress it up. This way you can control the amount of sugar in your oatmeal instead of eating the prepackaged instant oatmeal.
Step 5: Serve!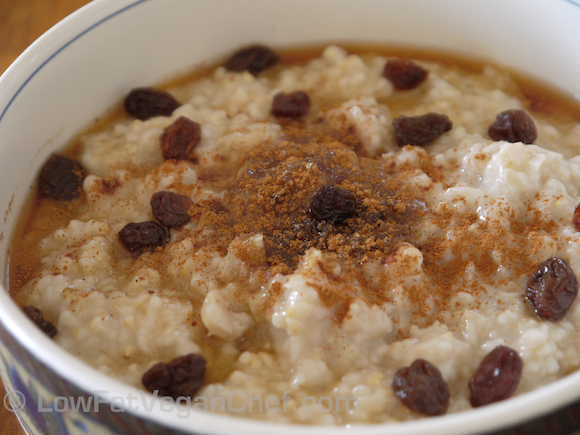 How To Cook Steel Cut Oats (Irish Oats) On The Stove:
Add your 1 cup of oats to 3-4 cups of water to a large pot and bring to a low boil over medium high heat. When it's boiling, reduce the heat to low and simmer for 20 minutes and stir every few minutes to prevent sticking. Season as desired and serve.
Time saving tip: Boil 4 cups of water the night before and add 1 cup of dry steel cut oats. Stir and let it soak over night. In the morning put it into a pot and cook over low heat for 9-12 minutes until the oats are tender. Season as desired and serve. (If you use this method, disregard the method above)
How To Cook Steel Cut Oats (Irish Oats) In a Microwave:
I have not tried this method personally, but it should be really easy. Place 1/2 cup of steel cut oats into a large (at least) 8 cup microwave safe bowl (not metal) and pour 2 cups of water into it. Make sure you use a large bowl to prevent it from boiling over in the microwave. Microwave on high for 5 minutes. Remove and stir and microwave on high for another 5 minutes. (Microwave times might vary depending on strength) Season as desired and serve.
What if I don't have time to make steel cut oats every day?
The solution is pretty easy, just make a big batch and save the leftovers in individual portions in the fridge. If it's for one person, multiply your recipe by 5 so you have enough for each day of the week. So you might use 1 1/4 cups to 2 cups of dry steel cut oats, depending if you're a woman or a really athletic man. And then you cook it with 3-4 times the amount of water. Season it and then separate into containers. Then all you have to do is reheat it in the microwave the next day and add any additional water or non-dairy milk to thin it out, stir and eat. It's a great time saver if you want to eat more whole foods, without having to rely just on instant oatmeal.
What do you think of this recipe? Have you made steel cut oats before? Are you going to try now?