Back in August I attended the International Food Blogger Conference and attendees were able to secure a brand new Ninja Cooking System for free should they choose to try it. I was very interested because it's not just a slow cooker, but you can use it for baking or stovetop cooking as well. So if you like to start off some of your soups, stews or roasts by sautéing and then turning on the slow cooker, you will love this kitchen gadget. It comes with a little cookbook in the box, but naturally none of the recipes are vegan. There is one "can be made vegetarian" lentil soup recipe in the book, but I tried it and was not impressed. (It uses chicken stock and cheese and I used vegetable stock and it was rather bland, naturally.)
So I decided to pull it out and make a vegan split pea soup. It is rather chilly in Calgary, Canada where I am and it sure makes the house smell delicious with soup cooking away all day. What's nice about the Ninja Cooking System is that it has a non stick lightweight pan. So there's no fear of food getting stuck to it making it hard to clean, or it being so heavy you might accidentally drop it and break it. It also has a handy digital timer for the low/high/buffet (keep warm) setting, and simply an on/off setting for the low/medium/high stovetop section.
Since I will be using it only for bean, lentil and soup recipes (and not roasts or meat stews) I will be playing around with it. But for my purposes it works just like a slow cooker so it's very easy to use. Don't be intimidated! Just select the setting you want by using the dial. Although I still have my regular slow cooker, I suppose I don't need it anymore as the Ninja is quite convenient to use AND clean too. It also comes with a little metal pan for roasting/steaming/baking and a metal roasting rack.
If you're interested in getting a Ninja Cooking System you can get it on Amazon here. I suspect it would also make a nice gift for that family member pressed on time, who likes to toss ingredients into the pot and "set it and forget it" until they come home from work for fast meals.
Although I'm not skilled in the art of French cooking (as they use butter, cream and meat predominantly) I still enjoy using some French ingredients and especially French herbs. Here's my version of a simple and hearty Vegan French Split Pea Soup.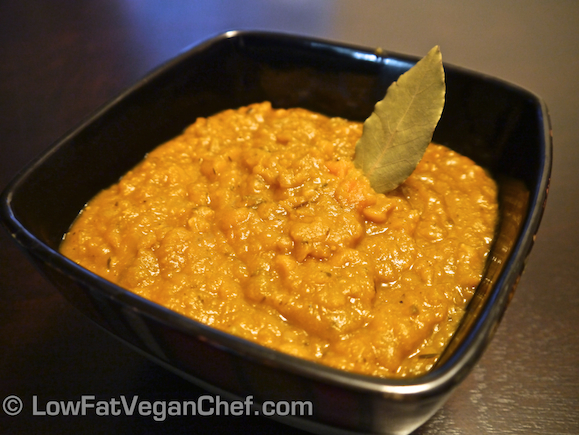 Vegan French Yellow Split Pea Soup (Slow Cooker)
Serves 8
Ingredients:
2 cups yellow split peas (rinsed and picked over)
8 cups vegetable broth (low sodium or homemade)
1 large sweet onion, or 2 small, diced
4 cloves of garlic, minced
3 celery ribs, diced
3 medium carrots, peeled and diced
3 tsp Herbs de Provence (or a mix of rosemary, thyme, savory and/or basil)
3 small bay leaves
1 tsp Dijon mustard (do not use yellow mustard or spicy mustard)
Fresh ground pepper to taste
1/2 tsp Herbamare or salt (or to taste)
Directions: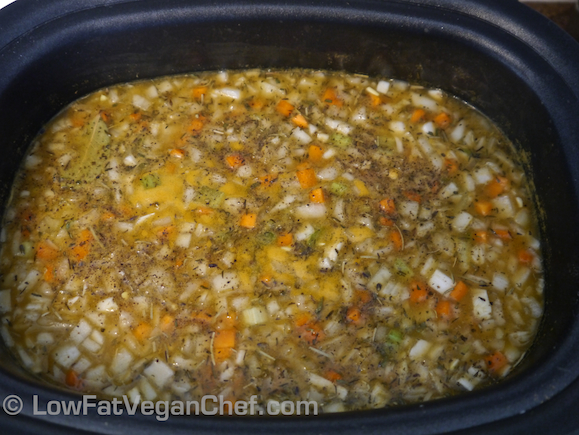 Place ingredients into a slow cooker such as the Ninja or a pressure cooker.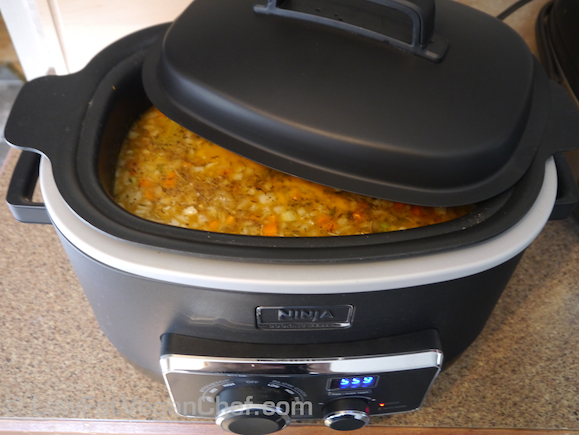 Cook on high for 5-6 hours or low for 8-10 hours. Alternately you can cook it in a pressure cooker for about 7 minutes.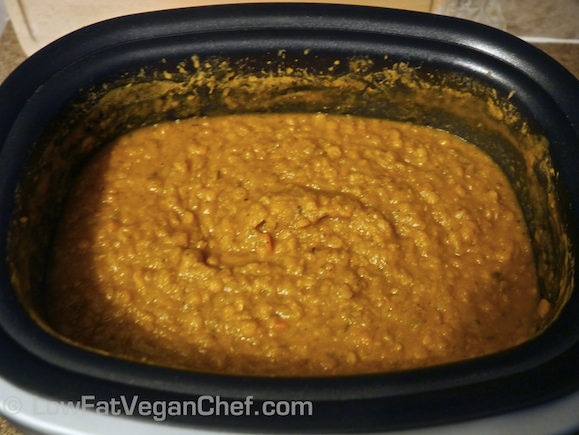 When split peas are at desired tenderness, mash or blend part of the soup for a creamier texture.
Add dijon mustard and stir and season to taste with Herbamare or salt and pepper.

Serve with whole wheat bread or over rice.
Additional Tips:
Make sure to use fresh split peas (meaning not ones sitting in your cupboard for the past year, and preferably not from a bulk bin). Using "old" split peas that have been through various temperatures and humidity can leave them hard and difficult to break down. You'll know you had old peas if at the end of cooking time they are still rather hard and intact. No amount of cooking will soften them, you'll just end up burning the bottom of the soup to the pot. (I have had this happen many times from bulk split peas) Pick up a fresh set of split peas for your soup recipe instead.
Because I cooked this in the Ninja some of the moisture escaped from the hole in the lid at the top, so my soup is really thick. If this happens to you, you can add a little more broth or water as needed for desired consistency and then season to taste.
Additionally you can add diced potatoes or other seasonings to this soup to mix it up.
Have you ever made split pea soup? What ingredients do you like to add?