And the winner of my first copy of Comfort Soups To Keep You Warm is….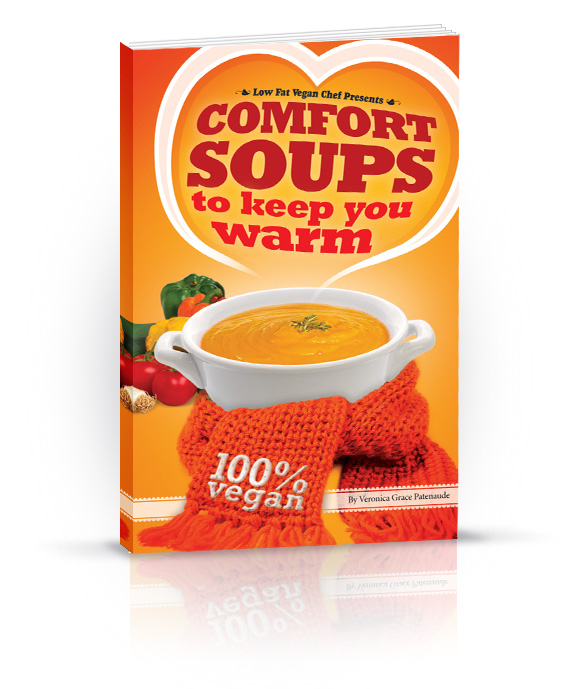 ….Meena Sharma! Congratulations Meena, I will be contacting you shortly to let you know you've won.
Thank you to everyone who entered! I really appreciate your support and excitement. My Comfort Soups To Keep You Warm recipe eBook is now ready so check it out!
After all of those tantalizing soup photos I showed you on Monday, I bet you are craving a delicious bowl of soup by now! So I wanted to share one of my soup recipes with you. This oil free vegan Mexican Black Bean Corn Soup is one of my favourites, it's so hearty and filling and bursting with flavour. You're going to want to make this soon!
An insider tip I have for you is to make your own vegetable broth (my recipe is here)  and fresh black beans (instead of canned) for the absolute best taste. But if you're in a hurry, you can always use canned black beans. For packaged vegetable broth the best substitute seems to be Pacific Natural Foods Organic Low Sodium Vegetable Broth. Roasted cumin and chipotle chili powder bring great flavour to this recipe. If you can find it over the regular versions it adds a really nice smokey flavour to the soup. I use McCormick roasted cumin, you can get it on Amazon or at places like Walmart or some grocery stores. This is probably my favourite seasoning and I go through more of it than any other spice. You'll definitely use it a lot if you make my recipes. I also use Frontier organic chipotle powder in all of my Mexican dishes and it's amazing in vegan chili too.
Now on to the recipe!
Low Fat Vegan Mexican Black Bean Corn Soup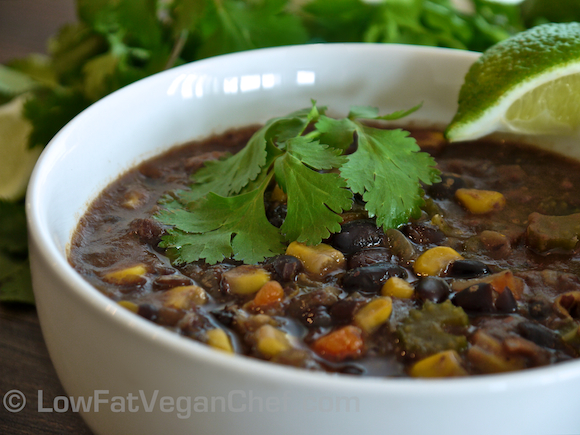 Serves 8
Ingredients:
1 large onion, diced
6 cloves of garlic, minced
3 stalks of celery, diced
2 carrots, diced
5 cups/1.25 qts./1.2 L of vegetable broth (homemade or low sodium)
4 15 oz./425 g cans of black beans, low sodium (or 7 cups cooked) undrained
1 15 oz./425 g can of whole sweet corn, drained (salt free, unsweetened)
1 14.5 oz./411 g can of fire roasted tomatoes, diced (I use Muir Glen Organics)
1 tbsp. + 1 tsp. roasted cumin (or regular cumin)
1 to 1 1/2 tsp. chipotle chili powder
1/2 tsp. Herbamare or salt (to taste)
1/2 tsp. sugar or sweetener (if needed)
Juice of 1 small lime
Fresh ground pepper to taste
1/2 bunch of cilantro, chopped to garnish
Directions:
1. In a large pot, sauté the onion, celery, carrots and garlic in 1 cup of vegetable broth over medium heat for 6-7 minutes. Add chipotle chili powder, roasted cumin, and black pepper and cook for another minute or two. Stir in the remaining vegetable broth, 4 cups (or 2.5 cans) of beans, and sweet corn. Turn to high heat and bring to a boil.
2. Add remaining 3 cups (or 1.5 cans) of beans and crushed tomatoes to a Vitamix or blender and process until smooth. Stir into soup when boiling, reduce heat to medium, and simmer for 15 minutes until beans and vegetables are done to your desired tenderness.
3. Taste test. Add Herbamare or salt to taste and lime juice. If your soup is a little too tangy or bitter, you can add a little sugar to balance the flavor if desired.
4. Serve in bowls and garnish with fresh chopped cilantro
Nutrition Facts: 8 Servings Amount Per Serving: Calories 225.8 Total Fat 0.2 g Saturated Fat 0.0 g Sodium 485.5 mg Carbs 42.6 g Dietary Fiber 16.9 g Sugars 4.1 g Protein 13.6 g
——————–
So now on to the contest for the second copy of my Comfort Soups To Keep You Warm eBook! This second contest entails a little more than the last one. If you complete it, your chances of winning are much much higher!
—–>How You Can Win The Second Copy of My eBook<—–
Contest is Closed
To be entered you need to post a comment on this article and let me know what you think of the Mexican Black Bean Corn Soup, AND you need to pick 4 other recipes on my blog and comment on them as well. If you can number your FIFTH (#5) comment (to show you are done) when you post it on another recipe, it will also help me track them. Comment #1 can be done here.
But, good new for those of you who have been following along and commenting on my recipes, your old comments on my recipes count too. So if you've already commented on one or two recipes, those count and you just have to comment on this one and make sure you have 5 comments total. If you number your 5th comment to let me know you've completed the challenge, it will be helpful for me to track.
I will take all of the commenters with 5 comments on recipe posts (including this one) and enter them into a random draw to win a second copy of my recipe eBook. The contest closes on Saturday March 24th at midnight EST/9pm PST and then I will announce the winner on Monday March 26th. Make sure you're signed up to my newsletter to find out if you've won! (You can sign up on the top right of this page in the bright pink box.)
—————————————–
The winner of the second copy of Comfort Soups To Keep You Warm  is Vicky Johnston! Congratulations Vicky!
My recipe book is now available!