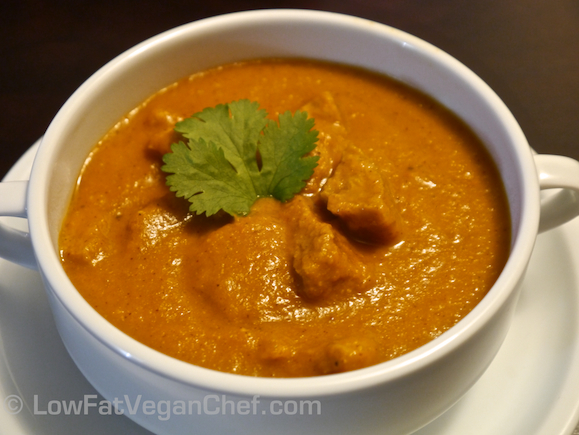 Ok I have to admit something to you.
I've never actually had buttered chicken, but it's because once upon a time I was a little afraid of spicy food and afraid I would not like Indian food… (Hah funny I know right.) I also stopped eating butter and dairy a long time ago and also did not eat foods with dairy products. So I will not try to argue that I know this is an "authentic" recipe or anything like that.
Just because you eat plant based now doesn't mean you have to miss out on delicious Indian curries!
BUT I will tell you that this vegan version of "Buttered" Chicken is oil-free, butter free and cream free, so you can feel a little less guilty about indulging in a creamy Indian curry. Since I don't like to use fake meat products often, I made my own "wheat meat" also known as seitan. (Seitan is not gluten free, so if you are allergic you can sub tofu or chickpeas).
This was a fun experiment as I'd never made "wheat meat" before but it was actually pretty easy.  See my instructions for seitan here.
This curry sauce can be used for any item really, if you want to cook tofu, vegan chicken, chickpeas, potatoes, cauliflower etc. instead of the seitan you can do that as well. It goes really well on top of rice or Indian bread such as roti or chapati (more vegan friendly than naan bread.)
Indian curries can be a little complicated to make if you make fresh curry pastes, but this recipe is very easy and uses readily available dried spices. Plus it's also much healthier than using jarred curry sauces from the store and you can adjust the spiciness to your liking.
I hope you have fun making it!
Seitan Makhani (Vegan "Unbuttered Chicken) Recipe
Serves 6
Curry Ingredients:
1 onion, finely chopped
4 tsp lemon juice
1/4 cup water
2 tsp ground ginger
4 cloves garlic, minced
4 tsp curry powder
1 1/2 – 2 tsp chili powder
4 tsp ground cumin
3 bay leaves
2 cups tomato puree (you can puree canned tomatoes)
2 cups almond or soy milk (original unsweetened)
1/2 cup plain vegan yogurt (I used So Delicious coconut – plain)
2-4 teaspoon garam masala
Cayenne pepper to taste
1/2 tsp Herbamare or salt or to taste
Black pepper to taste
Vegan Chicken:
1 (16 oz) package chicken-style seitan, cut into cubes (See my recipe here) Or sub tofu or chickpeas
1-2 teaspoon garam masala
Roti/chapati or basmati rice to serve with
Directions:
1. Heat a large non-stick  saucepan or wok over medium heat. Add the onions and cook until softened, about 5 minutes. Add lemon juice, water, ginger, garlic, curry powder, chili powder, cumin, and bay leaves. Cook and stir for 1 minute. Stir in the tomato puree and cook for 3-4 minutes more. *Note I used canned tomatoes and just pureed them in the blender beforehand.
2. Reduce the heat to low and mix in the almond milk. *For a creamier curry, transfer contents to a blender or food process and process until smooth. Return to pan and simmer for 10 minutes, stirring frequently. Stir in the vegan yogurt and season to taste with garam masala, cayenne, salt, and black pepper. Remove from heat and set aside.
3. Heat a separate medium sized non-stick pan over medium heat. Add the seitan and cook, stirring constantly, for 5 minutes. Reduce the heat to low and season the seitan with teaspoons garam masala. Stir in about a 1/4 cup of the tomato-yogurt sauce and simmer for 2 to 3 minutes so it can absorb some of the flavours.
4. Transfer the seitan mixture to the saucepan and heat through.
5. Serve. (Curry will be really saucy and goes well on rice.)
Variations:
Sub the seitan for sliced tofu, chickpeas, potatoes or cauliflower for variety.
You can also double the amount of seitan or add vegetables to make a chunkier curry.
Have you ever had butter chicken before? Have you ever made your own Indian curry at home?