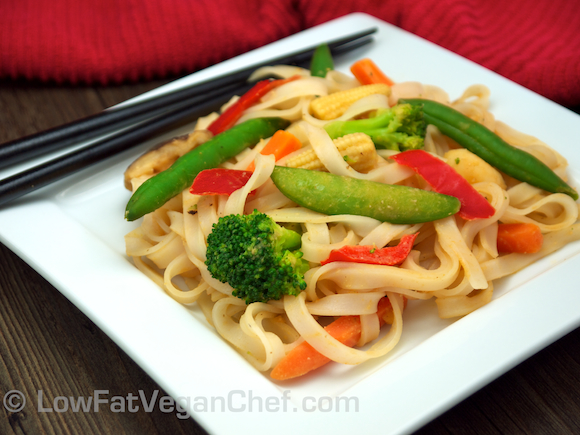 Have you ever had a craving for Pad Thai or stir fried noodles so badly, but you didn't really feel like cooking or have much time to throw something together? Or maybe Pad Thai is one of your favourite dishes but you don't know how to make an easier version at home. If this sounds like you, then I know you're going to love this recipe!
My Quick Lower Fat Pad Thai recipe has all the best parts of authentic Pad Thai, but it skips the oil, the eggs and the fuss. Generally Pad Thai is very oily as they fry the noodles in lots of oil so the noodles don't stick to the pan or each other, but if you have a non stick pan and the rice noodles are still moist you can do without actually. I've had Pad Thai in Thailand, Canada and the USA and although everyone makes it a little differently, the one thing that is common is that they are not really healthy and are really greasy. So it's not a good choice if you're eating out at a restaurant and trying to stick to a healthier diet. A Thai soup, salad or even vegetable curry often has less calories and fat than noodles when they're fried in oil and topped with peanuts.
The best solution for a lighter and lower calorie noodle dish is to just make it at home, you can also increase the amount of veggies and reduce the amount of noodles if desired as well. This recipe is definitely going to become one of our staples as it's pretty easy for me to throw together. If you keep frozen stir fry veggies in the freezer then it makes this dish even faster to make. Really there's no excuse now, everything is washed and chopped for you!
You can also easily make my Pad Thai sauce or a big double batch of it once a week to use for your veggie stir fries and serve with rice or noodles for a quick meal any day of the week. Ketchup is usually only used in Americanized Pad Thai, but for this recipe it works well and adds a little tomatoey flavour to it without being as acidic as plain tomato paste. (This sauce tastes more like spicy peanut sauce than anything, it won't taste like plain ketchup, I promise!)
This recipe will make a substantial meal for a couple or 4 side servings. (The picture below is just a small side serving size.)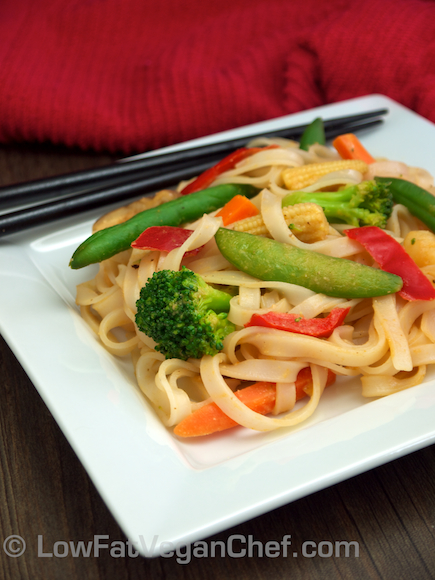 Quick Lower Fat Vegan Pad Thai (Rice Stick Noodles With Veggies in Spicy Peanut Sauce)
Serves 2-3 dinner sized portions
Ingredients:
1/2 454 g package pad thai rice stick noodles (use 227 g) (pictured are the L/5mm size)
1 large salad bowlful of frozen or fresh stir fry veggies of choice (about 4-5 cups)
Pad Thai Sauce
1/4 cup water
2 tbsp low sodium soy sauce or tamari (for gluten free)
2 tbsp smooth peanut butter
3 tbsp ketchup (organic or low sodium)
1-2 tsp Sriracha Hot Chili Sauce (depending how spicy you like it)
1 tsp liquid sweetener of choice or brown sugar
1-2 cloves of garlic
1/2 tbsp fresh ginger
Directions:
In a medium-medium large sized pot, fill it about 1/2 way with water (about 3-4 inches deep) with water and bring it to a boil.
Add 1/2 package of rice stick noodles and stir in to break up. Make sure the water covers the noodles. Let sit while you make the sauce.
Combine sauce ingredients in a small blender, Vitamix or magic bullet. You may need to mince the garlic and ginger first if you have a low powered blender. (or you can double the sauce recipe and save the rest for another stir fry or an asian salad dressing.) Blend until smooth. Add a little more water if you want a thinner sauce. Taste test and add more hot sauce if you like it really hot! (I only use 1 tsp for my tastes.)
Measure out your veggies and put a large skillet or wok to heat over medium-medium high heat. When hot add the veggies and the sauce.(Frozen will only take 4 minutes to cook, fresh will take longer.)
Check on the noodles, you want them to just be al dente or they will rip and fall apart if overcooked. If soft enough quickly drain and add to vegetables when veggies are almost done. Toss to combine with sauce. (If you take out your noodles and let them sit for a while they will stick together in a clump, if this happens rinse them in a colander briefly and drain before adding to pan with the vegetables.)
Stop cooking when veggies are al dente and crisp tender.
Serve immediately.
Variations:
Use different veggies or try different stir fry mixes, add fresh bean sprouts, cubed tofu or Thai chili peppers when stir frying.
To make this recipe gluten free use wheat-free tamari instead of soy sauce. To make it peanut free substitute almond, cashew or tahini butter instead.
For single servings save half or 2/3 of the sauce (for small portions) for later or another stir fry and use 1/4 of a package of rice noodles and only 1-2 cups of veggies.
To make stir fries without oil, just use a non stick pan and sauté your veggies or tofu in a sauce. If your sauce is a little thick, don't worry the veggies will release some liquid as they cook. Non stick pans were designed for oil free cooking, yet most people continue to use oil no matter what they are cooking.
Trouble Shooting Rice Stick Noodles
"Why did my rice noodles fall apart?" Read below.
Do not boil the noodles on the stove. Only add them to a large bowl or pot and pour boiling water over them. Let them sit uncovered until desired tenderness. They should be al dente, if you let them get really soft like overcooked spaghetti they will tear when you lift them out and stir them in.
If your noodles are broken when you lift them out of the pot or bowl when cooked, you cooked them for too long. For my size of noodles (5mm) I checked them after about 5 minutes. Keep testing them every minute until you find the exact time that works for you. Vermicelli (spaghetti/angel hair thin) will only take a minute or so. 3mm size rice stick should be checked after 2-3 minutes. Remember they will soften a little bit after you take them out and if they are already soft they will be too soft when you prepare the stir fry.
If your noodles were fine when you took them out but then broke when you stirred them into the vegetables after a while, you added them too soon and stirred too much. Let the vegetables cook until they are almost done and THEN add the noodles. (Make sure the noodles are separated and not a big clump. If clumpy briefly rinse in water again and drain before adding.) Gently toss with the veggies and don't over stir. The biggest mistake to fried rice and fried noodles is over stirring. So make sure things are almost cooked before adding and you're just tossing together to heat through and get the sauce on them. Plate gently to prevent the noodles from tearing too much.
What is Sriracha Hot Chili Sauce?
Sriracha Hot Chili Sauce is available at many grocery stores, Asian markets and even Costco. Click here to get it on Amazon.