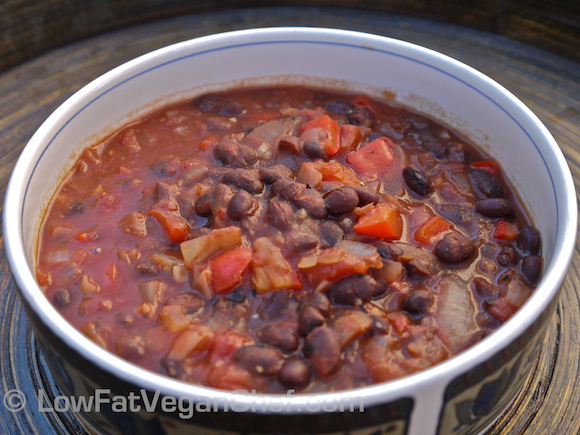 This is a really tasty and easy chili that tastes like it's been simmered for hours, but it's ready in about 25 minutes! The secret is in using roasted or smoked spices and fire roasted tomatoes that make this vegan black bean chilli so good. My favorite fire roasted tomatoes are made by Muir Glen Organics. You can make this recipe in a slow cooker, but since the majority of the ingredients are already pre cooked there's no reason to take all day creating this.
When you want a hot meal that's comfort in a bowl, one pot meals are the way to go. I don't like to make a big mess in the kitchen every night, so this is one of those recipes that gives me a break from dishes and is very easy to throw together when I'm short on time.
As always you can ensure your canned goods are BPA free by reading the label and choosing brands such as Muir Glen Organics or Eden Organics or making sure your cans do not have a white plastic lining in them as well. Another cost effective option is to simply stew your own tomatoes (and you can roast them in the over after) or cook your own dried beans from scratch. To make my own beans in a snap I use the Easy Bean Cooker and it does all the timing and cooking for me.
Quick Stovetop (Low Fat) Plant Based Black Bean Chilli Recipe
Serves 4
Ingredients:
1 large onion, diced
6-8 cloves of garlic, minced
1 red bell pepper, diced
2 15 oz. cans of black beans, drained (or 4 cups fresh cooked beans)
28 oz. can regular or fire roasted crushed tomatoes
1 1/2 tsp roasted cumin
3/4 tsp smoked paprika
1/2 tsp chipotle chili powder
1 tsp sugar or sweetener
3/4 tsp herbamare or salt
fresh ground pepper to taste
Directions:
1. In a large non stick wok saute the onions for 6-8 minutes. Add the garlic and red pepper and sauté for 5 more minutes stirring occasionally. Add water if necessary to keep from burning.
2. Add the tomatoes and drained beans and seasonings and heat through for about 15 minutes, until peppers are soft and flavores have melded.
3. Serve with brown rice, baked potatoes, bread or vegetables for a filling meal.
Variations:
If you want to add more veggies such as carrots or mushrooms you can add them with the onions and sauté them first, if you want to add some corn you can add them with the beans.