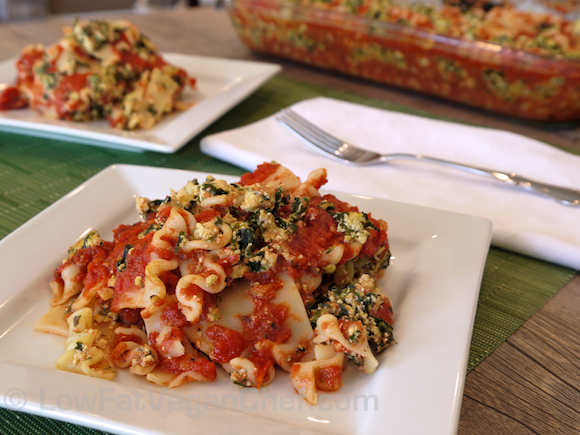 Who doesn't love lasagna right? Well what about vegan lasagna?
Unless you've had it at a vegetarian restaurant chances are you haven't had much vegan lasagna in your life, so that's why I want to share this delicious recipe with you!
This past week a friend of mine was staying with me and we were going through all my cupboards (I have a lot of them!) and were trying to see if there was something we could throw together for lunch without going to the store. I have a plethora of the basics plus a smattering of random ingredients I never got a chance to use up yet so we had a lot of possibilities.
She asked if I had a box of lasagna noodles and I admitted "No unfortunately I don't have any" but while rummaging I did find a bag of mini lasagna noodles I got from The Gourmet Warehouse in Vancouver. I thought they looked so cute and it would be neat for a mini lasagna casserole sometime, but I just never got a chance to use them before.
We also found some jars of pasta sauce, along with some tofu and frozen spinach so we were pretty much covered to make a basic casserole. One of the things that makes preparing healthy meals at home easy is making sure you have things like canned tomatoes or pasta sauce, dried noodles, frozen veggies and a variety of seasonings to work with.
So we whipped this vegan lasagna casserole together and it didn't take very long at all which was great because we were starving! LOL.  I have a lasagna recipe that's coming out in my next ebook (called Comfort Foods From Around The World) that I'm trying to have ready by the end of this month and it was SO much quicker to put together than that so I was pretty impressed.
The mini lasagna noodles are not really essential for this recipe, any pasta will do, but for the photos' sake it helps to have the pretty ruffled edges. 🙂 You can also break regular lasagna noodles into chunks, or use more common noodles such as penne if that's all you can find. It's pretty much going to taste the same, just have a different texture and mouth feel. Some specialty stores or gourmet kitchen supply stores might carry mini lasagna noodles so keep your eyes peeled.
I like to keep my lasagnas fairly healthy so I omit the vegan processed cheese or nut cheese and just make a homemade tangy tofu ricotta instead. (This also keeps the fat and salt content much lower too.) I have tried both regular firm and silken tofu for my vegan ricotta and I have to say that the silken tofu wins hands down. It's just a nicer texture, creamier and melts in your mouth like real ricotta. Feel free to use whatever tofu you prefer but I really think silken tofu makes a difference especially when you're looking for a creamier texture in your cheese-less vegan lasagna.
Scroll down for the recipe…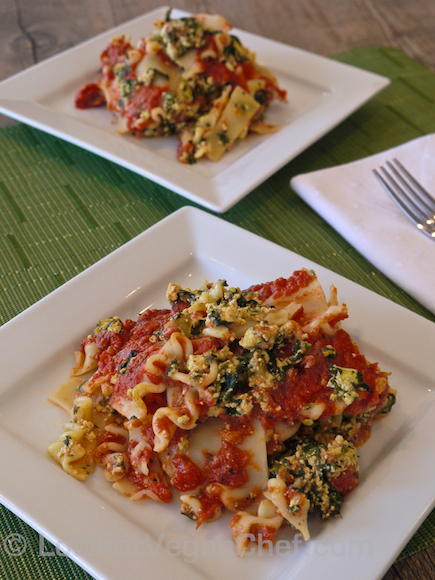 (Low Fat Vegan) Easy Mini Lasagna Casserole
Serves 8-10
Ingredients:
1 454 g/1 lb. package mini lasagna (mafalda, or similar) noodles *GF if desired
2 709 g/45 oz jars pasta sauce (mushroom, garlic, basil flavored etc.)
1/4 cup chopped basil
2 packages firm silken tofu, drained (I used mori-nu)
8-10 cloves of garlic, minced
1/2 cup-2/3 cup nutritional yeast
3 tbsp miso paste (Genmai brown rice)
1-2 tbsp lemon juice
1 283g/10 oz. package of frozen spinach thawed and moisture squeezed out
Directions:
1. Preheat oven to 350 F (176 C)
2. In a large 4-5 qt. pot bring water to a boil and then add 1 tbsp salt and stir. Add mini lasagna noodles (or pasta of choice) and cook for about 5-6 minutes (less for smaller pasta). Stir occasionally to prevent noodles from sticking to bottom of pot. Drain and rinse to remove excess salt if desired. Let noodles cool slightly before handling (because you're going to be layering them in.)
3. In a mixing bowl, crumble the tofu and add the chopped basil and seasonings adjusting the nutritional yeast and lemon to your tastes. Add the spinach and mix together.
4. In a large 9×13 lasagna casserole pan (or 2 smaller pans) pour in some sauce just enough to cover the bottom of the pan. Next layer in 2-3 layers of noodles (you can make it as neat or messy as you like) and then top with the tofu/spinach mixture. Add another layer of sauce and spread it out so it covers everything.
Start the next layer with 2-3 more layers of noodles and repeat twice more. Cover the top layer with the remaining sauce and make sure all the noodles are covered. Garnish with some tofu/spinach mixture or vegan cheese if desired (optional)
5. Bake at 350 for 30-45 minutes until noodles are al dente or at desired tenderness. Allow lasagna to cool for 5-10 minutes before serving so the sauce thickens.
6. Serve with your favorite salad or garlic bread.
Variations:
Add a chopped onion and a pound of mushrooms and sauté with a little soy sauce and brown sugar or maple syrup and mix in with the spinach. Add some vegan cheese like Daiya cheese for a more decadent option (increases the fat content though). Use a different type of pasta like giant shells or rotini or fusilli. Use homemade tomato sauce seasoned with your favorite flavors like garlic, basil, oregano, mushrooms, onions etc.
Have you ever had vegan lasagna before or tried mini lasagna noodles before? What do you think?