It is snowing like crazy where I am right now and I am making good use of my slow cooker these days. Sometimes it's just too chilly to spend much time in the kitchen, so I like to chop up some veggies and throw some beans into the slow cooker for an easy meal. These meatless sloppy joes are a super easy recipe that I guarantee ANYONE can make… if you have a knife and a slow cooker (or alternatively a pot and a stove) you can make this recipe. Promise.
For more plant based slow cooker recipes I just throw things in with some herbs and spices and then adjust the seasonings at the end, but if you're new to using the slow cooker for plant based recipes I know you'll appreciate actual measurements! So that's why I'm happy to help and share this recipe which is featured in my cookbook Vegan Comfort Foods From Around The World.
You can also serve this plant based sloppy joe recipe on rice or quinoa as well and eat it more like a chili too! Just tweak the spices to your liking and you can use this as a guideline for many different variations. 🙂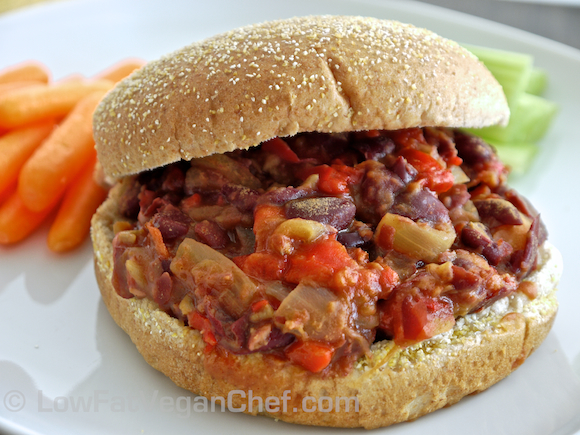 Vegan Slow Cooker Sloppy Joes
Serves 8
Ingredients:
2 15 oz. / 425 g. cans no-salt red kidney beans (or 4 cups fresh cooked)
2 large onions, sliced and chopped
2 large red bell peppers, sliced and chopped
1 14.5 oz. / 411 g. can fire roasted, crushed tomatoes or tomato sauce
8 cloves of garlic, minced
¼ cup / 60 ml. organic ketchup (low sodium)
1 Tbsp. Dijon mustard
½ Tbsp. blackstrap molasses
1 tsp. chipotle or chili powder
½ tsp. roasted cumin
½ tsp. smoked paprika
8 hamburger buns or rolls (Gluten free if desired)
Slow Cooker Directions:
1. Drain the kidney beans and pour into a shallow dish.
2. Arrange the ingredients in the slow cooker starting with the onions, then beans, peppers, tomatoes, with garlic and seasonings on top.
3. Cook on low for 5-6 hours, or high for 3-4 hours. Stir and taste. Add more spices if desired. Mash part of the stew with a potato masher to thicken the sauce.
4. Serve with large hamburger buns or rolls.
Stove top Directions:
Add some vegetable broth to the bottom of a large pot and when hot add the onions and cook for 5-6 minutes. Add the remaining ingredients and cook until tender. Mash part of the mixture until chunky to thicken and serve.
Variations:
This recipe can double as a quick chili. Just add more beans or diced vegetables and remove the ketchup and mustard. Alternately you can serve this with rice or quinoa for a 100% whole food meal.
Additional Tips:
Mash the beans really well as they need to absorb the liquid. If you don't, it'll be too runny. 🙂
For more delicious recipes check out my cookbook Vegan Comfort Foods From Around The World (with many many recipes you won't find on the blog!)
Have you ever made sloppy joes before? What about meatless ones?