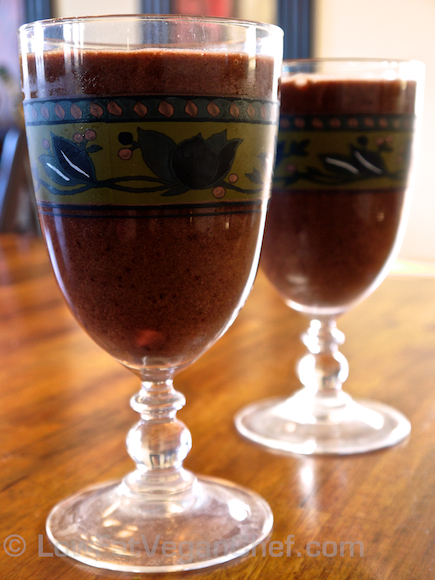 Today I thought I'd share another fat free raw vegan smoothie recipe with you  (this one includes cherries and pineapples) and go over some questions some of you may have on green smoothies. If you're looking for the recipe, you can scroll to the bottom of the post.
What is a Green Smoothie?
A green smoothie is basically just a raw fruit smoothie with some raw greens added to it for more nutrition. It can look green, red, purple or even brown coloured depending on what the ingredients are.
Why Would I Want To Add Greens To My Smoothie?
Most of us don't eat giant raw salads or plates and plates of green vegetables every day and when we do eat greens we often don't chew them well enough or even that long at all. A green smoothie is a great compromise for those who want to get more fresh greens in their diet with little fuss. It's also great for those who don't like the taste of leafy greens or want to eat all their greens raw.  Eating heads and heads of leafy greens every day can be tough too.
What Kind Of Greens Should I Put In My Green Smoothie?
If you're just starting out and not sure what would be a "safe bet" to have your first green smoothie or you're making one for someone else who is really skeptical, you should try something mild like a cup or two of baby spinach, mâche (lambs lettuce/corn salad) or a few leaves of lettuce.
If you're already used to green smoothies you can use the above, or also try adding celery stalks, kale, Swiss chard, dandelion greens, turnip greens, beet greens, etc.
If you're really adventurous and can stand bitter/strong greens like mustard, baby spring mix and collards you can try a little of those to start.
How Do I Make A Green Smoothie Then?
I would recommend to start with ripe bananas, a little bit of water, your favourite frozen fruit (pineapple, mango, peaches, berries etc) and a cup or handful or two of greens. Blend it and then taste test it before deciding if it needs more fruit or greens to your liking.
BTW, these are ripe bananas. Please DO NOT use anything less ripe than these or you could end up with s starchy (dry and pasty) bland smoothie and not enjoy it. Note the one on the right is the ripest and will taste much sweeter than the two on the left.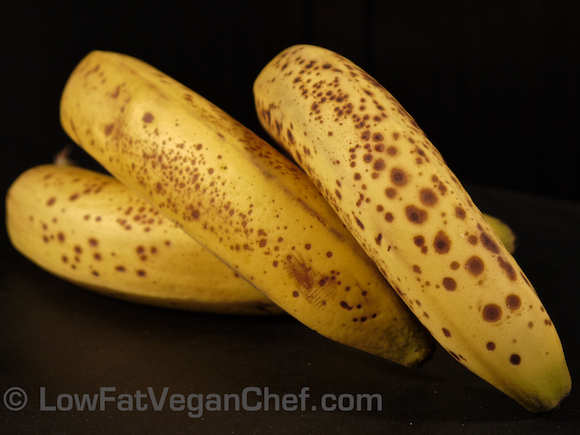 Your first green smoothie might look like this:
2-3 ripe bananas
1-2 cups baby spinach
1 cup fresh or frozen blueberries
1/2 cup water
Green Smoothie Troubleshooting FAQ: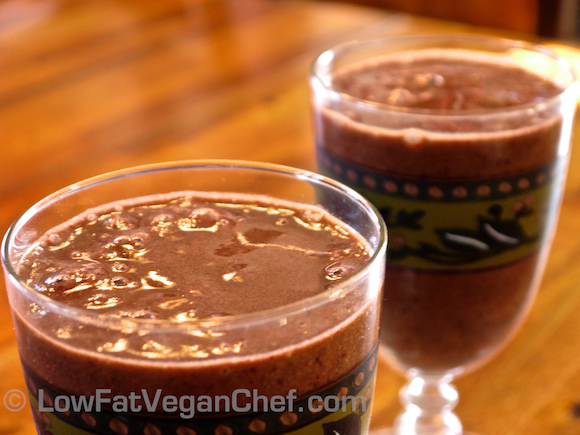 My Green Smoothie Tastes Awful/Bad! What Did I Do Wrong?
The first suspect is that you used unripe/sour fruit for the base of it. Unripe bananas, sour peaches, sour nectarines, sour mango etc. Your fruit should be soft and give to the touch. I made a youtube video about How To Tell If Fruit Is Ripe if you want to check it out.
If your smoothie is really bitter/smelly/awful tasting you probably used too strong of a green or too much of it. I would scale back to a handful or two and blend and then taste test before deciding if you want to add more greens to it.
If you did not add unripe fruit or too many greens, you probably added some kind of bitter powder to your smoothie and the taste is overpowering the flavour. Omit or reduce this amount.
My Green Smoothie Is All Gritty And Has A Weird Texture! What Did I Do Wrong?
If your smoothie has a weird texture like you are drinking juice with the fibre put back into it and  it's lumpy and not smooth you used fruit with mostly insoluble fibre.
Apple skins have insoluble fibre (think hard to digest and sweeps through your digestive tract) and some soluble fibre inside their flesh. Same with pears, pineapple, berries, grapes and greens. If you just make a pear/apple + greens smoothie or a berries + greens smoothie you are going to have a really BAD smoothie. It's not going to be very nice to drink and the fibre will sink to the bottom.
Fruit that makes smoothies "stick" together (because of higher amounts of soluble fibre) and have a creamy taste are bananas, mangoes, papaya, peaches, nectarines etc. You want to make sure you add at least 1 or 2 large pieces of these fruits for the base of your smoothie to have an even texture.
What Should I Not Add To My Green Smoothie?
Most importantly, please do not add anything like oil (flax oil, olive oil, coconut oil, coconut butter, fish oil etc) to your green smoothie. These are refined products and are 100% fat at 120 calories per tablespoon. If you are trying to lose weight or eat for health you do not need to add a 100% refined product to your otherwise healthy smoothie. If you want some "good fats" you can try a tablespoon or two of ground chia, ground flax seed (linseed) or hemp seed (hearts). Getting your omega 3 essential fatty acids from a whole food and not a processed (and possibly rancid) source like oil is preferred. Also, you would probably enjoy a tablespoon of oil much more over a salad or steamed greens than hidden in a smoothie (if you chose to eat it).
I also don't recommend adding any raw animal products (like raw eggs) to smoothies because of the potential health hazards. I don't recommend animal products for health anyways, but it is especially hazardous to eat animal products raw mixed into something as you won't be able to tell if it was "off" or contaminated.
Other things I find unnecessary in smoothies are: yogurt, sugar, sorbet, ice-cream, artificial sweeteners, pop/soda etc.  These foods are not health foods and aren't necessary for a healthy diet, and they just add more processed food and sugar to your smoothies anyway.  In the case of yogurt, I am against dairy for health reasons. Non dairy yogurts are more of a treat food. Often they contain a lot of sugars, fat, chemicals and preservatives so it's not something I would recommend to eat daily for health. Probiotics can offer health benefits without excess chemicals or calories as well. If you want to make your own yogurt this is certainly much healthier than store bought too.
Green powders like wheat grass or barley grass are pretty strong. If you add them to your smoothie, it's going to taste like grass! And Possibly make you gag… (that's me anyway) And unless you REALLY love the taste of grass in your smoothie, I wouldn't recommend doing it.
Raw cacao and cocoa should be avoided, or used only occasionally.  They have a lot of caffeine are highly addicting. If you are doing so already you might notice that you can't wait to have your daily chocolate hit and could eat more than just one chocolate smoothie given the chance. I also don't like using cacao to mask bitter tasting raw powders and protein powders as it tricks you into drinking something you otherwise would not eat and can lead to overeating as well. I found banana cacao smoothies far too addicting and had to cut it out.
Raw vegetables especially ones like carrots or beets, they are really hard and gritty and will not add a nice flavour or texture to your smoothie. Celery I find works ok if it's 2-3 stalks and you add some bananas to it.
A smoothie should be a healthy meal, not a witchy concoction of fragmented processed food you would never eat on it's own. In the sense where you wouldn't open up a jar of powder or pills and eat it with your meal. A smoothie is for getting healthy food into you easier if you don't have time to chew, not to be your own "vitamin water" to dump all kinds of junk into.
If you want to add some supplements or powders to your diet, it's best to know if you need them or not. Get a blood test and test for any deficiencies and then if you add something use one thing at a time, and not half a dozen different things.  If one is giving you benefits, another negative reactions and the rest are doing nothing, you won't really know, you'll just have wasted a lot of money on supplements. It's much better to experiment with one thing at a time on your body if you are unsure if it is good or bad for you to include in your diet. (This does not pertain to fruits and vegetables, unless you suspect an allergy towards a specific one)
Other things I don't add to smoothies are milks or ice. Milks are not really necessary in that I prefer to get most of my calories from whole foods like fruit and I use milks more in dressings or creamy soup recipes, so there's no need to double up and add them to my smoothies and make them fattier.  Ice is also unnecessary as it waters down your smoothie and if you have a cheaper blender it makes it really hard to blend and gives it a gritty texture as well. I prefer to add frozen fruit if I want to cool my smoothie down.
How Do I Make My Green Smoothie Look More Appealing/Appetizing and Not So Ugly?
This is especially important for those new to green smoothies and children and/or spouses that would probably refuse to drink a smoothie with greens or "vegetables" in it. How dare you try to sneak in healthy veggies into their breakfast right?
It's fairly easy. Basically start with a base of something white or yellow like bananas, mangoes, peaches etc. and then add your greens and pick a purple, red, or blue fruit or berry to add to your smoothie.
This smoothie below has greens in it, but you would never know.  It just looks like a red smoothie and is pretty "normal" looking.
If you add something like black kale and some berries to your smoothie it may end up looking more brown. For yourself you may not mind but for newbies to smoothies prettier always gives a more positive reaction to it.
I used to get teased constantly at my old job for bringing in "monster green concoctions" for breakfast every day and my boss would stop the meetings and ask me what I was drinking it freaked him out so much.  As soon as I started putting blueberries in it, people stopped caring! lol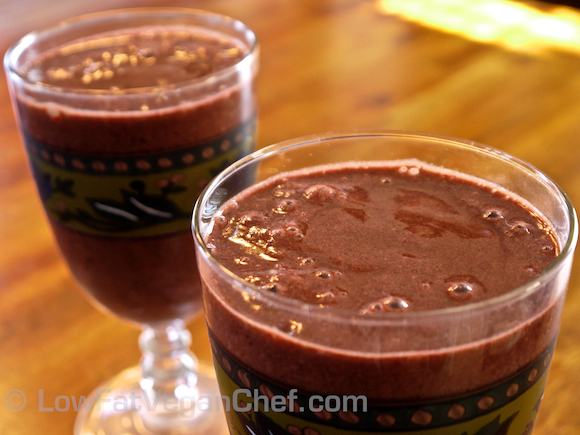 80/10/10: Banana Cherry Pineapple Green Smoothie
Serves 1-2
Approx: 506 calories
Ingredients:
3 ripe bananas
2 cups packed baby spinach
1 cup frozen or fresh pineapple
1 cup frozen black cherries (or fresh) (or berries of choice)
1/2-1 cup filtered water (optional to thin or blend)
Directions:
Place ingredients into Vitamix in order listed and blend until smooth. If you have a cheaper blender you may want to add the water and bananas first and blend and then add the other ingredients and blend.
Additional Tips:
I get my black frozen cherries from Costco in Canada. I don't know if they just started carrying them, but I was pleased as cherry and pineapple go together so well and is one of my favourite combos. If you're in the USA I know that H-E-B (in Texas) and Dole have black cherries in the frozen fruit department of many grocery stores. You can also use frozen raspberries if you don't have cherries. It just adds more seeds to the smoothie, so get out your dental floss!
What do you think of this recipe? Did you learn something about green smoothie making today?