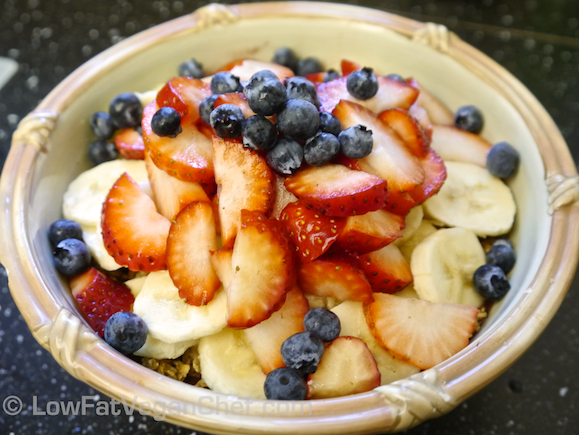 I have been having my fill of acai bowls since visiting southern California. Originally they come from Brazil, but they are also popular in Hawaii and many American juice bars. I visited one of my raw food friends in California and had the chance to actually make something while on the road in her kitchen. I went in search of acai frozen smoothie mix (as I haven't seen it yet where I am in Canada) and found some from Sambazon at Whole Foods. (Check their website to find a dealer near you.) It's about $4.99 for four 100g gram packages. You can use one package for smoothies, or two in acai bowls.
Anyway, these acai bowls are SUPER easy to make and very delicious! The formula is simple: apple juice (or another liquid), frozen acai and banana and topped with granola, fruit and honey or other sweetener. It's essentially a fruit smoothie granola bowl. You can eat it for breakfast, lunch, after a workout or any time of day. Now these are generally pretty large once you add a bunch of fruit on top of it, so be prepared to make a meal out of it. If not use less fruit topping and less granola for a smaller meal.
If you can't find frozen acai anywhere near you, you can still make something similar. Try substituting frozen blueberries instead (about 1 cup) and blending that in with the banana and apple juice.
Now onto the delicious recipe!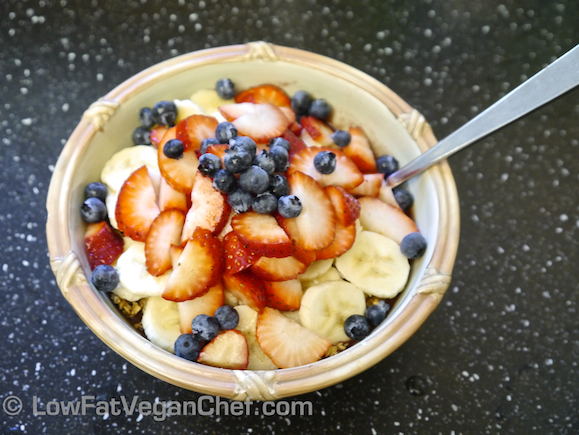 Acai Banana Berry Bowl Recipe
Serves 1
Bowl Ingredients:
4 oz/ 1/2 cup apple juice (unsweetened if desired)
2 100g packets of frozen Acai (I used Sambazon Original Smoothie Packs)
1 frozen ripe banana (sub a fresh banana if you do not have a high powered blender such as a VitaMix or Blendtec)
Garnish Ingredients:
1/3-1/2 cup low fat granola of choice
1/2 -1 ripe banana, peeled and sliced
1/2 cup strawberries, sliced
handful of blueberries or other berries
Drizzle of honey or agave *optional
 Directions:
1. Remove packets of acai and frozen bananas from freezer.
2. Wash and slice the strawberries, slice the banana and wash the blueberries and set aside.
3. Add apple juice to your blender. Break up the frozen acai into smaller pieces and cut the plastic open and pour into blender. Add the banana. Blend on low or pulse to break up the frozen fruit. If you have a VitaMix use the tamper to puree into a soft serve. If you have another type of blender you may have to stop and stir and keep pulsing to combine. Stop blending when smooth.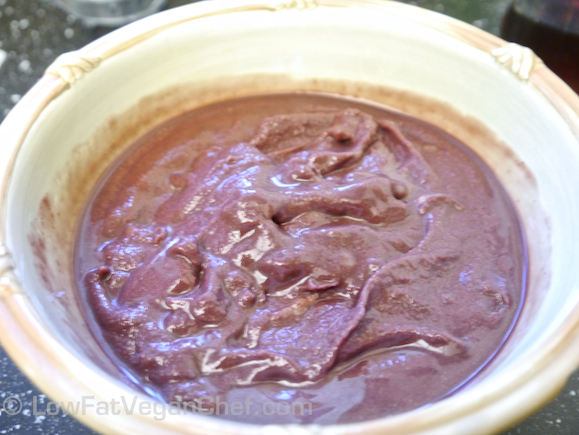 4. Scrape acai mixture into a bowl.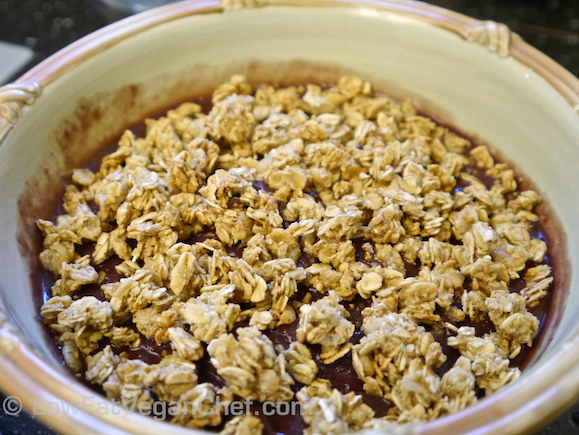 5. Top acai with granola.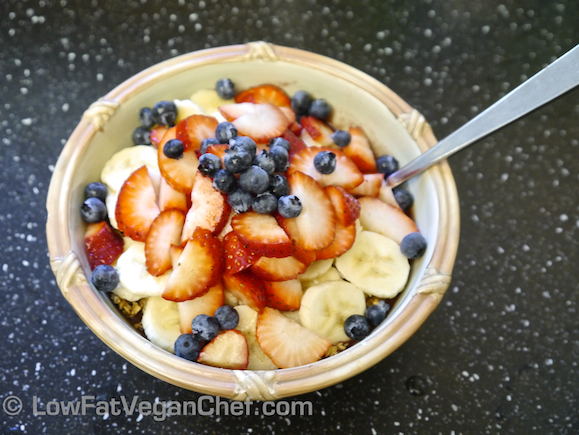 6. Top with bananas, strawberries and blueberries.
7. Serve.
Have you ever had an Acai bowl? What's your favorite topping?