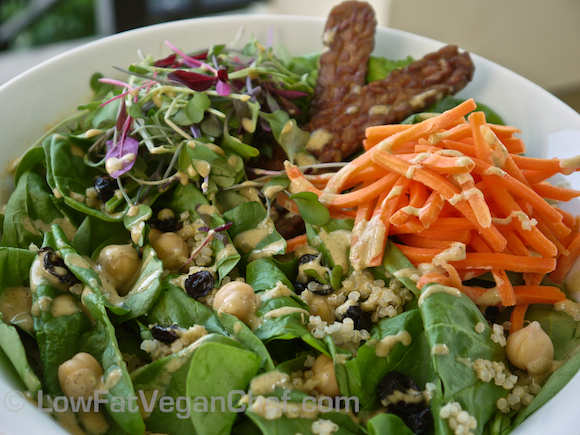 I think it's time for more salads. Yes, sometimes you can get tired of the same old ones, so I wanted to create a better recipe that was all around tasty, just like you'd find at a vegetarian restaurant.
All salads are not created equal of course… sometimes you just eat one because they're good for you and you feel you're "supposed to". Other times you might have a delicious and gourmet salad at a restaurant, but it's not really on the healthy side as it's loaded with things like feta cheese, creamy dressing, bacon, battered chicken strips etc. If you're vegan you may have a love/hate relationship with eating salads at restaurants.  Sometimes they are ok but often they don't have many ingredients in them so you can have a rather small meal and let's face it vegan salad dressing options at restaurants flat out SUCK.
Never fear, I am here to bring to you…
THE ONE SPINACH SALAD TO RULE THEM ALL!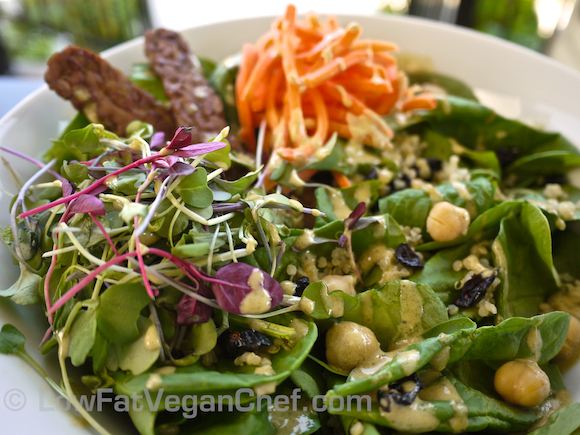 This salad is so good that you will actually crave more of it… You might even gets your kids or husband begging for it regularly. In fact I would bet that any vegetarian restaurant would be thrilled to have my super spinach salad on their menu.
What's the secret to an amazing salad? Well several things, first picking delicious ready-to-go  ingredients that go well together, second that are healthy and lastly and more importantly are satisfying and filling but without all the guilt! (And it doesn't hurt to top this salad off with my killer Creamy Orange Hemp Seed Dressing either).
I am NOT a fan of store bought dressing. In fact I despise it. If you're in North America like I am you know there is often an ENTIRE wall of salad dressings at the grocery store. And yet still picking out a dressing that is tasty, healthy and you don't get tired of is really hard.
Could it be that your taste buds are smart enough to know your body shouldn't be consuming the same oily, vinegary, high fructose corn syrupy dressing all the time?
That may well be… Even just reading the ingredients in most salad dressings is enough to make me want to gag. Where's the real ingredients and real flavour?
Well your salad dressing problem is solved! I guarantee that you're going to love this protein packed spinach salad. I know it's definitely going into my weekly lunch menu for myself. And my Creamy Orange Hemp Dressing is very delicious and will complement it perfectly.
BTW did I mention the dressing is also completely oil free? (Your pants should be rejoicing right now!)
Eat To Live fans will be happy to know that this is a Dr. Fuhrman style salad packed with nutrient dense ingredients that will curb your appetite and stimulate weight-loss as well.
Let there be salad:
Super Protein Packed Spinach Salad With Quinoa, Chickpeas, Tempeh and Cranberries
Serves 1
Ingredients:
2-3 cups packed baby spinach
1/4 cup cooked quinoa (see my post here on how to cook quinoa)
1/3 cup cooked chickpeas (I used Eden Organics)
2 strips of cooked tempeh (I used Sesame Garlic Marinated Tempeh) or smoked tofu (optional)
1/4 cup shredded carrot (store bought is fine)
1 tbsp dried cranberries (I used apple juice sweetened ones)
small handful of micro greens or sprouts
Directions:
Arrange salad ingredients into a large bowl and garnish with micro greens or sprouts as desired. Top with dressing.
Raw Vegan Creamy Orange Hemp Heart Dressing:
Serves 2
Ingredients:
1/3 cup fresh orange juice from 1 medium orange (use sweet oranges)
1 1/4 tsp apple cider vinegar
2 1/2 tbsp hemp hearts/seeds (sub sesame or tahini if you can't find)
1 tsp fresh ginger
2 small dates pitted and chopped (soaked if you don't have a Vitamix)
1/8 tsp Herbamare or salt
Directions:
Place all ingredients in Vitamix or blender and blend until smooth. Taste test and add more ginger, vinegar or salt if desired. Blend again.
Yields 1/2 cup of dressing. Best used within 3 days due to the nature of raw ingredients.
Variations:
You can add a plethora of other ingredients into your protein packed spinach salad such as tomatoes, cucumbers, apple slices, other dried fruits, etc. What really makes this salad filling is the addition of quinoa and chickpeas, so it's also a great salad to take to work without needing a giant salad container.
What's your favourite dressing for spinach salad? 
Like this recipe? Get more here.