The other day I went to a raw food potluck in Calgary and someone made this delicious salad that had a bunch of mixed vegetables and pomegranate seeds and it was quite delicious. So I thought why not make my own pomegranate salad for the holiday season?
To easily peel a pomegranate, you can cut it in half and fill a large bowl or sink full of water. Start peeling off the outer peel. The seeds will sink and the white parts will float so you can scoop them out and discard them. Once you're done peeling everything apart you can drain the water and you're left with pomegranate seeds.
(Or you can go to Costco and buy packages of fresh pre peeled pomegranate seeds in the refrigerated produce section if you don't want to peel one.)
This is a really lovely salad that I designed to be really simple to make yet seem a little fancier. It's got antioxidants from the pomegranate and the raspberries and omega 3's from the walnuts (in the dressing).
I prefer to make all of my own salad dressings and not use any oil in them at all. So I used walnut pieces for healthy fats in this dressing. If you don't have fresh raspberries right now, you can also use frozen. Just let them sit out for a few minutes to defrost a little first.
So let's check out the recipe: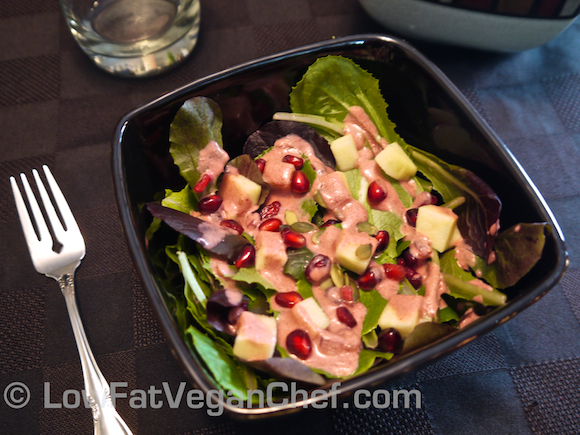 Raw Vegan Pomegranate Apple Green Salad
(With Raspberry Walnut Vinaigrette)
Serves 2 side salads or 1 medium/large salad
Salad:
4-6 cups mixed greens
1-2 apples peeled and sliced
1-2 tbsp raw pumpkin seeds (pepitas)
3 tbsp fresh pomegranate seeds
Raspberry Walnut Vinaigrette
Ingredients:
1/2 cup raspberries (fresh or frozen)
1/4 cup mandarin orange juice (2 oranges)
1/4 cup water
2 tbsp broken walnut pieces
2 large medjool dates, pitted
1 tbsp Trader Joe's orange muscat champagne vinegar/other fruit vinegar/apple cider vinegar
1/8 tsp Herbamare or salt *optional
Directions:
Arrange the salad ingredients in side salad bowls or a large serving bowl.
Place the salad dressing ingredients into a Vita-Mix or a blender and process until smooth.
Drizzle dressing overtop of salad.
Serve.
Additional Tips:
Feel free to double this recipe if you're entertaining.
What's your favorite holiday salad? Have you ever used pomegranates in a recipe?