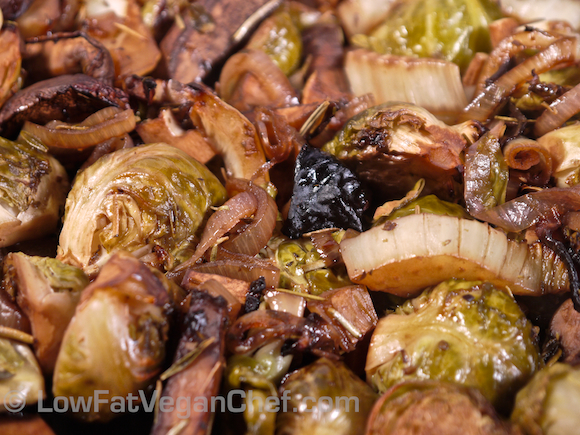 Oil free roasted Brussels sprouts and balsamic vinegar are a delicious combo and a great accompaniment to any meal!
Ahh Brussels sprouts, you either love them, hate them, or fear them…. As a kid I definitely didn't think I liked them. lol They looked like baby heads of cabbage, and they were green and my mom really never made them. So whenever I would see them at a restaurant or buffet I would avoid them because they were "new and scary".
Brussels sprouts don't really scare me now. But you do need to know how to cook them. If you undercook Brussels sprouts they can be really spicy and hard to chew, if you overcook them they can be quite bitter, mushy and unappetizing. I've most commonly had them just steamed, but I wanted to try a take on a vegan roasted side dish that had Brussels Sprouts in it.
If you're going to boil or steam them instead, here's a quick tip, if you cut an X in the stem of the Brussels sprout it will help it cook faster and more evenly inside, instead of being overcooked on the outside and undercooked on the inside!
I found a vegan Brussels sprouts recipe for inspiration from Celeste's Vegan Goodness, omitted the oil and switched up portobello mushrooms for the shiitake and added some more seasonings to make it oil free and low fat vegan. If you've never tried fennel before either, here's your chance to check it out. It has a licorice-eque flavour to it and contrasts well with the shallots. This is a delicious way to roast your Brussels sprouts without oil.
(Fat Free Vegan) Roasted Brussel Sprouts With Fennel and Portobello Mushrooms
Serves 4
Ingredients:
4-5 cups trimmed brussel sprouts (about 2 lbs)
1 fennel bulb, sliced
3 1/2 cups sliced portobello mushrooms (about 8 oz)
2 cups sliced shallots (about 3 large)
1-2 cloves of garlic sliced
1 cup vegetable broth
5 tbsp balsamic vinegar
4 tsp herbs de provence
1 tsp herbamare or salt
1/4 tsp fresh ground pepper
Directions:
1. Preheat oven to 400 Degrees.
2. Place brussels sprouts in a large mixing bowl.
3. Place fennel in mixing bowl.
4. Slice mushrooms into thick strips and add to bowl.
5. Peel and slice shallots. Remove rings and place and add to bowl.
6. Peel and slice garlic and add to bowl.
7. Add vegetable broth, balsamic vinegar and herbs, salt and pepper. Stir gently to combine.
8. Lightly spritz a 9×12 large roasting pan with light cooking spray.
9. Pour in veggies and arrange so that they are evenly spaced out.
10. Roast for 30 min. Stir and roast an additional 30-35 minutes until brussels sprouts are tender.
Additional Tips:
To prepare Brussels sprouts, slice off the tough root at the bottom and peel off 2-6 of the outer leaves depending on how dirty or discoloured they are. Slice in half once peeled.
To prepare fennel, cut off the green tops and fronds. Discard. Slice fennel bulb in half and then cut out the bottom root in a triangle like you would cut out the core of a cabbage. Slice fennel lengthwise.
If you don't like fennel or don't have any fennel, you can omit it from the recipe as well. I would just use more Brussels sprouts then to bulk it up.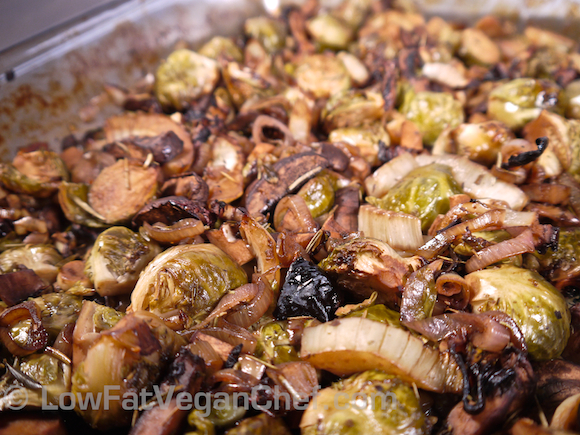 Serve with your favourite main dish and devour!
What do you think? Have you ever made roasted brussels sprouts in a dish?