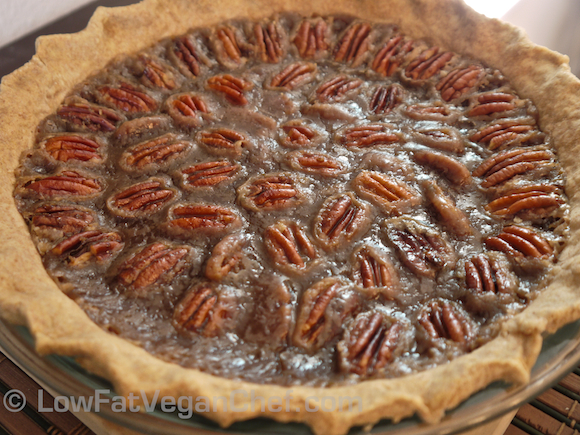 This recipe I am mentioning as a special treat my mom and I made for our family this Christmas. It was the first time my mom was eating vegan for Christmas, and we wanted to make a holiday pie that everyone could have for dessert without dietary restrictions.
We were much too full after eating our Baked Maple Yam Pecan Casserole and Fat Free Vegan Cranberry Apple Stuffing so it wasn't eaten until much later in the evening, and I waited until the next day. It's just such a rich dessert!
I found the recipe here, and just a warning, in no way shape or form is this a low fat or oil free recipe! I just wanted to offer my feedback on how this vegan pecan pie came out, and if you are making it for your family who will be having pie anyways, at least you can have a bite or piece while making and serving it!
We did not have a pastry cutter OR a food processor down here, but my mom managed to cut in the Earth Balance and make the crust without too much rolling or mixing.  It was pretty thick and sturdy, not greasy or flaky though and you can tell it's definitely homemade and not store bought! 🙂
The filling set really well at the sides, but next time I would bake it longer as it was still not firm in the centre. So it did not come out looking like a perfectly cut piece of pie, but everyone that ate it, didn't care and enjoyed it anyways! It is very rich, so we cut only tiny pieces instead of a standard 6 or 8 pieces that most people do.
I also specially bought whole wheat saltine crackers, because the recipe said to do so, but in an effort to lower the fat content you can use plain saltines as they have less fat in them than the whole wheat ones. (Whole wheat tends to be dryer, so they always add more oil to baked goods). This serves to thicken up the filling and add some strength to it.  You could try adding an extra saltine or two as well, maybe it would be firmer in the middle.
Anyway, this is my first attempt on a vegan holiday pie, and it didn't turn out too bad! Just make sure to not make it only for yourself and share it with your friends and family!