For some of you green smoothies might be something new, or something you've heard of but never tried. Others may make green smoothies regularly and enjoy them. I wanted to share a really easy green smoothie recipe with you today. Something I would call a "basic" or "beginner's green smoothie".
#1. Because it's not too frightening looking and you can tell it has berries in it (this may seem a little normal looking). This may also appeal to people who are afraid of drinking something that looks like green grass!
#2. It tastes very nice and you cannot detect any greens in it at all. Baby spinach is probably the best green to start with when dipping your toes (and taste buds) into making a green smoothie.
Green smoothies are basically just a mixture of fresh ripe fruits, some mild greens, maybe some frozen berries and a little water. They need not be complicated, and they don't need any kind of protein powders, raw pseudo "super foods" or oils like coconut or flax oil. The goodness of a simple green smoothie comes from whole foods. Whole fruit and whole greens is all I put into my smoothies.
Green smoothies can also help get some more greens into your diet (especially since they don't need dressing) and can be good for children or people with a compromised ability to chew their food really well.
I only blend my smoothies for about 30-45 seconds in my Vitamix. I don't like to let it run on too long and get too thin, or warm.
Another good thing to do is to not gulp your smoothie but drink it and chew it a bit. I don't recommend sipping on smoothies for hours at a time or all day (this can cause dental problems and weaken your enamel from feeding the carries and bacteria in your mouth sugar all day) though. Consuming a smoothie in 10-20 minutes should be fine, and then you can wait 30 minutes before brushing your teeth and rinse your mouth with water if you desire. When using berries that have little seeds I like to use a water pik as well as there can be little pieces that are hard to get out between your teeth.
To make a basic green smoothie you want to start out with a base of either ripe bananas or ripe mangoes (I like ataulfo mangoes) or even a mixture of both. Then you can use 2 cups of mild greens like baby spinach, lettuce, mache (lambs lettuce/corn salad), or 2-3 leaves of kale or Swiss chard (remove the big stems). If desired you can add another fruit like berries, pineapple, mango, papaya, grapes, even watermelon. Depending on what blender you have you may need to add a little water as well, just enough to blend or to get the consistency you like. I like really thick smoothies so I chew them. Some people like only very thin ones so it's like fruit juice. It's up to you. Always stack the smoothie in your blender with water at the bottom, then bananas, then greens, and then frozen fruit. Use a tamper (if you have a Vitamix) or break up the chunks of banana before blending to get everything to combine easily. If you have a basic blender you may want to blend the banana, water and greens first, and then add a little additional fresh or frozen fruit and blend again.
Ok, now that I've shared some tips on green smoothies, let's go on to the recipe.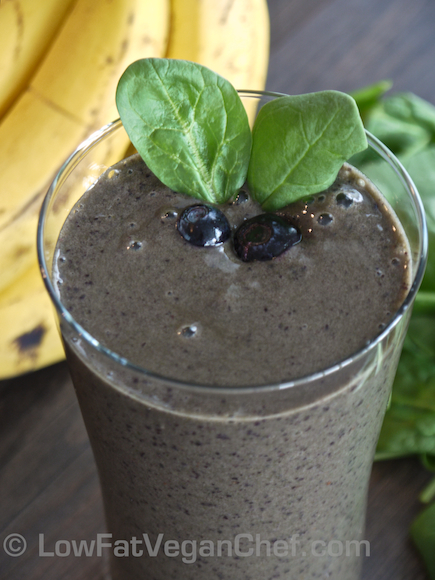 80/10/10 Recipe: Banana Blueberry Green Smoothie
Serves 1
Ingredients:
3 ripe bananas (see my post on how to tell if your bananas are ripe enough)
2 cups baby spinach, packed
2 cups fresh or frozen blueberries
1/4-1/2 cup water (as desired)
Directions:
Place ingredients into blender in the order above putting the bananas on the bottom. Add a little water if desired to help it liquify.
Blend for 30-45 seconds if you have a Vitamix. (If you have a regular blender you may need to break up the banana pieces into smaller chunks and blend with a little more water or a little longer depending on how strong the motor is.)
I find that having frozen fruit gets the smoothie cool enough without the need to add ice. Unless you have a Vitamix adding ice to a smoothie can make it too gritty and not very smooth to drink.
Have you ever made a green smoothie before? If so what's your favourite?