How To Cook Without Oil
Cooking without oil and creating oil free recipes like salad dressings is pretty easy in most cases. It's very easy to cook without olive oil. You can steam, boil, sauté (in water or vegetable broth) or bake food all without any added oils. Oil has 120 calories per tablespoon and is 100% fat. When you're looking to cut a few calories in your diet and give your arteries (and waistline) a little break from things like butter, olive oil, cheese, etc this is a good way to cook.
Baking/Roasting Without Olive Oil
When you're baking in the oven, not adding oil or cooking spray will just make your dish take a little bit longer to cook, but that's about it. You can add a little water to your roasting pan if you are worried about burning, or turn the temperature down just a little and cook it for longer. For instance, you can bake Russet potatoes in the oven at 400 F/205 C for about an hour without any oil rubbed on their skin and they will cook just fine. It's also less carcinogenic if you avoid cooking oils at very high temperatures. I roast things like squash, Brussels sprouts, potatoes, cauliflower and more in the oven without oil. Add a little water or vegetable broth to a roasting pan if you like, or use a little balsamic vinegar and water for oil free roasted Brussels sprouts, or roast your russet potatoes dry in the oven like I show you here.
In baked goods, substitute applesauce or mashed banana for any oils. Canned pumpkin works great too in certain recipes. In my vegan baked goods I add a 1 tbsp. ground chia or flax and 2 tbsp. of water to substitute for the eggs, and then I add applesauce for the amount of oil and I find that this helps give moisture and texture to whatever I am making. My Fat-Free Two Bite Brownies  and Fat-Free Pumpkin Raisin Muffins will show you how to do this.
Sautéing/Cooking Onions Without Oil
Many people think you need oil to cook with over the stove. When you're sautéing onions or garlic in a pan you can sweat them dry over medium heat, as long as it's non stick. Doing this for 5-6 minutes should be just fine and you won't have a problem with anything getting stuck. If you're going to cook them for longer then you can add a little water or vegetable broth if necessary. The better the pan, the less stick you will have though. You can also use a ceramic pan.
Check out my recipe for Home Made Vegetable Broth that I use for sautéing my onions and garlic and soups: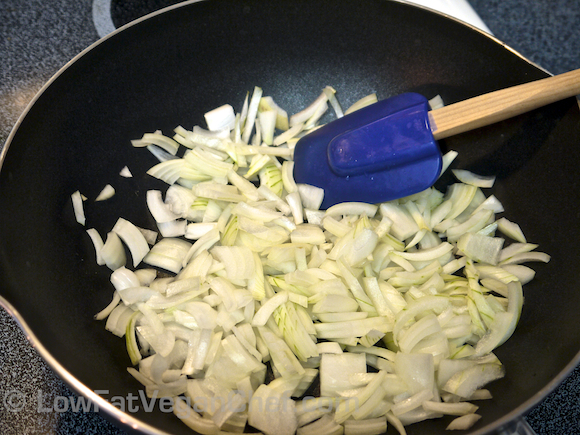 This is how I sauté onions dry in a pan without olive oil. This is a great method for stir fries or starting sauces.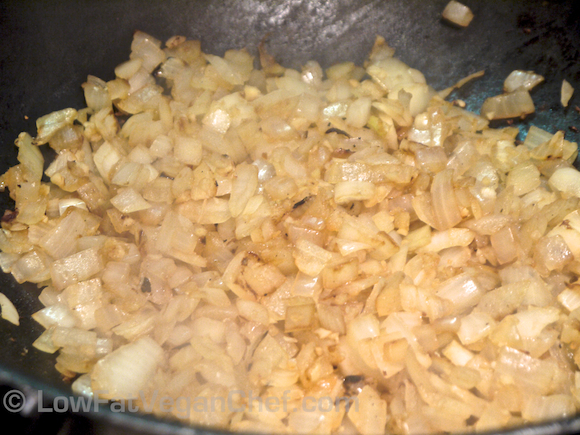 This is what my onions look like when they are done. They were dry sautéed in a non-stick pan over medium heat for 5-6 minutes and they caramelize themselves without oil!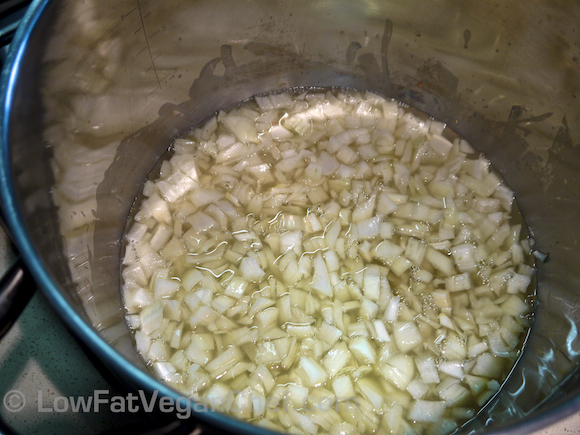 Here's how to sauté onions in a pot in vegetable broth for making soups or stews. Garlic and ginger can go in too.
It's really easy! Just add a little more broth or water if you start running out of liquid.
For Making Oil Free Vegan Salad Dressings
Use things like water, lemon or vinegar, blended fruits or cucumber for the base of the dressing to give it liquid. Then add seasonings like sugar/dates/honey/agave, salt, pepper, fresh herbs, mustard etc to create an oil free dressing. (Make sure you add only 1-2 tsps of vinegar or lemon juice to start so it's not too tangy, and then adjust.)
The best oil-free salad dressings will have at least 3 flavours. Sweet, tangy and salty. If you just use one flavour like orange juice or vinegar over a salad it's going to be one dimensional and not as flavourful. If you're trying to cover a large salad and eat a lot of greens, it's better to make a dressing that is a little more flavourful and interesting to eat.
I find ripe ataulfo mangoes (bright yellow skinned) or strawberries and orange juice make a great base for fat free raw vegan salads dressings.
For creamy vegan salad dressings you can use silken tofu as the base instead of cream or milk. (Nut butters work too, but only add 1-2 tbsp as they are much higher in fat than tofu or almond milk.)
For tangy vegan salad dressings make sure you add some lemon, sweetener and a few seasonings to your dressing to pump up the flavour.
To thicken it up you can add psyllium husk or chia gel/chia seeds (and blend it in) or add some cornstarch and water and thicken your dressing over  heat on the stove. Refrigerate the rest of your salad dressings. If they are raw use within 3 days, if they are made from non raw ingredients or cooked over the stove they will last longer.
—————–
There you have it! Cooking without oil and making oil free food is really easy! Did you think it would be complicated?