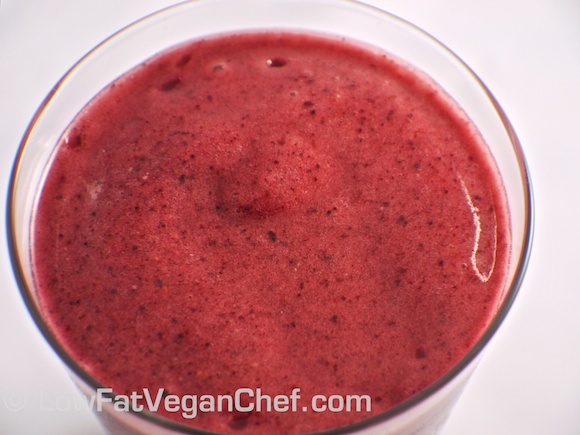 This is a really easy 80/10/10 and raw vegan fruit smoothie to make, using some ripe fruit. You want to use ripe bananas that are soft and lightly brown speckled and pears that have turned from rock hard green to soft yellow with some brown flecks.
Make sure you have ripe pears as well. If your pears have any bad spots in them cut them out before using. If your pears are really ripe like mine were it won't add much of a gritty texture to your smoothie. Unripe, hard pears are NOT good in smoothies!

Raw Vegan Banana Pear Berry Smoothie
Ingredients:
3 large ripe bananas
2 very ripe bartlet pears, seeded
2 cups frozen mixed berries
Directions:
Place bananas, pears and berries into Vitamix or blender. (If you don't have a Vitamix you need to add some water to blend) Using the tamper, push the fruit down towards the blade and turn onto 5 and then up to high. Blend for 45 sec to a minute until smooth.
Enjoy!
What do you think of this smoothie recipe?