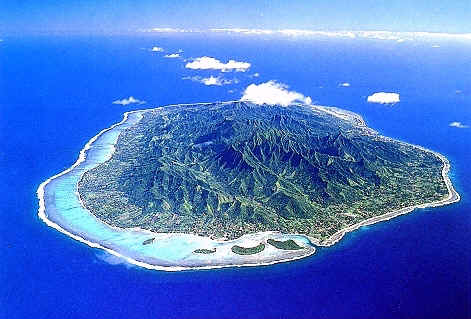 A friend of mine just came back from a trip to an exotic island in the Pacific called Rarotonga in the Cook Islands and was raving about this "amazing" restaurant he had discovered there.
It's called "The Frutarian", and truly, it's the most amazing place I have ever heard of. Apparently the owners have been raw for over 20 years, and have decided to open this place in this remote island, and in spite of all expectations, it's doing great!
I was a little curious because I have yet to find a restaurant that truly blew me away with the type of cuisine I enjoy on a regular basis: low fat raw vegan. Every vegetarian restaurant, let alone raw food restaurant I've been to featured the same staples of fatty salads and or nuts as the base of every dish.
So my friend went on describing this place as the new "it" restaurant in the Pacific, it was drawing in lots of tourists among vegetarians, raw foodists and other various health seekers.
It had a breathtaking view of the ocean and an open air sitting room for about 25 people, they were open from 8-5pm and always had a steady flow of satiated patrons. "What did you order there that was so amazing?" I asked my friend. "Fruit and salad!" He exclaimed. I raised my eyebrow in curiosity and he went to elaborate.
Apparently this place had combined all the great things about a juice bar, a smoothie bar, a salad bar and a sit down restaurant and rolled it all into one. He pulled out a To Go menu from his pocket to satisfy my skepticism. I transcribed it for you below:
Breakfast:
All-You-Can-Eat Mono Fruit Plate (banana, mango, papaya, pineapple or watermelon) $10.99
Sunrise Pudding (blend of sweet papaya and bananas garnished with chopped fruit) $7.99
Green Goddess Smoothie (bananas, fresh lettuce) Regular $5.99 Large $7.99
Wake Me Up Mango Smoothie (fresh orange juice, mangos) $5.99 Large $7.99
Going Bananas Smoothie (3 kinds of bananas) $5.99 Large $7.99
Vitality Vegetable Juice (tomato, cucumber, celery, lettuce, carrot, beet) $6.99 Large $8.99
Lunch/Dinner:
All-You-Can-Eat Mono Meal Fruit Plate (banana, mango, papaya, pineapple or watermelon) $10.99
Banana Sandwiches (bunch of bananas served with fresh lettuce) $6.99
Guacamole Wrap (avocado, cherry tomatoes, and lime served with fresh lettuce) $8.99
Veggie Wraps (shredded carrot, cucumber, beet, zuchinni served with avocado and lettuce) $7.99
Island Tacos (guacamole and salsa served with lettuce and cabbage leaves) $9.99
Going Greek Salad (cucumber, tomatoes, fresh herbs, and Greek dressing) $7.99
Mango Love Salad (mangos and sweet oranges on spinach leaves) 8.99
Super Size Me Salad Style (build your own: lettuce, tomatoes, cucumber, carrot, green onions, red onions, sprouts, snap peas, celery, heart of palm, fresh herbs, apple, raisins, mango) Reg. $10.99 Sumo Size $15.99
Fresh dressings: light guac, sundried tomato, Greek, summer dill, mangolicious, Reg. $1.99 Large $2.99
Appetizers:
Gigantic Fruit Plate *serves 3-4 (banana, mango, papaya, pineapple, apple, kiwi) $15.99
Skewer Me Fruity (pineapple, mango, papaya fruit skewers) $9.99
Mini Pizzas (zuchinini rounds topped with sundried tomato sauce and cherry tomatoes) $8.99
Little Dippers (celery, cucumber and zucchini dippers served with guacamole and salsa) $9.99
Juices:
Fresh Green Coconut $3.99
Pressed Cane Juice $4.99
Orange Juice $4.99 Lg. $6.99
Apple Juice $4.99 Lg. $6.99
Watermelon Juice $3.99 Lg. $5.99
Vitality Vegetable Juice $6.99 Lg. $8.99
Build Your Own Juice $6.99 Lg. $8.99
Smoothies:
Reg. $5.99 Lg. $7.99
Going Bananas Smoothie (3 kinds of bananas)
Wake Me Up Mango Smoothie (mango, orange juice)
Green Goddess Smoothie (banana, lettuce)
Banana Loves Papaya (banana, papaya)
Island Love (coconut water, pineapple, passionfruit)
Workout Buster (coconut water, banana, celery, lettuce)
Green and Lovin' It (Coconut water, kiwi, dates)
Build Your Own Smoothie
Desserts:
Coconut Cream (Coconut water, jelly and dates) $5.99
Banana Icecream (frozen bananas and vanilla made into softserve) $4.99
Glazed Fruit (fruit plate glazed with date sauce) $6.99
Fresh Dates (seasonal) $6.99
This menu looks amazing, I thought. It has everything that a raw food restaurant is missing, fruit and healthy low fat recipes. I couldn't wait to check out this place and try it for myself. I asked my friend, do you know who owns this place? He flipped over the back of the menu and showed it to me. It read, "Owned and Operated by Veronica Grace".
Sadly, I woke up at just that moment and realized that this amazing place was purely a figment of my imagination. Yet it had seemed so real. I could actually picture this place existing from the description I was given and this menu flowed out of me with some items I've never even made before! It got me thinking though, wouldn't it be nice if someone somewhere had the same dream as me and was looking for a fresh new edge on the raw restaurant scene?
Maybe one day… but hey until then feel free to reference this imaginary menu to get creative in your kitchen and try some amazingly tasty low fat raw vegan cuisine! You'd be surprised how great your food can taste with only a few ingredients and some simple tools like a mandolin and blender.
This is the menu I dream of and have yet to see anywhere in the Raw Food World!
I actually have visited Rarotonga and Aitutaki in the Cook Islands and unfortunately it was not the fruit paradise I dreamed of, but it was still gorgeous nonetheless so I've included some beautiful photos I took on my travels there in 2011. Hope you enjoy my menu suggestions and my island shots!