Eating Plant-Based, Vegan and Vegetarian in Miami and Southern Florida
by Veronica Grace
Back In April 2010 I spent 10 lovely days in Miami, Florida. What a treat it was to have a little mini vacation from my "tropical paradise" I was living in at the time in Costa Rica.
I have to say it was a little shocking though to go from a tropical third world town to a subtropical first world mega city!
Suddenly certain frustrations like poor internet reception, poor road quality, lack of sidewalks and pedestrian crossings were a thing of the past.
For my first impression of Miami and the surrounding area, I only have great things to say!
Using an iPhone it was more than easy to google health food stores, juice bars, vegan restaurants and even raw restaurants.
I rented a car of course because the city can be a little daunting to a first timer with such a large city to explore with so many options.
I stayed in the Coral Gables area and it was a nice central location to grocery stores and farmers markets.



Here are my picks for Miami area grocery shopping for raw foodists and vegans:
#1. Glaser Farms farmers market
From 10 am to 7 pm. every Saturday, ?3300 Grand Avenue ?Coconut Grove, FL 33133
This is by far the "craziest" raw food market I have EVER seen. You want it? They've got it.:
Unpasteurized juices
Raw gourmet salads
Cashew ice cream
Frozen durian
Fresh fruit "pies"
Organic Greens
Tropical fruits
Raw crackers
Nuts
Seeds
Sprouts
Dried fruits
and more!
Basically we went there to grab some fresh juice, a slice of all fruit pie and people watched.  I have never seen such a crazy lineup of people buying prepared gourmet raw foods. It is kind of a novel idea being able to go to a farmers market and eat almost anything you want because it's almost entirely vegan.  I have to say the cashew ice-cream and the avocado "salad" were the most popular items being purchased.  Instead we enjoyed juices like cantaloupe and honeydew melon that were simply delicious and  picked up a few random items to take back home, like frozen durian and a few pieces of fruit. All in all, it is definitely a must see farmers market but definitely not necessarily the best deal to purchase all of your food. Raw treats are expensive!
#2. Josh's Organic Garden
Hollywood Beach Boardwalk
Ste 169, 101 North Ocean Drive, Hollywood, FL?
(954) 251-1631?
Sunday 9am – 5:30pm
Josh's Organic Garden is a great place to grab some fresh produce or spend the afternoon hanging out with friends at the Juice and Smoothie Bar.
We came early in the morning and found parking and walked along the boardwalk until we found it. Josh's definitely has a great amount of greens and vegetables and fruits seasonally throughout the year.  He'll even suggest to you what is worth buying each week if you ask! We purchased some mangoes, oranges and greens and then relaxed by the Juice and Smoothie bar and met up with local raw foodists throughout the day. The frozen durian being sold was a real treat, very delicious and reasonably priced.  The wait times for juices can be quite long so be sure to go really early or have some time to kill because everything is hand made on the spot and the juice bar team are busy all day.
#3. Robert Is Here Fruit Stand
19200 SW 344th St
Homestead, FL 33034
Ph: 305-246-1592
http://www.robertishere.com/
8 AM – 7 PM Daily including Holidays.
We drove down to Homestead Florida on our way to the Florida Keys and stopped in at Robert Is Here to see what the hype was all about. Everyone we talked to told us to check it out while we were in Florida.  Robert was on site of course and very friendly and cordial, we chatted a bit about his oranges and I told him it was my first time in Florida. We ended up buying a few delicious jumbo mamey sapotes, grapefruits, valencia oranges and some organic dates. This place is a great option to get some good deals on bulk citrus and other seasonal fruits.  They also carry a wide array of vegetables too.
#4. Whole Foods Market
6701 Red Rd, Coral Gables Florida (33143)
305-421-9421
8am to 10pm 7 days a week



This Whole Foods Market was absolutely amazing compared to the smaller WF stores we've seen in the past. There was a lot of organic produce, the navel oranges were pricey but to die for, raw prepared sauces, dressings, desserts all of course from Glaser Farms, and an enormous salad bar and hot food bar with a lot of vegetarian and vegan options. This was our favourite WF in the Miami area, we checked out the one in Miami Beach too but it was smaller and did not have as large of a selection.  I recommend WF to people who want to pick up a few items they cannot get anywhere else, or a quick treat once in a while. The prices are often steep but the quality and selection of foods is top notch.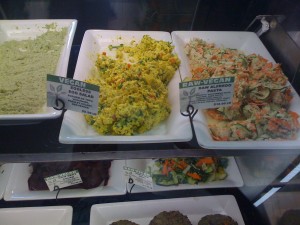 #5. 4th Generation Organic Market
4th Generation Organic Market 75 SE 3rd Street Boca Raton, FL 33432  ph: 561.338.9920
http://www.4thgenerationmarket.com/
Mon-Sat 9-7 Sun 10-6
We stopped in at 4th Generation on our way back from Hippocrates Health Institute at the suggestion of Andrea Page-Nison as a cute organic health store we had tocheck out.  While it was a lot smaller than similar stores like Whole Foods, it definitely had a lot of raw items to offer.  A good portion of the deli section had raw pasta salads, mock tuna pate and crackers.  They also had fresh juices and frozen smoothies.  We picked up some all fruit smoothies and they were absolutely delicious, unlike most places that have bitter real fruit smoothies or artificial sweeteners added. Come here if you are in the Boca Raton area for some essentials or a quick bite to eat.
Raw Restaurants
Om Garden <- Best bet!
(unfortunately now closed, I am not sure why!)
379 SW 15th Rd, Miami Florida (33129) (at Broadway)
ph: 305-856-4433
Monday – Saturday 11:30am – 9:30pm, Sundays 11:30am – 3:30pm
Om Garden was our favorite restaurant by far in Miami.  We liked that they had a good mix of raw and cooked vegan items on the menu, which will ensure they stay open for a long time.  They were always busy and open later than other vegetarian restaurants so this is a good sign as well. The Rainbow Roll was amazing with flavours I would have never thought of combining and the fresh dressings for their salads were delicious too. Unfortunately they did not have any for sale, it would have been great to take home. The cooked vegan section also had a nice selection of healthy dishes offering lightly steamed vegetables, rice, quinoa, sweet and baked potatoes. All in all I liked the vibe here, the staff were friendly and it was definitely a place I'd visit again.
Lifefood Gourmet
1248 SW 22 St, Miami Florida (33145)
Monday to Saturday 12pm to 7pm & Sunday 12pm to 4pm
At the suggestion of a few raw friends in the area we checked out this all raw restaurant.  It was pretty quiet here, not many people attending for dinner as it closes early.  We ordered some apple juice, zucchini rolls, caesar salad and a raw pizza. The food was all right, we really liked the caesar dressing and a few of the dressings on the zucchini rolls, but there were a few things that seemed odd about the restaurant.  They don't have a juicer, they have to blend the apples and then strain them for juice, the offer paper cups and plastic cutlery for dine in guests and there isn't really any fruit on the menu. The staff were very kind and friendly but I can't say this was a place we'd come back to try again.
Other Plant-Based and Vegan Restaurants in the Area:
Garden Of Eatin'
136 NW 62nd St, Miami Florida (33150) (at Martin Luther King Blvd)
305-754-8050
Vegan, Organic, International food, Juice bar, Take-out
Mon-Sat 11 a.m. – 9 p.m.
Jugos Naturales – 100% Natural Juices
115B SW 107th Ave, Miami, Florida (33174) (at Holiday Shopping Plaza)
305-220-3430
Vegan-friendly, Fast food, Juice bar, Take-out
Mon-Sat 10am-6pm, Closed Sundays
El Mana Health Food
10676 Fontainebleau Blvd, Miami, Florida (33172) (at 107 Ave)
305-554-4448
Vegan, American food, Raw, Juice bar
Sun-Fri 11am-7pm
All in all, Miami and the Southern Florida area are all very raw and vegan friendly compared to a lot of places that I've seen. So no matter where you are you should be able to find a juice bar or a health food store to pick up a quick snack or meal and be on your way. The Florida Navel orange juice is also to die for and a must try if you're from out of state!
I will definitely keep Miami in mind for future winters to soak up some sun and get some great tropical fruit!
Have you ever been to Miami or Florida? What did you find?