Depending where you live, you might be more or less able to continue your raw eating habits when dining out with friends and family.
Just because you are a raw foodist, it does not mean that you have to eat all of your meals alone or at home (unless you want to). Some people in your life might even be put off with the fact that you no longer socialize the way they do. Although you are living a healthier (and hopefully happier) life than some of your friends with unhealthy eating habits, there's no reason to make an outcast of yourself.
Many times your friends and family just don't understand, they think it's too hard to stop eating the foods they grew up with and have come to love. They think what you are doing is hard work, unsatisfying, isolating etc.
Well, why not show them they are wrong? You're still the same person, you just have a more informed view on food and health. So find a compromise and demystify these negative attitudes they have about raw food being "rabbit food" and "not people food".
With vegan and vegetarian restaurants popping up all over the world, it's no longer unheard of, and vegan diets are gaining ground.
Now, you might not have access to a raw food restaurant full of imitation SAD comfort food dishes, but here are some tips on how you can still socialize and eat out once in a while.

10 Tips for Eating Raw at a Regular Restaurant
1. Call the restaurant ahead of time to see if they can accommodate any special raw meal request, many restaurants have a large supply of vegetables and in season fruits. A larger restaurant or chain might accommodate you better as small vegan restaurants often have less produce and offer primarily cooked meat replacement dishes.
2. Find a restaurant that has an all you can eat salad bar or buffet style restaurant with a salad bar.
3. Order a fresh fruit smoothie or juice to start (if available), or bring your own in a travel container.
4. Let your waiter know of you dietary needs and ensure they understand what uncooked, and vegan food means.
5. Ask your waiter for suggestions of salads or appetizers on the menu that can be modified. Also ask about any cold soups available that are made with raw ingredients.
6. Bring your own low fat salad dressing. Restaurant dressings are riddled with preservatives and excitotoxins. The standard olive oil and balsamic vinegar might be ok once in a while, but know that any oil served in a clear glass container becomes rancid when exposed to light and is not very fresh.
7. Ask if the restaurant has fresh avocado or seeds for your salad, or bring your own.
8. Ask the waiter to talk to the kitchen to see what raw fruits and vegetables they have available and be creative to make a dish not on the menu. A lot of restaurants serve fruit cups for breakfast, so check if they have any left.
9. If your friends want to order an appetizer and you'd like to eat with them, bring your own raw hummus and ask the waiter to cut fresh carrot and cucumber slices for *chips* so everyone can try it.
10. If you're feeling tempted by desserts at the end of your meal, bring some dates and have a few to satisfy your sweet tooth (if you haven't eaten enough fruit before the meal).
If you have access to a raw food restaurant, or perhaps have some friends that are interested or used to this type of fare, here are some tips for eating out at a raw food restaurant and not compromising your taste buds or digestion.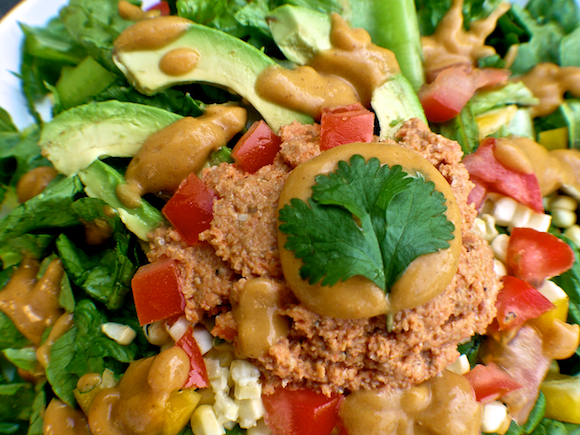 10 Tips for Eating Out at a Gourmet Raw Food Restaurant:
1. Check out Happy Cow or yelp.com for restaurants in your area.
2. Look at the restaurant menu in advance (either in person or online) and analyze the menu for healthier options. Most raw restaurants base all entrees around oil and nuts and can be very hard to digest.
3. Order a fresh juice or smoothie to start (or several if they are tiny!).
4. Talk to the waiter to find out what dishes can be made without added oils or salt (if you're concerned).
5. Order a salad or salad roll for an appetizer and don't mix oils, nuts/seeds, or avocado in the same meal, choose 1 type of fat (for best digestion and low fat lifestyle).
6. Try to fill up mostly on fruit and salad before ordering a tempting dinner entree.
7. Look for dishes that contain vegetables or fruits for the base of the meal instead of flax crackers or nut breads. Or ask for a hummus or dip to come out with carrot and cucumber slices instead of the bread and crackers.
8. Plan ahead of time to use this meal as your higher fat meal to balance out your overall fat intake for the week. i.e Try having a no fat day the day before or after this treat day.
9. Share an entree item with a friend if you just want a taste and not the whole heavy meal.
10. Ideally, say no to dessert, (or at least no to the pie crust portion or nut "cheesecake"). Ask if they have raw sorbet or banana ice-cream instead for a healthier treat.
If you keep in mind your overall health goals and observe your energy and digestion after having a higher fat meal or treat you will be better in tune with your body's needs. Maybe you have no problem digesting raw gourmet meals, maybe only once in a while. Try to give your body a break after these days and stick to fruit meals, juices and smoothies to get enough hydration and fiber back into your body after a dehydrated gourmet treat.
You can eat out with friends and family and have fun being social, but make sure you select food that you will be glad you ate (as a treat) and not regret afterwards. Keep your experience positive and stick to your healthy lifestyle.
It will be worth it in the end.