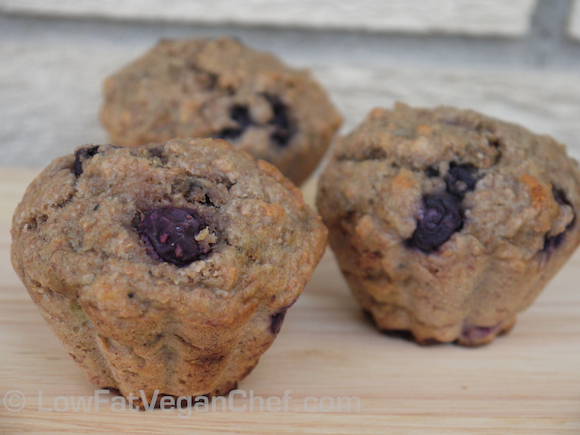 Oh my… these banana blueberry muffins are delicious. I don't know about you but I just love the little pop of the blueberries when you bite into them! Mashed bananas (make sure they are very ripe so they mash well) are a great substitute for oil and fat in baked goods.  So I often use them for this purpose. Plus they add a nice natural sweetness as well which is nice.
I use stone ground whole wheat flour in this recipe, but you can use any whole grain flour that you like.  If you want a lighter muffin you can look for whole wheat pastry flour, it's not as dense as regular whole wheat flour.  For gluten free versions you can use gluten free oat flour or an all purpose gluten free flour.  I still like to use whole grain flour as most gluten free flours are highly processed and more like white flour.
These muffins also freeze well so you can portion them out and save them for later. I love adding blueberries to baked goods and smoothies, but feel free to use any other berries you like instead.
For truly oil free muffins you can use silicone non stick muffin trays, or paper muffin cups. But I like to use the silicone trays so there is no paper waste (and they also get stuck and tear off the muffins.)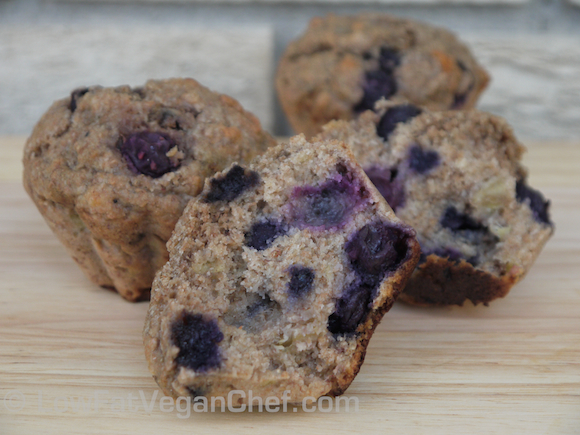 Free Vegan Whole Wheat Banana Blueberry Muffins
12 muffins
Ingredients:
1 1/2 cups overripe (fully brown) mashed bananas (about 3 large, 4 medium)
1/3 cup almond milk (original unsweetened)
1/2 cup maple syrup (or 1/4-1/3 cup honey or agave as they are sweeter)
1 tsp apple cider vinegar
1 tsp vanilla extract
2 cups whole wheat flour (or ww pastry flour or GF flour)
3/4 tsp baking soda
1/2 tsp salt
2 tsp ceylon cinnamon (or reg cinnamon)
1/4 tsp ground nutmeg
1 cup frozen blueberries
Directions:
1. Preheat oven to 400 degrees F/ 204 C.
2. Combine wet ingredients in a large size bowl and mix together.
3. Combine dry ingredients (except for blueberries) into a medium size bowl and whisk together.
4. Add dry ingredients to wet ingredients and stir just until combined. Gently fold in the blueberries.
5. Spoon batter into non-stick silicone muffin trays or a lightly oil spritzed muffin tin.
6. Bake for 25-30 minutes until a knife or toothpick in the middle comes out clean.
7. Allow to cool for 10 minutes and then turn out onto a cookie rack to completely.
8. Serve.
Additional Tips:
For a truly sugar free version you can try using more banana and omit the maple syrup/sweetener. For a whole food sweetener you can blend pitted dates with some water to make your own date syrup.
What's your favorite way to use blueberries?