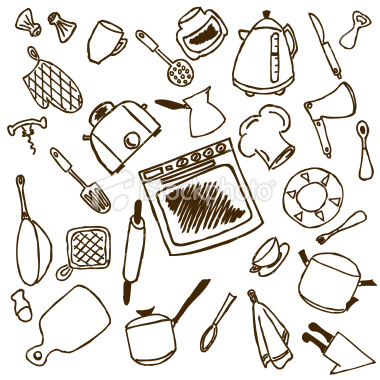 I previously sent out an article on my Top 12 Must Have Small Kitchen Appliances and I promised to do a part 2 but focus on kitchen gadgets/tools you use without electricity. I've ordered these by most to least used for convenience for you and included my top picks from my kitchen for my most frequent recipes. I will probably make a list for my raw food appliances and gadgets later on too as that's got some other essential tools for those that predominantly eat salads and non cooked foods. So are you ready to see my list?
Yes?
Read on!
12 Must Have Kitchen Gadgets and Tools For Your Vegan Kitchen
1. Global 8″ Chef's Knife ($93) MinoSharp Ceramic Sharpener ($53)
My favorite kitchen tool is my Global Chef's Knife, it's super sharp, easy to clean and is perfectly balanced so it's not handle heavy and does not cause strain on my wrist. Normal cheapo wood block knife sets are often super heavy and get very dull quickly. Dull knives lead to lots of slips and possible accidents, so it's important to take care and use a good knife. I also got a MinoSharp to sharpen my knife, this one is great because it's a water sharpener (you use it under the faucet) and you can use it to sharpen all of your knives. In fact I think I'm going to go sharpen my knives right now…
2. Chef'n Palm Peeler ($5-$7) /  Swisspro Speed Peeler ($7.50)
The next most used tool in my kitchen is a vegetable peeler. Sure you can use a regular vegetable peeler but I've found two that are a bit different than your standard one. The Chef'n Palm Peeler is nice because it doesn't slip and it makes peeling vegetables much easier. It's especially useful when your hands are a bit wet from freshly washed produce. A speed peeler is another useful peeler especially when you have a ton of potatoes or root vegetables to peel. It glides very smoothly over the vegetables in a single stroke without sticking. So you simply peel down and the peel falls away without you having to lift it up. This speed peeler also has a handy potato eye remover. Make sure you dry your peelers after washing to prevent rusting and replace occasionally so you're using a sharp blade as dull ones are inefficient and dangerous.
3. Oxo Garlic Press ($20) / Oxo Mini Chopper ($12)
Mmm garlic… I use a LOT of garlic and chopping and peeling garlic is one of my least favorite tasks but it's worth it for my recipes. I like having a garlic press to quickly get garlic into my pan or into a dish and it comes out in nice even pieces.  But sometimes I need a lot of garlic for my vegetable broth or tofu ricotta and i don't want to have garlic fingers so I use a mini chopper to quickly mince garlic. It works great for fresh ginger as well.
4. Oxo Garlic Peeler ($7)
If you can find pre peeled garlic in the store (I've seen it at Whole Foods) it's a huge time saver, but bulb garlic is fairly inexpensive and it's got to get peeled. You can either smash the garlic with the flat side of your knife and crack it open or you can use a garlic peeler. A garlic peeler is nice when sometimes you can't get the paper off of your garlic, or you don't want to have garlicky smelling fingers! I swear sometimes my hands were covered in onion and garlic juice when I'm madly throwing recipes together in the kitchen… So it's nice to have some relief.
5. Chef'n Vegetable Steamer ($12)
When I steam greens or vegetables I usually make a lot, partially because we eat a lot but also because it's nice to have some leftovers for quick meals or lunch the next day. I like my Chef'n silicone steamer as it's easy to clean and doesn't get little pieces of broccoli stuck in it like my old metal steamer basket does.
6. Citrus reamer ($6) / Steel Citrus Juicer ($12)
I love fresh lemon and lime juice in my recipes. Citrus juice adds a delicious fresh zing without needing as much salt and it's so low in calories you can use it liberally if desired. A citrus reamer is good for juicing just a half or whole lemon at the end of a recipe, but if you're adding a lot more than that sometimes it's nice to have a steel citrus juicer. Also great for a little glass of fresh orange juice too!
7. Progressive Vegetable Chopper ($24) / Vidalia Chop Wizard ($20)
Vegetable choppers are great to use if you don't have a good knife, have arthritis, have shaky knife skills or you need a lot of onions, tomatos or peppers in an even dice quickly. I love using one when I'm making dishes for guests or photographing the recipe so it has a nice even dice. I use it in my Mexican Black Bean Corn Soup, Quinoa Bean Chili, Mango Cilantro Salsa, tomato salsas, vegetable stews, and more. I have both, the Progressive has a bit larger of a container and 3 inserts vs 2 in the Vidalia. For just onions and tomatoes in square dices the Vidalia Chop Wizard is enough but if you like more than just a simple square and larger capacity go with the Progressive Vegetable Chopper.
8. Benriner Mandolin Slicer ($51)
I love my Benriner Slicer… it's very durable and very sharp. I've had several mandolins and v-slicers in the past, but some of them were so cheap the blades bent or the became dull very quickly. I use my mandolin to shred cabbage, make cucumber, zucchini or carrot rounds for fresh salads or raw recipes. It's essential for my raw lasagna and Costa Rican Cabbage Salad. This mandolin will stand up to all your slicing needs!
9. Zyliss Safe Edge Can Opener ($15)
I hated opening cans with cheap can openers, especially when they left sharp edges and wouldn't cut easily. With my Zyliss can opener it cuts on the outside edge of the can (not the inside) which leaves a safe edge for you to pick up. No more frustration, no more sticking and no more sharp edges. 🙂
10. Oxo Salad Spinner ($30)
Washing lettuce and getting dirt and bugs out of every nook and cranny can be a pain as it is, but drying my lettuce in my OXO salad spinner is actually kind of fun. You just push down the middle plunger and the faster you push it the faster it spins. Just make sure to hold onto it so it doesn't get away from you! A good little kitchen workout and your salad is ready to go. I really prefer this style as opposed to another where you have to crank the salad spinner to get it to spin which is more tiring.
11. Ozeri Digital Kitchen Scale $16
If you're in the UK or Australia you probably already have a kitchen scale, but I like to use them when I have bulk dried goods such as beans or pasta and I don't know how much I have. That way I can measure out a pound or half pound and know how much is going into my recipe. I also use my kitchen scale to weigh my book packages to ship out to Canadian customers, so it's definitely getting it's use!
12. Oxo Citrus Zester ($10)
A citrus zester or microplane is great to use for shaving citrus peels for baked goods or garnishes and making chocolate curls for desserts…. MMM! If you have an old cheese grater it should suffice, but I find cleaning those old box style ones are kind of a pain. A zester is super fast to use and easy to clean and gives your dishes a little professional edge with some beautiful peel or curl as a garnish.
Not Must Haves… But "Nice To Haves"
Onion Goggles ($20)
When I'm not wearing my contacts and cutting a lot of onions, I put these babies on (it's ok no one sees me! lol) and it is a life saver when cutting more than 1 onion, such as in my homemade vegetable broth or French onion soup. It also keeps you from touching your eyes after cutting onions or garlic so no more stinging pain either! They are definitely nice to have when you chop onions every day or frequently. Don't worry they come in "manly" colors too like black, red and green too. Alternatively you can store your onions in the fridge which helps solidify the oils and onion juices so there is less when you cut into them. But sometimes I don't have enough room in the fridge for my onions and all my veggies.
Non-slip Silicone Mat ($17)
While you can use parchment paper for all your oil free baking, I like to use a non slip silicone mat to prevent sticking and it also makes cleaning my pans much simpler, just a quick wipe with soap and all the reside is gone. These non stick mats also make your pans last longer and prevent black marks, hurray!
Chef'n VeggieChop ($20)
A VeggieChop is nice when you want to quickly chop a bunch of ingredients together such as onions, garlic and tomato for a fresh salsa, or onions, celery and carrots for a quick soup. Sometimes you don't want to pull out your food processor (or you don't have one) and this tool can make preparing veggies a snap.
Mortar and Pestle ($21)
A mortar and pestle is useful when making ethnic recipes such as curry pastes or grinding Indian spices for garam masala or crushing dried chilies for spicy dishes. It's nice to have because nothing is as satisfying when you want to crush your ingredients and it gives a rustic feel to your dishes. You can also use a food processor or coffee grinder, but this is very easy to clean and great for doing small batches of spices. One recipe that I like that is made in a mortar and pestle is Thai Green Papaya Salad, essentially it's strips of unripe green papaya shredded and seasoned with tomatoes, carrots, chillies, lime and traditionally fish sauce – but i skip that part.
Progressive Cherry-It Pitter ($12.60)
In the summer I like to get lots of fresh cherries and sometimes it's nice not to be bothered with the stems and pits. I like to pit a big bowl of them for a no mess snack, or when I have too many that I can't eat and toss them in the freezer for smoothies. One of my favorite smoothie recipes is cherry mango or cherry pineapple.
So that's my list and some of what you'll find in my kitchen.  I have a bunch of other never used, or useless kitchen tools in my cupboards just like anyone else. Actually probably more than most people… a situation I think a garage sale can rectify!
Let me know what you think, what's on your must have list? If I've forgotten your favorite please forgive me, it's been a long night!