Low Fat Vegan Chef's Favorites for 2014
Here I will share some of my well known and new favorites that I want to rave about. Do any of my favorites make your list this year?
Favorite Kitchen Appliance:
EZ Bean Cooker (Great for ALL pressure cooker style recipes and not just beans) See my video demonstration here I use my pressure cooker a lot, I even have two! Mashed potatoes, mashed yams, vegetable broth, beans, lentils, and soups can all be made very easily in this digital and safe to use pressure cooker. Simply add your dry ingredients, add sufficient water and spices, turn the lid to the locked position and use the auto program for beans, or manual timer for other recipes and voila! Cooking is a breeze.
Favorite Kitchen Gadgets:
Benriner Mandolin Slicer Mandolins are great to use when you don't have a food processor or a gourmet knife and want to make quick slaws, salads, potato chips and more!
OR get even fancier and make shoestring potatoes, zucchini noodles, or carrot and beet curls with the Benriner Turning Slicer I love making vegetable curls to add to salads and tacos. Everyone loves how pretty they look and and are always impressed.
Favorite Seasoning:
McCormick Smoked Paprika I use smoked paprika in all my Mexican, Tex-Mex, Indian and even some Italian dishes for a more interesting flavor. If you've never had it before, you have to try it. I do not like regular paprika at all, but I love the sweet smokey flavor of smoked paprika and find it livens up all my favourite recipes.
Favorite Recipe Ingredient:
Muir Glen Fire Roasted Tomatoes make every other canned tomato jealous, and for good reason. These slightly sweet smokey tomatoes are a great base for pasta sauces, curries, soups, stews and chillis. I always buy them in bulk to make sure I have them on hand and find every recipe tastes better when I use these over plain tomatoes.
Favorite Organic Skincare Line:
My friend Annmarie Gianni makes these delicious and almost entirely edible skin care products that are organic and wild crafted. No harmful chemicals, parabens, sulfates or harsh cleansers here just delicious smelling skin rejuvenating cleansers and creams. Available in normal, dry and anti aging formulas for all ages. Get a sample kit of YOUR choice for only $10 including free worldwide shipping!
Favorite Supplement Brand:
Dr. Fuhrman's Supplements are premium, whole food formulations that are not only safe, but highly effective as well. Many traditional store bought supplements contain too much folic acid, Vitamin A, Vitamin E, Selenium, Iron and Copper. Dr. Fuhrman's formulations are non-GMO and contain only the safest amounts of the recommended daily intake of vitamins and minerals with some having the added benefit of Vitamin D3 which many vegans lack.
Favorite Blog Recipe: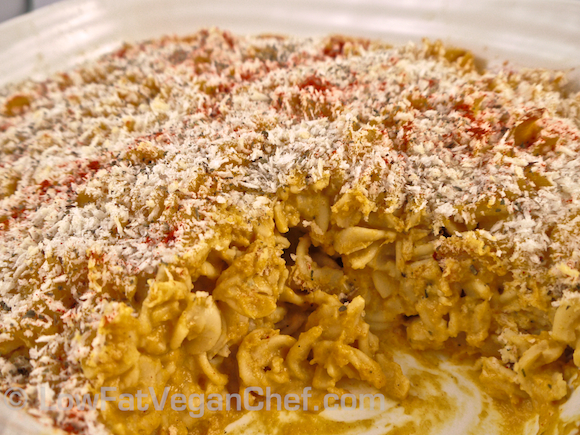 Baked Butternut Squash Mac and Cheezy is probably my top blog recipe because cheese lovers and vegans alike can rejoice in this healthier whole food version of their old favorite. I've made this recipe so many times I can't even count, and it's one of my family's favorites too. (Psst. It also uses smoked paprika hint hint!)
Favorite Current Plant Based
Recipe Book:
Eat To Live Cookbook  by Dr. Fuhrman  This book contains over 200 easy to follow recipes, goes over the basics of what not to eat and what to eat more of, and introduces you into the world of making your own dressings and sauces. I find this approach very appealing because it is how I learned to season and taste test recipes and adjust them to my liking. I was doing this before I even knew about Dr. Furhman so I find this wonderful that we both like to cook the same way and build recipes to taste from fresh ingredients.
Favorite NEW Plant Based Book:
Whole: Rethinking the Science of Nutrition by Dr. T. Colin Campbell (also the author of the world-famous China Study) is a great read for those who are often confused if their current diet really is enough to live a long healthy life. If you want to know more about why a whole food plant based diet isn't the norm and how to stand up to naysayers then this book is for you.
Favorite Plant Based Blog:
FatFreeVegan.com is one of the original oil free plant based blogs and is probably already on your list of go to recipes and food porn. But just incase it isn't on your radar yet, please check it out. I had the pleasure of meeting Susan in person at a Vida Vegan Con event and it was nice to spend sometime with a link minded lady in a world of tempting high fat vegan treats. 🙂
Favorite Other Blog Recipe:
Lentil and Cauliflower Rice Tacos by Susan Voisin You have to check this out, she is a master at making cauliflower taste delicious and your taste buds will be dancing with this recipe!
Favorite Vegetarian Restaurant in Canada:
Nourish Bistro is hands down my favourite vegetarian restaurant because it is so incredibly unique in flavor. Everything they make is handmade, often local and very seasonal but that's not even a primary reason for me to love it. They use whole foods such as fruit, nuts, seeds and sprouts to flavor and garnish all of their unique dishes so it's not like anything you've ever had before. They have strawberries and beans on their nachos and burritos and ground cherries and sprouts on their curries. Everything is beautiful and they've been slowly growing a following over the past decade, they are even now the #1 tourist restaurant in Banff. If you ever get the chance, please go and let the owners know Veronica sent you. 🙂 (I've also been bugging them to put together a recipe book for years as well!)
Favorite Vegetarian Restaurant in the USA:
Natural Selection in Portland is my favourite US based restaurant because it's the kind of cuisine that I would never make myself at home and is a luxurious treat once in a while. The menu changes weekly and the head chef Aaron Woo truly cares about his craft. Although not totally vegan, they always have vegan and gluten free options.  My next runner up is Millennium in San Francisco where you can get a truly fine dining experience all meat free and feel like a celebrity.
Favorite Vegan Friendly Travel Destination:
Chiang Mai, Thailand has a large Buddhist, Expat and University population for this moderately sized city. It's very easy to eat fresh fruit and vegetable dishes at the street markets on the go and some of my favorite snacks were: fresh pineapple slices, peeled pink pommelo (sweeter than grapefruit), jackfruit, durian and Thai coconuts. There's also an abundance of vegetarian (mostly vegan) restaurants around the city as well as numerous places to take Thai vegetarian cooking classes. There's also an annual 9 day vegetarian festival every October which means many local vendors make all their food vegetarian and skip the meat as well. I highly recommend putting Chiang Mai on your bucket list of vegetarian travel adventures!
What are your favorite dishes, ingredients, gadgets, restaurants and travel destinations?