Eating a whole foods plant based diet doesn't have to be hard or time consuming.  It can be very cheap, quick and satisfying, but you need to be able to design a meal that will at least give you enough calories and be enjoyable to eat to succeed in the long term.
Dr. John McDougall has come out with a new book in 2012 called The Starch Solution: Eat the Foods You Love, Regain Your Health, and Lose the Weight for Good! and he talks about why starch is the best food to base a healthy plant based diet on. Cultures all over the world are thriving on a predominantly plant based high starch diet, whether in the form of potatoes, white rice, pasta, or corn (maize, not yellow sweet corn), supplemented with green and yellow vegetables and some fresh fruits.
Starch is a complex carbohydrate, so it is a slower releasing carbohydrate compared to fruit. When you eat starches they take longer to digest and so you get some energy right away and some later. This is why a meal including mashed potatoes or pasta can be so satisfying and keep you full for a long time. If you get the majority of your energy from whole food starches you will find it very easy to lose or maintain your ideal weight.
In fact there was even a man named Chris Voigt who ate 20 potatoes a day for 60 days and lost 23 lbs! He also significantly reduced his cholesterol and his triglycerides eating white potatoes 3 times a day!
So white potatoes are not "bad" for you like many carb phobic health gurus claim.  What is unhealthy is all the butter, sour cream, cheese and bacon that people load up onto a giant jacket potato and eat ON TOP of a large piece of fatty meat and a side that has more cream or cheese in it. Often it's just too many calories from rich animal foods. The white potato itself is not making you fat, it's too many rich foods and too many nutrient poor calories on top of the potato.
Sure there are other starches that are higher in nutrients than a white potato, like sweet potatoes or yams, but the point is the white potato is not going to harm your health or make you fat, just the opposite in fact. Including some healthy high carb low fat foods into your daily meals will help keep you full and your waistline trim. The key is to eat smart and keep it simple!
One of my basic McDougall meals is a large baked jacket potato topped with either my oil-free hummus or salsa, and an ear or two of sweet corn and a green like steamed broccoli, kale, collards, Brussels sprouts etc.
When you think about how simple and inexpensive this meal is even compared to a fast food meal you'll realize it's not that hard to do and is quite easy on the pocketbook too. A potato might cost 20-50 cents depending on how many you buy, an ear of corn could be 75 cents to a dollar and a small head of broccoli can be a dollar or two and even less if you're using frozen vegetables.  So you have a meal that could cost you around $2 for a plate, more if you increase the amount of vegetables or choose organic, but even still it's much cheaper and better for you than a $3.99 value meal at McDonalds. This is a very basic example, but there are many McDougall recipes that are quite inexpensive to make. Check out my Low Fat Vegan Comfort Soups Recipe eBook for some more great ideas.
Often people think a healthy diet is:
#1. Bland and boring
#2. Expensive
#3. Time consuming
#4. Not practical
Well we can start off by fixing the bland and boring part by choosing different combinations of healthy inexpensive foods to build a meal out of. Then you can spice it up with some zesty seasonings or low fat condiments (it's even better to make your own) and then it will be more palatable and exciting to eat. Just because we take the cheese and bacon out of potatoes and salads for a healthy vegan diet doesn't mean that you have to eat them plain and lament about it. When you take something that is a typical standard food item and switch it for a vegan version, don't just take take take and be left with plain lettuce or a plain bun. There's a plethora of fresh, cooked, pickled and fermented goodies you can use for toppings in place of cheese, meat, mayo, and creamy dressings.
Eating a low fat plant based or vegan diet can be expensive or inexpensive. It really depends on where you shop, what you buy and if you buy in small quantities or in bulk. To make this diet cheaper, it's better to buy some things in bulk like potatoes, sweet potatoes, rice, whole grains etc. because the price per serving is greatly reduced. You can shop at places like Costco, or even organic wholesale distributors and get seasonal vegetables and fruit in bulk for a discount. Also don't forget you can buy frozen vegetables and fruit to keep around for a quick meal. Check for sales in local flyers, or check them online before you head to the grocery store.
I have to say that eating simple McDougall based meals is NOT time consuming at all. For a starch I can throw a few potatoes in the oven at 400 F/205 C for an hour or put some rice in my rice cooker and my main source of calories is taken care of. Then I can just steam or boil any accompanying vegetables if desired. Or you can make a big vegetable stew or soup in a slow cooker, or cook your own beans and lentils in a pressure cooker if you're looking for a quicker turnaround time. Really the most important thing to being able to put meals together quickly is to have a stocked refrigerator and pantry with healthy whole foods that you can put together into a complete meal. (It also helps if you make foods you enjoy as well as trying new ones.)
When you're eating out, or making meals for family and friends you may think that eating a low fat plant based diet isn't practical or very attractive and it depends on your outlook and how you execute it. If your family or friends are on board with your healthy lifestyle that's great, and if they aren't there's still a good chance they can eat most of what you're making for yourself anyway for their meal as well. They can choose to have some meat or dairy on the side if they insist and still join you.
When you're eating out, it's best to check out restaurant menus in advance (or online) and see if there's anything that can be modified to work for you. If you can't or if you have any doubts CALL THE RESTAURANT and talk to the chef or sous chef during the day before the dinner rush. They will not be upset, they will try to please you and will often get excited about the challenge of coming up with an oil free/low fat vegan option using their own creative skills. It's best not to ask a hostess or server as they really don't know what ingredients chef's have to work with in the kitchen and they're likely to be less creative, ie. bringing out a salad with just the chicken and cheese removed and nothing else on to substitute it with. Depending where you live the wait staff will know more or less about dietary restrictions and allergies as well. When I have friends or family members with dietary restrictions, I go out of my way to make something for all of us that they can have and generally any good chef will accommodate you.
Here are some ideas for building a healthy and satisfying starch based McDougall plate at home. I would suggest choosing 3-5 items from the list below:
Healthy Starches
Sweet potatoes – yams/kumara
Potatoes – yellow/purple/white etc.
Whole grains – quinoa, steel cut oats, barley, bulgar, couscous, millet, rye, amaranth, spelt, canawa, wild rice
Rice – brown, basmati, jasmine, sticky white, red Bhutanese, black etc.
Pasta: whole grain pasta, egg free pasta, buckwheat pasta etc.
Starchy vegetables: winter squash, sweet corn, carrots, beets, turnips, parsnip, plaintain, taro, etc
Healthy Plant Based Proteins
Beans – black, kidney, pinto, chickpeas, white, soy, tofu, tempeh, adzuki, black eyed peas, fava, gigantes, lima, mung, etc.
Other legumes – peas, split peas, red lentils, brown lentils, French green lentils, black lentils, masoor lentils, peanuts, etc
Seeds – pumpkin, sunflower, flax, hemp, chia (in moderation as these are also high in fat too)
Wheat protein: seiten/wheat gluten (if you're not gluten intolerant)
Leafy Greens and Vegetables:
Leafy Greens – kale, collards, Swiss chard, leaf lettuce, Romaine, spinach, arugala, lamb's lettuce/mache, turnip greens, beet greens, mustard greens, cabbage, bok choi,  Brussels sprouts, watercress, wild edibles like lambs quarters and purslane, etc.
Green vegetables: broccoli, broccolini, broccoli rabe/rapini, celery, asparagus, green string beans, zucchini, green/spring onions, kohlrabi,
Orange, red and yellow vegetables: bell peppers/capsicum, yellow beans, yellow summer squash, tomatoes, radishes,
Misc vegetables: onions, garlic, mushrooms, eggplant/aubergine etc.
And what about fruits? Make sure you get a few servings of fruit a day into your diet. This can be in the form of a smoothie, (which I have TONS of fruit smoothie and green smoothie recipes on here) a snack or a fruit dessert. There are literally hundreds of fruits to choose from.
Some fruits that go really well on salads (if you're looking for some raw options) are apples, sliced grapes, fresh berries like strawberries, raspberries, and blackberries, orange segments, Mandarin oranges or Clementine oranges, grapefruit, pommelo, kiwi fruit, persimmons, dragon fruit, raisins, dried cranberries and more!
To keep things fairly inexpensive and hassle free you can eat basic meals like rice or potatoes with some beans, tofu or tempeh, and a salad or steamed or sautéed veggies. There are so many different combinations and you can eat whatever is in season. Then to add some variety you can make things like a vegetable stew, a vegan soup, veggie tacos with rice, lentil curry and rice, noodles with sautéed veggies etc. a few times a week. They key is to find some healthy foods and meals that you really enjoy eating and it doesn't feel like a chore or you are depriving yourself. It always helps to have some tasty homemade or store bought low fat condiments to add some flavour as well.
Condiment Ideas to Compliment Mcdougall Style Meals:
-fresh or store bought salsa/pico de gallo
–homemade oil free hummus, or store bought
–homemade oil free babaganoush (eggplant tahini dip)
-barbecue sauce
-hot sauce
-ketchup (look for low sodium, corn syrup free varieties)
-gourmet mustards
-pickled vegetables
-fat free/low fat dressings
-soy sauce or tamari
-teriyaki sauce or hoison sauce
-roasted garlic, sautéed onions, sautéed mushrooms, roasted bell peppers/capsicum
Now Available! Vegan Comfort Foods From Around The World – 100% oil free and McDougall friendly recipes!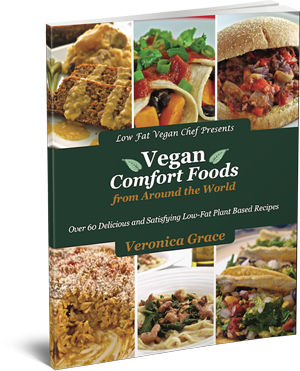 There are so many ideas out there to add a little flavour and excitement to a low fat plant based diet. Even if you're only eating this way when you're at home you will notice some health benefits and feel satisfied with these whole food comfort foods.
Have you ever read one of Dr. McDougall's books or tried The McDougall Program?