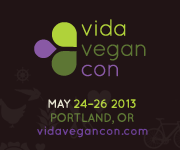 I had a crazy busy week traveling to and from Portland, Oregon (from Calgary, AB) for Vida Vegan Convention 2013. It was the second ever Vida Vegan Convention and was hosted by Vegan bloggers Jess Scone, Janessa Philemon-Kerp, and Michele Truty (all local Portlanders). I met the ladies last year at IFBC (International Food Blogger Conference) in Portland and am always up for a visit to one of my favorite vegan-friendly destinations!
I decided to drive down to Portland along with my friend Megan The Gluten Free Vegan (from Saskatoon, SK) and make a vegan road trip out of it! Definitely check out Megan's blog, she has some amazing naturally gluten free vegan recipes and is very creative in the kitchen! I've previously talked about her recipes here and here. Overall it was a pretty long drive… it took us about 15-16 hours over 2 days to get down there. Let's just say I didn't get much sleep over the past week and am fairly sleep deprived lol.
The weekend was jam packed with food sampling, mingling with fellow vegan bloggers, cookbook authors and vendors, and seminars and classes. It was almost 3 full days of activities, I couldn't believe there was so much stuff to do.
I met a few heavy hitters of the vegan world such as Isa Chandra Moskowitz (Post Punk Kitchen), Susan Voisin (Fat Free Vegan Kitchen), Terry Hope Romero (Vegan Latina), Dreena Burton (Plant Powered Kitchen), Tess (The Blender Girl) and more!
The weekend almost seemed like a crazy vegan food party. There was more vegan food and treats than a Whole Foods Market… (maybe not… but there was free food and samples everywhere!)
The bag of "swag" I received was an entire grocery bag full of goodies, I swear the thing weighed like 20 pounds… When you take a look at what was in it, you may not believe it was all actually in one bag.
Particularly heavy were the bag of amaranth from Bob's Red Mill and the Dark Chocolate Peanut Butter from Peanut Butter & Co, which was a surprise. I didn't expect full sized product samples. Wow!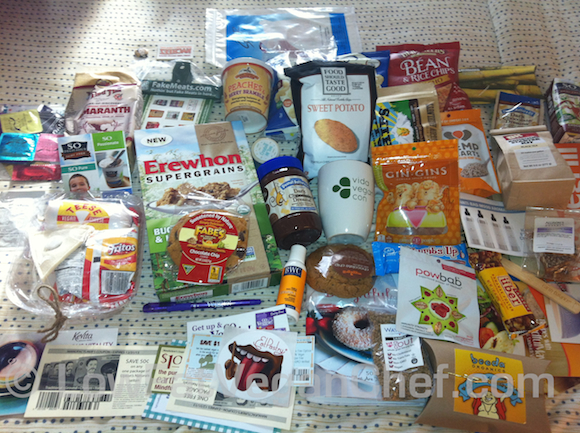 There was certainly far too much items to try in this bag right away. But a few of the items I really enjoyed so far were:
Food Should Taste Good – Sweet Potato Chips – I love sweet potato anything and these were delicious.
Larabar – Uber Bar Bananas Foster – I like that these are simply fruit and nuts and tastier than the original Larabars
Beanfields – Bean and Rice Chips Nacho Flavor – if you are craving a veganized version of Doritos these are for you
Veggie Grill – Chocolate Chip Cookie – giant delicious cookie, but perhaps a little too big for one sitting!
Here is a second goodie bag of samples given by Vegan Cuts.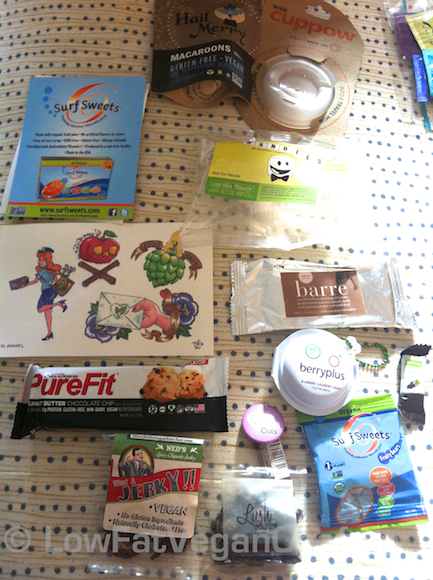 One really neat item was the Cuppow which turns any canning jar into a travel mug. Handy if you like glass containers on the go.
So Delicious was the main sponsor of Vida Vegan Con and shared some crazy delicious ice cream bars, and a new gluten free chocolate cookie ice cream. Coconut Bliss was there as well sharing some samples, I tried a new salted caramel ice-cream from them as well.
A lot of these items I had seen before or never tried and some of them were certainly brand new. I think it may take me a while to go through the rest of them as I try to limit indulgent treats like this!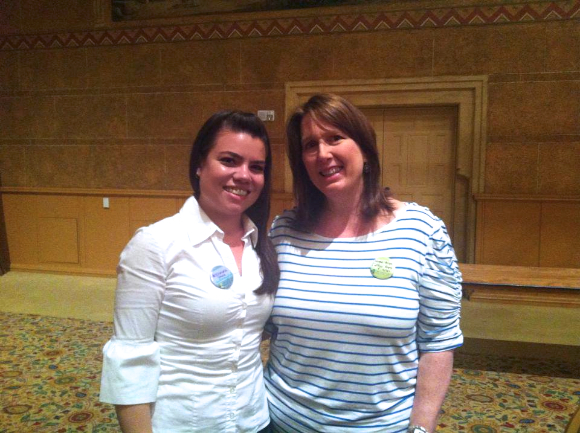 Another cool thing was I got to meet Susan from FatFreeVegan.com too. I'd call her the original oil-free vegan blogger and if you haven't already checked out her site, I suggest you do. Some of the best healthy food porn I've seen!
I could not wait to get home and have some simple fresh foods such as fresh pressed veggie juice, fresh fruit and steamed kale. One can only indulge for so long! lol Now I am due for a cleanse of sorts (which I mean basically just eating whole unprocessed raw and cooked foods) I also need to catch up on some much needed sleep and resume slave duties to my cat Xander… He's very demanding and doesn't like my frequent out of town excursions lol.
Some of the restaurants I visited were Natural Selection, Blossoming Lotus, and A.N.D. Cafe. I'd say these are my top 3 favorites and I always go out of my way to grab a meal there. (I was also in Portland last month in April before I went to California and so I have several food photos from both trips!) Please excuse the poor Iphone photos, I try to be inconspicuous and take the photos quickly so they are not very good!
Natural Selection (Menu Changes Ever 2 Weeks):
Blossoming Lotus:
A.N.D. Cafe:
I am officially full just looking at those photos now lol.
Do you ever feel relieved to go home to get back on track eating healthy again? Portland is great, but man I'm just not cut out for eating all these rich vegan foods and treats very often! 🙂 I need a break…