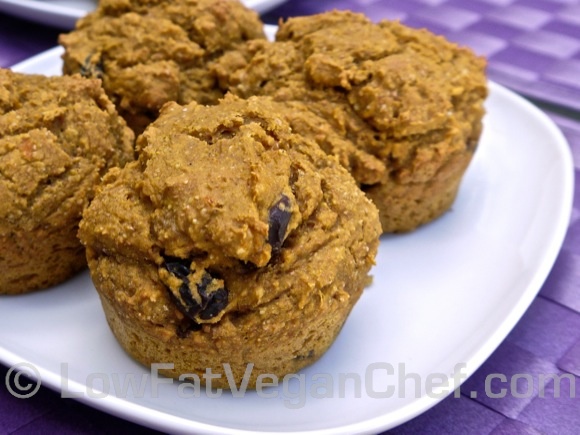 I love pumpkin muffins. I remember the first time I had them as a kid, I was at school and one of the teachers brought us some. They were so moist and delicious. Even though I'm not a big fan of desserts like pumpkin pie, I enjoy things like pumpkin loaf and pumpkin muffins.
But often the really delicious muffin recipes can have a lot of sugar and oil in them. So I've created a new recipe that has no oil, and much less sugar.
Feel free to make these with whatever kind of flour you have on hand, but I try to mix it up once in a while and stay away from refined white flour. Also light maple syrup is less sweet than sugar, but adds nice moisture to these along with the canned pumpkin. I really love maple syrup added to baked goods.
Sometimes organic canned pumpkin is on sale at Whole Foods, so I stock up so I can make more pumpkin inspired recipes!
Fat Free and Vegan Pumpkin Raisin Muffins
Makes 12 muffins
Ingredients:
1 1/2 cups spelt flour (or whole wheat flour)
1/2 cup oat flour (you can grind your own steel cut oats in Vitamix, or coffee grinder for this)
2 tsp celyon cinnamon (this is the sweet "true" cinnamon and tastes so yummy amazing!)
1/2 tsp nutmeg
1 tbsp baking powder
1/2 tsp baking soda
1/2 tsp salt
1 14 oz can pumpkin puree
2/3 cup light maple syrup (or 1/3 cup agave + 1/4-1/3 cup water)
2/3 cup raisins (or as much or little as you like, I love raisins in baked goods!)
Directions:
1. Preheat your oven to 375 Degrees F.
2. Mix the dry ingredients together in a large bowl.
3. Add the pumpkin, maple syrup, raisins and mix until combined.
4. Spray muffin pan with non stick spray or use a silicon muffin tray.
5. Spoon batter into cups with a tablespoon filling just below the top about 2/3 – 3/4 full.
6. Bake 25 to 30 minutes until a toothpick in the centre of a muffin comes out clean.
7. Remove from oven and let cool for a few minutes before removing and placing muffins on a wire rack.
Enjoy!
Nutritional Info
• Servings Per Recipe: 12
• Amount Per Serving
• Calories: 160.3
• Total Fat: 1.1 g
• Cholesterol: 0.0 mg
• Sodium: 235.5 mg
• Total Carbs: 35.5 g
• Dietary Fiber: 4.0 g
• Protein: 3.2 g
What's your favorite addition to pumpkin muffins, raisins, walnuts, cranberries? Something else?