Hands up who likes carrot muffins? Now hands up who likes pumpkin raisin muffins?
Why not have both!
These muffins are inspired by a combination of Oh She Glows Carrot Spice Muffins and my own Pumpkin Raisin Muffins recipe.
These Carrot Pumpkin Spice Muffins are so delicious that I've made several batches of these. Best part is no one will be able to tell they are vegan. They're a really dense and flavorful muffin.
And it's a great way to use up any leftover carrots in the fridge as well. During the fall I always keep a couple of cans of pumpkin in the pantry to make delicious pumpkin baked goods. This is a great alternative to pumpkin pie for a Thanksgiving or Holiday treat as well.
Bring them to work, potlucks, pack for kid's/spouse's lunches etc.  Everyone will be raving about these satisfying muffins and be asking for the recipe.
You may want to make 2 batches of these to use up a full 15 oz./425 g can of pumpkin. I have made them with less than 1 cup of pumpkin puree and they turned out just fine too.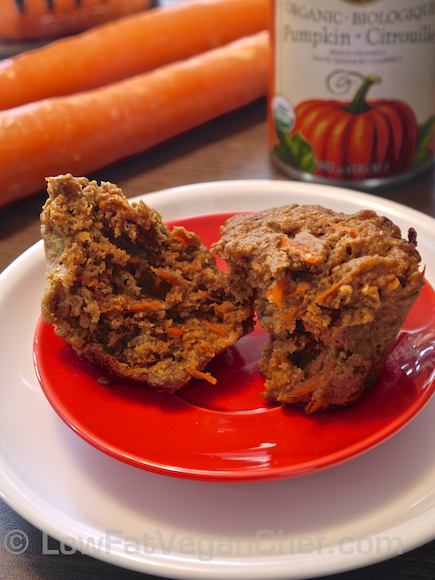 Low Fat Vegan Carrot Pumpkin Spice Muffins
Makes 12 muffins
Dry ingredients:
1 & 3/4 cup stone ground whole wheat flour (or spelt, kamut, oat etc.)
1/4 cup cane sugar
1 tbsp ground chia seed
1 tsp baking powder
3/4 tsp baking soda
2 tsp ground ceylon cinnamon
1/2 tsp ground nutmeg
1/8 tsp ground cloves
1/2 tsp salt
Wet ingredients:
1/2 cup maple syrup
1 cup canned pumpkin (or fresh cooked, mashed)
1/4 cup water
2 tsp vanilla extract
1 1/2 cups grated carrot (3 medium ones or 2 large )
1/2 cup raisins
1/3 cup chopped walnuts *optional
Directions: 
1. Preheat oven to 400 F/204 C.
2. Combine dry ingredients in a medium bowl and whisk to combine.
3. Combine wet ingredients in a large bowl and stir.
4. Add dry ingredients to wet ingredients and stir until just combined.
5. Use silicon muffin tray, or a regular muffin tin lined with muffin cups and spoon mixture evenly for 12 muffins.
6. Bake for 23-25 minutes until toothpick in centre comes out clean.
7. Allow to cool before removing from pan.
8. Store in air tight containers or ziploc bags.

Have you ever had carrot pumpkin muffins before? What's your favorite way to use canned pumpkin?