Sometimes I like to play around with my own recipes and change them up for variety! This is a different spin on my Low Fat Vegan Baked Butternut Squash Mac & Cheese. This time I've left out the panko breadcrumbs so you can see all those lovely vegetables inside!
I've added lightly steamed broccolini/brocolette (a milder form of broccoli) and sautéed mushrooms to the mix!
So now not only is this probably the healthiest baked mac and cheese ever (cuz it's oil free, cheese free and gluten friendly) but it's packed full of nutritional powerhouse vegetables such as butternut squash, garlic and onions (used in the sauce) and broccoli and mushrooms.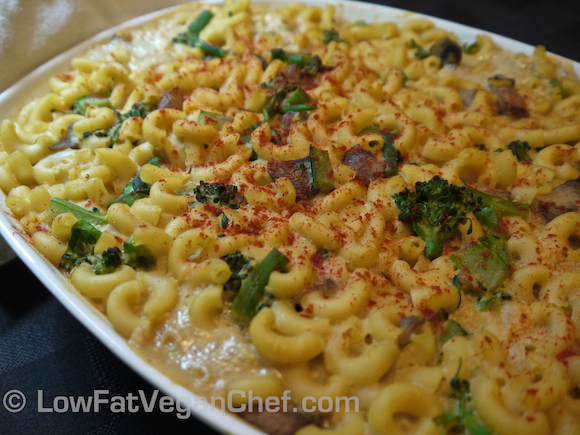 This is just one of 60 delicious recipes in my Vegan Comfort Foods From Around The World recipe ebook.
I'm sure kids would love this recipe too because the veggies are fairly mild tasting and covered in sauce!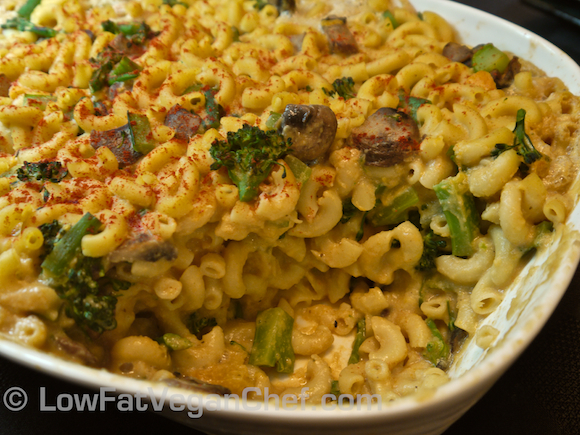 Vegan Baked Butternut Squash Macaroni and Cheese with Broccoli and Mushrooms
adapted from my Baked Butternut Squash Mac & Cheese in Comfort Foods From Around The World
Note: Because I added vegetables to this recipe, the flavor of the sauce needs to be enhanced so I increased the amounts of seasonings.
Serves 6
Ingredients:
½ medium butternut squash (or 1 2/3 cups cooked and mashed)
16 oz./454 g package elbow macaroni or spirals (for GF use Tinkyada brown rice pasta for best results)
1/4 – 1/2 tsp. salt (*optional for pasta)
1 cup broccoli florets, chopped into little pieces
1 cup mushroom slices, chopped
1/2 – 3/4 cup vegetable broth (for cooking)
1 large onion, diced
4 cloves garlic, minced
3 – 4 tsp. brown rice miso (use a lot more if using shiro/white/yellow miso)
3 cups almond milk (unsweetened original)
2 tbsp. flour or cornstarch
3/4 cup nutritional yeast flakes
1/2 tsp. black pepper
1 – 1 1/2 tsp. smoked paprika
3/4 – 1 tsp. salt (*optional for sauce)
Topping:
1/4 tsp. smoked paprika
Directions:
1. Peel and cube the butternut squash and bring to a boil and steam just until soft. Alternatively you can cook in a pressure cooker at high pressure for 5-7 minutes. Drain well. (Tip, if your squash is hard to peel or cut, pop it in the microwave for 3-4 minutes to soften the skin to make it easier to slice.) Measure out 1 2/3 cup of mashed squash and set aside.
2. In a large pot, bring water to a rolling boil and then add salt if desired. Add pasta and cook just before tender (about 2 minutes less than package directions). Generally it's about 5 minutes. Drain well in a colander and rinse in cold water. (Do not overcook the pasta.)
3. In a non-stick pan, saute mushrooms in 1/4 cup of water over medium high heat for about 5 minutes. Add the broccoli and a little more water and cook for about 2 minutes. Remove from heat, drain and set aside.
4. Preheat oven to 350 F/ 177 C.
5. In a large saucepan heat vegetable broth over medium heat and add the onions. Cook for 5-6 minutes until tender adding broth when needed to prevent burning.
6. Add cooked onions and any remaining broth from pan into Vita-Mix or food processor, add mashed squash, 1 cup almond milk and miso and blend until combined. Set aside.
7. In the same large saucepan add 1 cup of the almond milk and sprinkle 1 tbsp. of the flour or cornstarch when hot and whisk in. Add the remaining 1 cup of milk and sprinkle in another tbsp. of flour. Whisk this together fast. It's ok if there are a few small bits of flour still.
8. Cook the sauce for a minute or two until hot and quickly add the squash mixture and whisk in. Heat through another minute or two and then add the nutritional yeast and whisk in. Turn off heat and add remaining seasonings starting with the lower amounts. Taste test and add additional seasonings to your liking.
9. Add drained pasta and mushrooms and broccoli to sauce pot and stir to coat. Spread out in a casserole dish. (If you want to add some vegan cheese like Daiya cheese you would layer some in now and mix it in, but I don't feel the need to add it personally.)
10. Bake for 20-30 minutes just until pasta is tender. (20 minutes if you slightly overcooked your pasta, 30 minutes if you didn't)
11. Serve.
Additional Tips:
To save time you can use frozen cubed butternut squash and then cook it and mash it, or use canned butternut squash. Both are sold at health food stores in North America.
Smoked paprika (also called Spanish Paprika) is much more flavourful than traditional paprika, it lends a nice smokey flavor to this cheesy sauce. McCormick makes one, or you can get it at some ethnic or Indian markets.
Brown rice miso paste is the best for this recipe, is has a stronger tangier flavor than the lighter misos. This is what gives the sauce a tangy cheezy flavor. If you don't use it your sauce will not taste like a cheese sauce.
If you'd like a runnier mac and cheese you can add an extra 1/4 cup of almond milk to the sauce, but you'll need to add some more seasonings to readjust the flavor.
Have you ever made an oil free, cheese free mac and cheese recipe? What did you use?