I was watching Engine 2 Kitchen to the Rescue on Netflix the other day and got a hankering for a homemade panini melt like Rip was showing in the recipe section of the film. This recipe is DELICIOUS! I'm definitely going to be making this regularly because the combination of mushrooms and caramelized onions is one of my favorites.
Hummus is a great cheese-free way to make an ooey gooey panini melt because it adds some nice flavor and moisture to it and gets all melty when heated. So make sure to slather it on thick! For a healthier oil free version of hummus be sure to check out my recipe link below.
This is an adaptation of Engine2's recipe and I've added more ingredients to the panini.  🙂
Vegan Hummus Mushroom Tempeh Panini Melts
Makes 2 panini
Ingredients:
4 slices whole wheat bread (look for oil free) *use GF if desired
low fat hummus (see my recipe)
4-6 strips of tempeh (I used sesame garlic tempeh)
6-8 oz mushrooms, sliced
1 slice of onion cut into strips
1 tsp soy sauce or gluten free tamari
1 tsp maple syrup *optional
handful of baby spinach
2 pieces of fresh cilantro
Directions:
1. In a small non stick pan, cook the tempeh strips over medium heat until lightly browned on both sides. Set aside. (You do not need any oil.)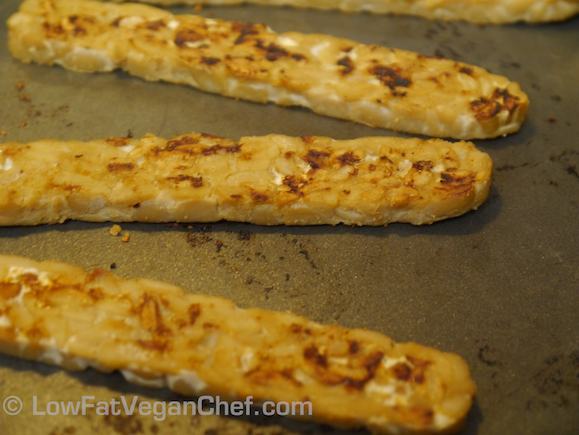 2. Sauté the mushrooms and onion slices in a non-stick pan in soy sauce and maple syrup for 5-6 minutes until soft. Set aside.
3. Spread all 4 slices of bread with a thick layer of hummus (you don't want it to be too dry!) and top 2 slices with tempeh, mushrooms and onions. Lay some spinach leaves on top and sprinkle on a few bits of cilantro. Top with the other slice of bread.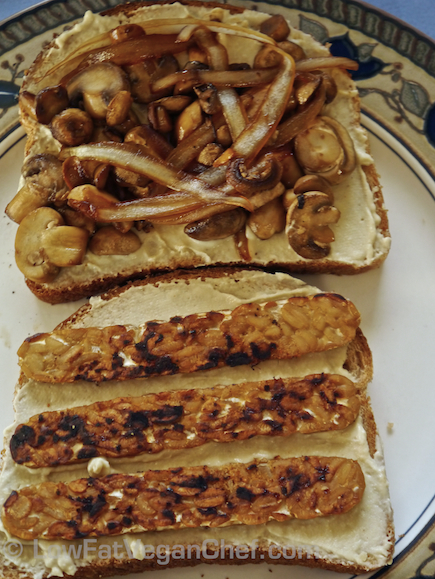 4. In a non stick or cast iron skillet place the sandwiches one at a time over medium low heat. Top with something heavy such as a cast iron skillet, pot or plate with a weight on it. Cook on each side for 3-4 minutes until browned being careful to not let them burn. *Alternatively you can use a sandwich press (cut it in half first) or a panini press and cook for 4-5 minutes.
5. When done slice in half and serve.
Variations:
If you don't want to include the tempeh, feel free to leave it out. I like adding it so it's a little higher in protein and more filling.
You can also mix up your panini by using a different flavored hummus, adding roasted bell peppers, jalapeños, artichokes or smoked tofu instead of the original ingredients.
What's your favorite vegan grilled sandwich or panini?