This is a really delicious juice recipe  that combines red grapefruits with fresh pineapple that I wanted to try. I really love Texas Star grapefruits as they are sweeter and even nice to eat on their own.
Did you know that the reason people used to put sugar on their grapefruit halves is because grapefruits used less sweet? Even sour compared to today? The scary thing is I still notice people putting sugar on their grapefruit halves thinking they are "sour" and that's what you're supposed to do. They have no idea how sweet and delicious grapefruits are now and they don't need any additional sugar. Generally people who eat a lot of processed foods, don't enjoy raw fruits and vegetables because they aren't sweet or salty enough compared to their favourite packaged foods.
The key to enjoying grapefruit is to eat it before you eat anything else. When you eat grapefruit or grapefruit juice on it's own it will taste more naturally sweet than if you ate it with sugary coffee, cereal, muffins, pastries, sweet fruits like mango and other sugary foods.
For instance if you ate a bite of mango and then went to eat some grapefruit it would taste very sour in comparison because your tastebuds had to adjust to the sweet taste of mango. A tip I have for you is to eat mangoes last if you're having a few fruits for breakfast, as everything will taste less appetizing in comparison. Similarly eat your grapefruit first, and then everything you eat later will taste it's best. I don't recommend putting grapefruits in fruit salad either, as they will taste sour in comparison.
Now I don't drink a lot of juice myself, I only drink homemade juice and never store bought bottled juice. But it is nice to have fresh pressed juice before or after a workout or on days that you will be traveling or being inside an air conditioned building for long periods of time. I like to drink fresh fruit and vegetable juice before traveling on a plane as it's a good way to get some extra hydration and use up whatever's left in the fridge before we leave!
Having a small glass of this juice for breakfast will brighten your day and the little bit of ginger adds another layer of flavour to it. I don't like really gingery juices, but this is just right. You can also leave it out, or add more ginger depending on how much you like the flavour.
It's best to use fresh sweet pineapple for this recipe. See my video on How To Select And Cut a Ripe Pineapple. If you're buying pre-cut pineapple from the store, look for one that was packed recently, and has the darkest yellow colour you can find. If it is really pale and mostly white with only a little tinge of yellow it isn't a ripe pineapple and won't be sweet enough. You can also use defrosted frozen pineapple if you let it sit overnight in the fridge or out on the counter for a half hour on a tray, but generally frozen pineapple is not as sweet as fresh ripe pineapple.
Also did you know you can peel ginger very easily with a spoon? Check out my post How To Peel Ginger With A Spoon.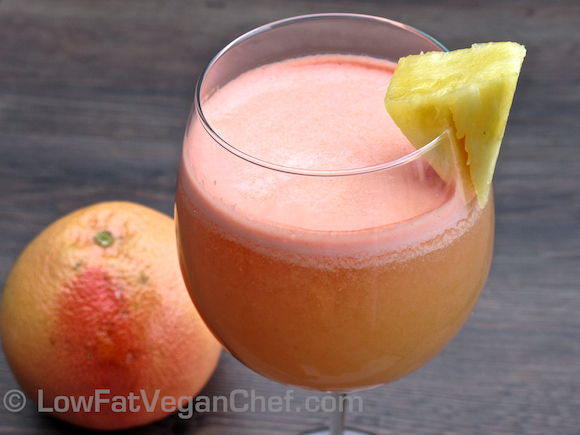 Morning Sunrise (Pineapple Grapefruit Ginger) Juice
Serves 1-2
Ingredients:
2 large Ruby Red or Texas Star grapefruits (or use a sweeter less tart variety available in your country)
4 cups pineapple chunks (fresh is best)
1 knob of ginger the size of your thumb, peeled (use more or less to your tastes)
Directions:
Juice the grapefruit in a citrus juicer or handheld citrus juicer. (This way you get more juice than putting it through a centrifugal juicer).
Run the pineapple chunks and ginger through a centrifugal  or Green Star style juicer.
Combine juices and pour into glasses.
Garnish with pineapple chunk if desired.
Serve.
What do you think of this breakfast juice? Do you enjoy the taste of fresh red grapefruits?