(Watch trailer above)
I have some awesome prize packs to share with you today! It comes from the team behind Fat, Sick and Nearly Dead (the movie).
Synopsis: Joe Coss is a man who was fed up with being overweight and feeling terrible. He knew there was something really wrong with feeling this way. He realized that he was eating the wrong foods and if he didn't change his lifestyle, processed foods were going to be the end of him. He left his home country of Australia and decided to embark on a healing journey in the land of the USA and find out what was wrong with the Western Diet. He found amazing benefits from going on a 60 day juice fast and drank nothing but fresh pressed juice every day!
To date, the audience of Fat, Sick and Nearly Dead has lost more than 6 million pounds and consumed more than 93 million glasses of fresh juice. I watched this documentary for the first time on Netflix back In January 2013, but I had heard a lot of positive reviews about it previously. And while the title might make you wonder what kind of documentary this is, let me tell you it is a great story and has a very positive message. There's nothing scary or graphic in it at all. It shows the amazing journey of not just one, but two men through juicing themselves back to health.
Congratulations to Stacey and Stephanie who won the 2 prize packs!
For the 2nd Anniversary Celebration, the team at Reboot With Joe has given me some goodies to share with you!
First off, if someone you know (or even yourself) are in need of a life changing intervention, Joe and his team are offering 2 scholarships to his 6 Day Reboot at CAMP REBOOT. All you have to do is nominate someone in need (or even yourself) here for a chance to be selected.
Secondly, I have 2 DVD Prize Packs to offer my readers from Joe that you can enter to win right here on the blog! Just tell me why you should be selected for 1 of the 2 prize packs including the DVD and if you're selected I will ship it out to you FREE!
How exciting is that?
Prize Pack 1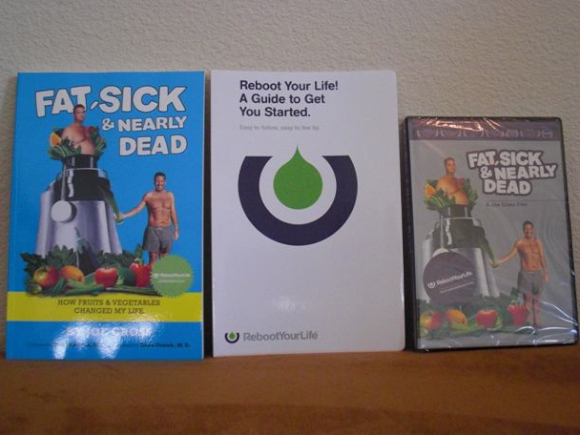 Prize Pack 1 contains: Fat, Sick & Nearly Dead The Book, Reboot Your Life Guide, Fat Sick & Nearly Dead DVD
Prize Pack 2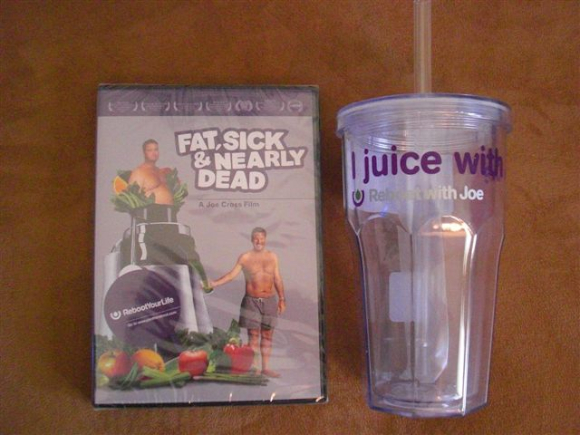 Prize Pack 2 contains: Fat, Sick & Nearly Dead DVD and Reboot With Joe Traveling Juice Cup
So let's celebrate with Joe and congratulate him on creating this amazing life changing documentary and spreading the plant-strong message!
How to Get More Information and Stay In Touch With Joe:
More 2nd Anniversary Freebies and Contests From Joe
Like Fat, Sick and Nearly Dead on Facebook
Contest Ended How To Win 1 of 2 Reboot With Joe Prize Packs:
Just comment on this blog post below and tell me why you should win a prize pack. Winners will be selected from all entries by Thursday June 13, 2013 11 PM EST. 1 entry per person. Contest Ended.  Winners were Stacey and Stephanie.
*FYI I was not paid for this promotional post nor do I receive any personal compensation from the company, but the prizes were provided free of charge for the contest winners of my blog. I paid for shipping myself.