I'm really excited to share this watermelon popsicle recipe with you today. It's been a long time since I made popsicles (I think the last time I did, I was a kid) and they turned out so pretty! I also just got a new (used) camera to play with and am really impressed with the quality of photos it produces (and the much faster shutter speed).
I had a heck of a time finding some popsicle molds here in Canada. I happened to see a small basic set for at Canadian Tire, but just as I was checking out I found 4 sets of these cute larger style popsicles and quickly snapped them up. I haven't been able to find the exact popsicle molds I have online, but there are similar types with drip catches and straws available here.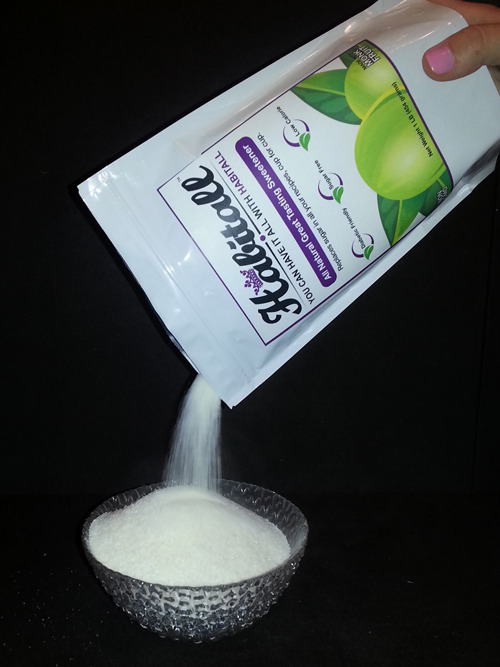 I also got to try out a new natural product. I received some samples of Habitall – All Natural Sugar Replacement, which is aspartame-free, sugar-free, and calorie-free. It's made with monk fruit, erythritol and polydextrose. Normally I never use sugar replacements such as Splenda or aspartame as they give me headaches and I don't feel so well after. But for those looking for a calorie free sweetener (that doesn't have the awful aftertaste of stevia) I think Habitall can be quite useful and best of all there's no negative side effects. I added a little bit to my all fruit popsicles just to enhance the watermelon flavor, as when they're frozen it can taste really icy and less fruity.
My watermelon popsicles actually turned out really yummy! Habitall can be used cup for cup as a sugar replacement so I can also see other uses for it such as lemonade, muffins, cupcakes or cookies for those who are looking to reduce calories, are diabetic or are trying to get off sugar in general.
Want A Free Bag of Habitall To Try?
The company also gave me some samples to give away to 2 lucky people. So if you're interested in receiving a bag to try, just comment below and let me know what you'd like to use it for and 2 comments will be randomly selected to win.
Right now they are doing an Indiegogo campaign to raise funds to help get Habitall into stores at an affordable price for everyone. You can only get it through the campaign for now, but if enough funds are raised in the next few weeks you might see Habitall available soon near you.
Whole food watermelon popsicles are really easy to make and you can use pretty much any fruit juice or puree as the base and diced fruit for added color and texture. Next I think I might try mango puree popsicles with sliced strawberries!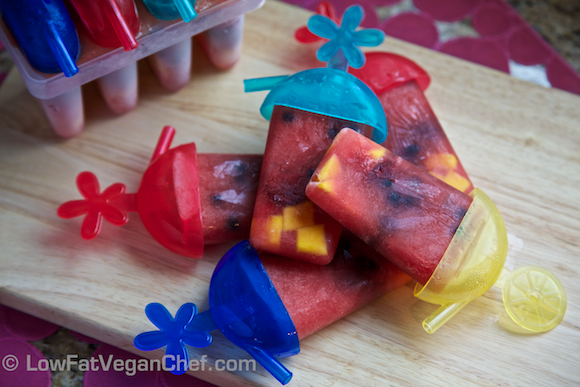 Whole Food Rainbow Watermelon Fruitsicles (Popsicles)
Makes 16-20 popsicles (depending on size) I made 16 90 ml popsicles.
Ingredients:
4 cups blended watermelon puree (about 1/4 medium watermelon) You can also use cantaloupe if desired
1 tbsp Habitall natural sweetener or cane sugar *optional
1 medium ripe ataulfo mango, diced or 2 ripe peaches peeled and diced
1 cup pitted cherries, sliced in half (I used frozen) or raspberries
1/2 cup blueberries (I used wild blueberries)
Directions:
1. Prepare the watermelon puree for the popsicles. Seedless watermelon works best. Blend watermelon and optional Habitall natural sweetener or sugar in a Vitamix or food processor on high until smooth. Set aside. (You can leave out the sweetener if desired.)
2. Dice the mango or peaches (make sure they are ripe or they will be too sour)
3. Portion out the cherries and the blueberries.
4. Assemble watermelon popsicles. Place mango or peach in bottom of popsicle molds, next layer in the cherries halves (or raspberries) and then blueberries.
5. Pour the watermelon puree into the popsicle molds until they are full. Place popsicle sticks on top.
6. Freeze for 6-7 hours.
7. Before serving run the popsicle try under warm to hot water to loosen popsicles from mold.
Enjoy!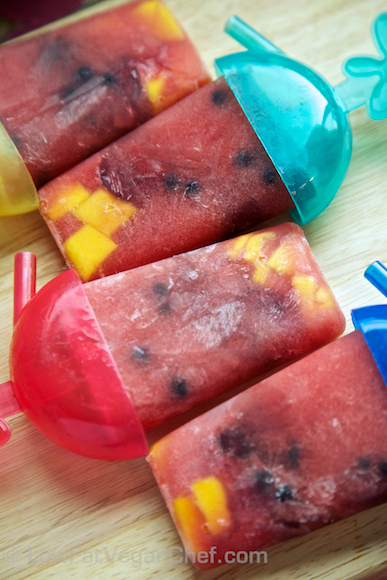 Disclosure: I was not paid or given any compensation to promote Habitall. I received free samples to review and to give away to blog readers. I paid for shipping myself. 
What is your favorite flavor of popsicle or what combination would you like to try?
Contest is closed! Winners were Lavisha and Brooke. Congratulations!