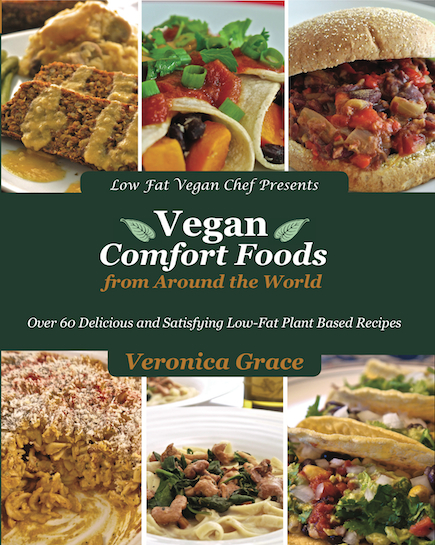 COMING SOON!
Hi everyone! I am so excited to announce that my print edition of Vegan Comfort Foods From Around The World is ALMOST ready! It has been a huge learning process for me and I've had multiple people help me on this project from editing to formatting to design. Since I'm not going the traditional route (like trying to find a big publishing house to work with) I can do things a little differently. By self publishing I can decide on the quality and content of each book and offer you a fully colored printed book with photos for EVERY recipe instead of just for some. This recipe book has exactly the same recipes in my ebook version, the only thing that has changed is the cover and the layout.
Some of you have been begging for me to come out with a printed recipe book and because Vegan Comfort Foods sells so well in ebook form I was able to take a risk and get it designed and printed. So I wanted to thank you all for your support!
I'd like to get your feedback on what you think of this design as well and do a special launch contest for you in return.
*Contest* – Win A Copy Of Vegan Comfort Foods From Around The 
World 
Just comment below and tell me what you think of the design and why you would like to win a copy. I'll select one lucky winner from all the comments and mail you a copy of Vegan Comfort Foods as soon as it's printed. (Please don't enter any address or shipping information in your comment, I will contact you for those details if you win, just provide a working email address)
Here's the beautiful back cover I had designed.
Chapter Sections: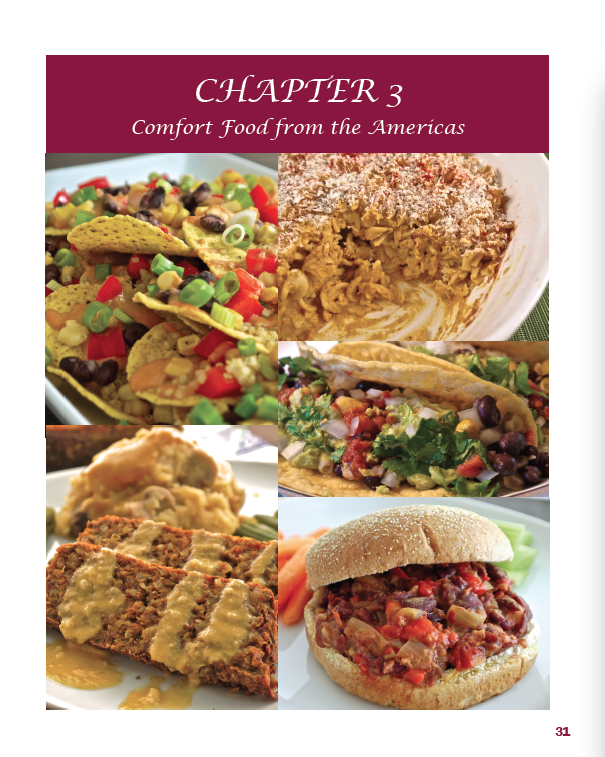 Sample Recipe (click each photo to enlarge):
The book is 150 pages and in an 8 x 10″ format. It's jam packed with delicious recipes and other helpful information such as:
Tools Necessary For A Low Fat Vegan Kitchen
Ingredients Necessary For These Recipes
Why Cook Without Oil?
Debunking Common Cooking Myths
What Is This Ingredient?
How To Cook The Perfect Brown Rice
How To Cook The Perfect White Basmati Rice (and brown)
How To Cook Quinoa Perfectly Every Time
How To Bake Jacket Potatoes Without Oil
How To Cook The Perfect Sushi Rice.
Recipes featured in Vegan Comfort Foods:
Comfort Foods From the Americas:
Baked Butternut Squash Mac & Cheese
Better Than Boston Baked Beans
Black Bean & Corn Tacos
Cranberry Apple Pecan Holiday Stuffing
Easy Cheezy Shells and Broccoli
Hearty Vegetable Slow Cooker Stew
Herbed Lentil Loaf
Holiday Stuffed Acorn Squash
Jackfruit Carnitas (faux pulled pork tacos)
Marinated Portobella Bean Burritos
Mashed Potatoes With Mushrooms
Meatless Sloppy Joe's
Quinoa Veggie Slow Cooker Chili
Rainbow Nachos
Rice & Beans Costa Rican Style (Gallo Pinto)
Saucy Eggplant Fajitas
Spicy Black Bean & Corn Burgers
Yam & French Lentil Shepherd's Pie
Yam and Pecan Holiday Casserole
Yam Black Bean Enchiladas
Comfort Foods From Europe and Asia
Baked Artichoke Risotto
Baked Ziti With Greens
The Best Cabbage Rolls
Cauliflower Potato Tofu Frittata
Deluxe Spinach Mushroom Lasagna
Fettuccini Alfredo With Mushrooms and Spinach
Gourmet Chanterelle Mushroom Risotto
Greek Rice Stuffed Peppers
Indian Basmati Rice with Peas
Indian Cauliflower & Potato Curry (Aloo Gobi)
Indian Chickpea Curry (Chana Masala)
Indian Eggplant Curry (Baingan Bharta)
Indian Spinach Potato Curry (Aloo Palak)
Moroccan Root Vegetable Tagine (Stew)
Ratatouille
Rotini Marinara With Chanterelle Mushrooms
Spaghetti Marinara With French Lentils
Thai Eggplant & Basil Stir Fry
Vegan California Sushi Rolls
Yam Chickpea Spinach Curry
Comfort Sauces/Gravies/Dips
Baba Ghanoush (Roasted Eggplant Dip)
The Best Guacamole
Black Bean Dip
Cheezy Sauce For Vegetables
Classic Brown Gravy
Creamy White Bean Gravy With Thyme
Low Fat Hummus
Miso Tahini Gravy
Queso Sauce
Rich Mushroom Gravy
Roasted Red Pepper Hummus
Southern White Gravy
Tangy Tofu Ranch Dip
Plus Bonus recipes: Sauteed Garlic Mushrooms,Two Bite Brownies and Vegan Rice Pudding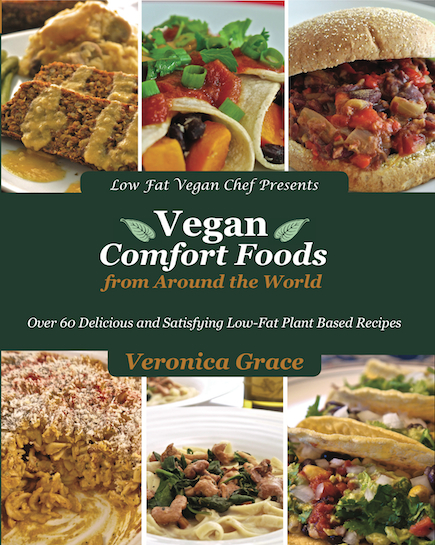 How To Win A Copy:
Let me know what you think of the design and why you would like to win a copy! Comment below and I'll choose 1 lucky winner!
Contest is now closed. Thank you to everyone who entered!