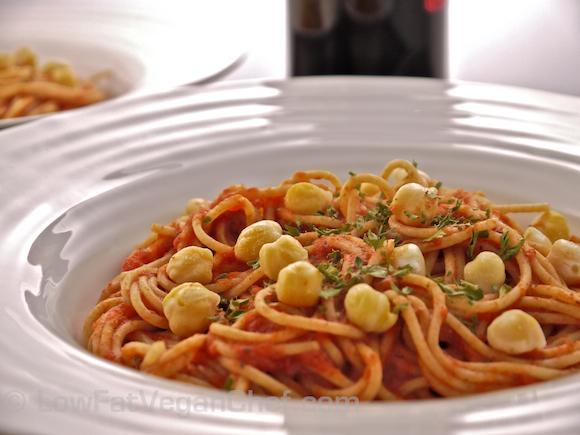 So this is a recipe I made one day when I wasn't sure what to throw into the spaghetti… I thought why not try a bit of chickpea for something to chew on. The results were not bad, but you definitely need a lot of sauce to add some flavour.
I used whole wheat pasta in this recipe, you can use gluten free or another variety if desired as well. Feel free to add some chopped steamed veggies to your marinara sauce as well if desired.
I just thought this vegan spaghetti recipe was too pretty not to share!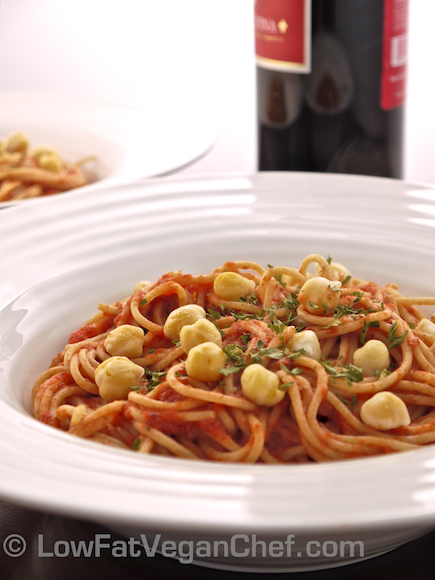 Spaghetti and Chickpeas With Marinara Sauce
Marinara Sauce:
Yields 50 oz/1.5 L of sauce
1 large onion, diced
5 cloves of garlic, minced
5 cups canned tomatoes, diced whole or crushed (about 3 14 oz/396 g cans)
1 6 oz./170 g can tomato paste
3 tbsp sugar or sweetener (or as desired)
2 tsp dried oregano
3 tsp dried basil
Spaghetti:
1/2 box whole wheat or gluten free spaghetti
1/2 15 oz. can of chickpeas, drained
Directions:
1. Fill a large pot with cool water and bring to a boil. Add salt if desired and then add pasta and cook until desired tenderness.
2. Meanwhile prepare the pasta sauce. In a large non-stick skillet or saucepan add the onions and sauté for 2-3 minutes. Add the garlic and sauté another minute or two. Add the tomatoes and seasonings and cook for 5-8 minutes until the tomatoes break down a little. Add sauce to a Vita-Mix, food processor or blender and then blend until smooth. Return to pan to keep warm.
3. When pasta is cooked, drain and then combine with the pasta sauce. Use whatever pot is bigger and toss the pasta with the sauce.
4. Plate and then garnish with chickpeas and additional basil if desired.
What's your favorite addition to vegan spaghetti?