Normally, I talk about what you put IN your body and how it affects your health.  As you may (or may not know) I have experimented a lot with health in what I put in my body until I found what worked for me.
But today, I wanted to talk about what you put ON your body.  The reason why is that some research has shown the the body can absorb up to 2-4 pounds of what is put on it!  This is why natural skin care products — real, truly honest products are essential to use.
How do you know if they're real and honest?
That's the tricky part.  Labeling and truthfulness in the skin care product market is almost non-existent.  Chemical ingredients can be added and are not required to be put on the label in many countries around the world.  So, essentially, your "natural" and "organic" skin care line could have nasty ingredients in it without you knowing.
I have very sensitive skin, and I live in an extremely dry climate. My skin tends to feel angry, dry, itchy and oily all at the same time…. I know not very fun
to deal with! Yuck.
In my own search, I came across
Annmarie Skincare
 (who graciously let me try a bunch of samples before I started buying full sized products.)   It was founded
a few years ago by Annmarie Gianni — the name might be familiar since she's the wife of Kevin Gianni from 
RenegadeHealth.com
Annmarie is well known for her award winning natural, organic skin care line.  Other healthnotables like Mike Adams, Kris Carr, Donna Gates (and now me) have raved about her company's products.
Annmarie, because of her position in the industry, has seen some pretty sketchy things and has made it her company's mission to speak out against the skin care industry and their dirty secrets to help you understand that even your "organic lines" may not be as clean as you'd like.
And, of course, their products are full of high quality ingredients and absolutely no chemical nastiness.
So if you know what you're using probably isn't the cleanest, or you're looking to try something different, or need to start up with something that you can feel confident about and trust, Annmarie offered to offer you an opportunity to try these amazing products.
Annmarie has put together 5 special sample kits that include some of her best selling products. These are for oily, normal, dry, combination and mature skin.
Everything is natural, organic, chemical and paraben free – ONLY good quality ingredients go into crafting these products.
The kits are $10 each, 
but
when you order one (or more) you get a 
$10.00 off coupon
 that you can use for a future purchase.  So basically, if you like the sample kit and you want to buy a full sized product, your kit is essentially free.
On top of that, Annmarie is offering FREE shipping for these kits — anywhere in the world!
So for $10, you can try these amazing products, have them shipped to you for free, and get a $10 off coupon.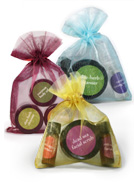 Here's where you can go now if you want one of these kits now…
On this page, you also can read Annmarie's story, watch a video of her, and see dozens of testimonials from happy Annmarie customers.
Finally, Annmarie's team only has a limited number of kits available, so make sure you head over there fast, since once they're sold out they have to hand-fill more which will take a few weeks to get them back in stock.
Here's where to go now…
Don't wait! These sample packs go really fast and I don't want you to miss out. 🙂