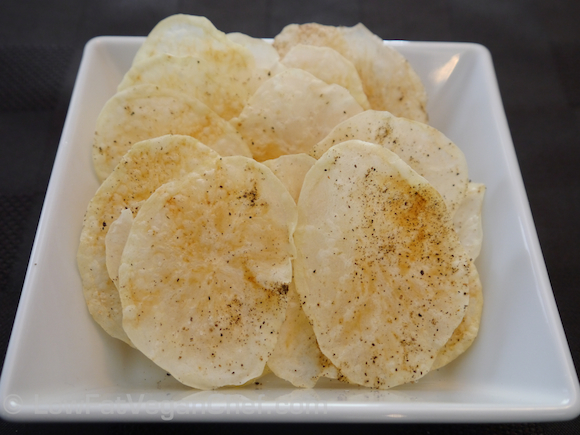 Hands up how many people like eating crunchy snacks? What about potato chips? Mhmm that's what I thought! You love potato chips, but wonder how you can eat them as part of a healthy diet. I love crunchy things and sometimes you want the crunch of a chip, but without all the excess fat and calories. Sure you can buy some baked or popped chips at the store, but they're quite pricey and fairly bland. Not to mention not exactly "fresh".
As a society we tend to overeat on packaged snack foods because they are so easily available everywhere and in such large quantities. Why not try making some of your own favorite snacks and keep them totally healthy?
In fact after making your own healthy snacks you might appreciate the amount of labor and love goes into making them. So hopefully you won't just devour them in a few minutes, but savour your hard earned tasty snack! (At least I hope so…)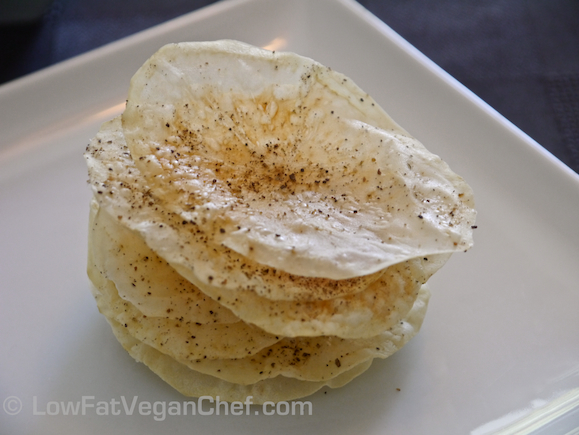 For this fat free potato chip recipe you will need a mandolin or a V-slicer. Something that you can slice a potato on very thinly. Also please be careful and use the vegetable holder/guard that comes with your slicer, or use some safety gloves so you don't slice your finger. Personally I have never had a problem using these devices. Just go slowly and be aware of your fingers and you will be fine.
You'll also require a microwave oven and a roll of parchment paper. Or you can get something like "Top Chips" on Amazon that includes a slicer, spices and a microwaving tray.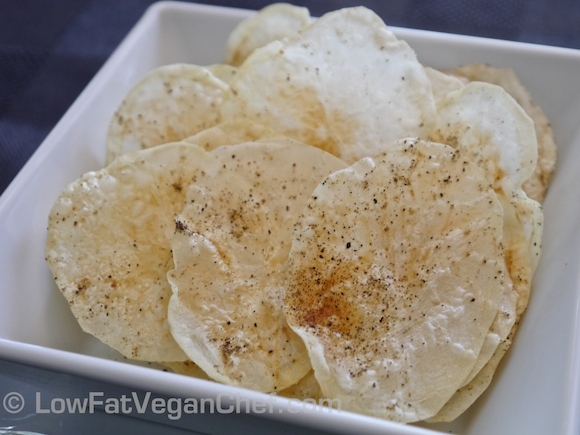 Microwaved Fat Free Potato Chips
Makes 70-80 chips Total time: 45-60 minutes
1 large russet potato
Salt and/or pepper to taste
Directions:
1. Fill a medium bowl with water and peel the potato.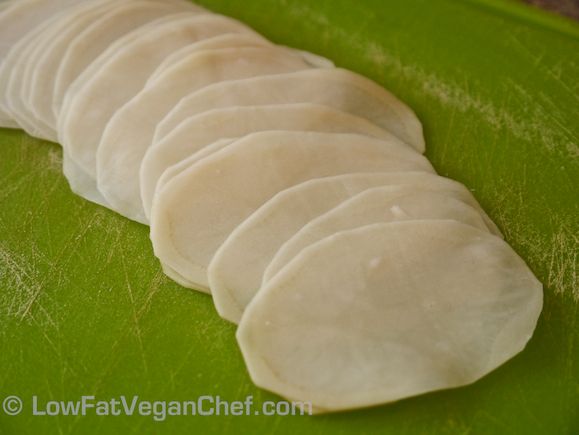 2. Using a mandolin slicer on the thinnest setting, slice the potatoes.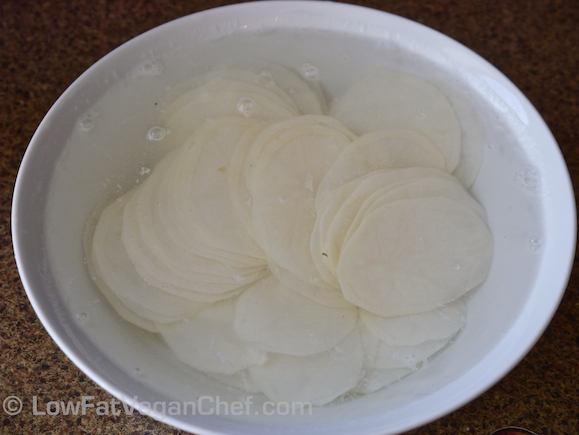 3. Place the sliced potatoes in the bowl of water to prevent browning and remove excess starch.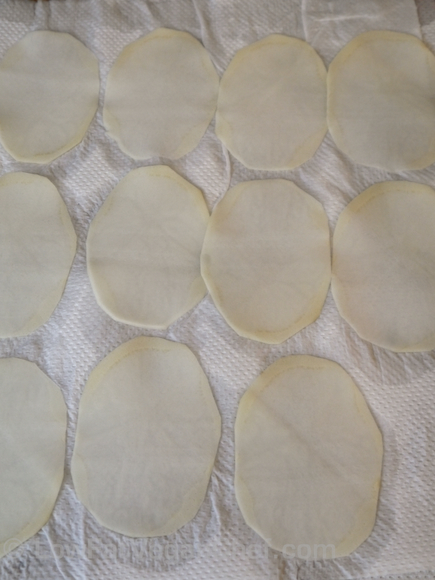 4. Dry potato chips thoroughly with paper towel or a tea towel.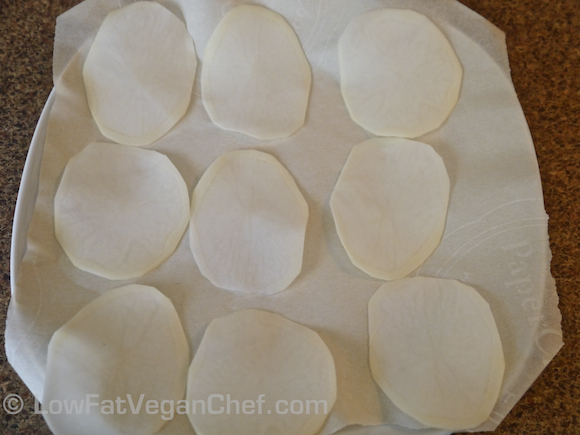 4. Line two large plates with a sheet of parchment paper (essential so the potatoes don't stick) and place enough potato slices on it to cover (about 9). Make sure none overlap.
5. Mix salt, pepper and any other seasonings together in a bowl and sprinkle seasonings very lightly over the chips with your fingers. Go easy at first and taste test your first batch to know if you need more or less seasoning on the next.
6. Microwave one plate of chips at a time on high for 3-6 minutes (depending on the strength of your microwave). Watch them after 3-4 minutes and stop the microwave when they turn a golden brown in the centre. (My low powered microwave took about 5 minutes)
7. Use oven mitts to remove the plate from the microwave (it's very hot!) and let cool a few minutes (before removing the chips from the parchment).
8. Remove the chips and set aside in a bowl or dish and repeat this process until all of your potato slices have been cooked (using the correct cooking time for your microwave).
9. Chips will harden after they cool down and become crispier. Eat when cool and crunchy!
Safety Note:
Please make sure to use oven mitts as the plates will be very hot. Also don't microwave chips back to back for the entire amount, let the microwave have a little break after every 3 plates of chips. I overheated my microwave on the fourth plate and it turned off as a safety precaution.
Additional Tips:
Extra chips can be stored in an air tight container. Eat soon as they can go stale as there are no preservatives.
Use a large potato. The chips shrink significantly after cooking and if you start with a medium potato you'll end up with small chips.
To Make Fat Free Oven Baked Potato Chips:
Preheat oven to 450 degrees. Use a baking pan lined with a non stick silicon mat or a sheet of parchment paper. Place cleaned and dried potato slices on the mat/sheet and season. Bake for 15-17 minutes until golden and crispy. Cool before eating.
Additional Seasoning Ideas:
Chipotle chili powder and salt
Salt & Vinegar
Curry powder and salt
Garlic powder, onion powder, salt and pepper
Grind your favorite herbs or mixes like Herbs De Provence or Italian Seasoning to a fine powder and mix with salt for herbed potato chips
Nutritional Information: Entire recipe (without seasonings) Calories 254.7 Total Fat 0.2 g Saturated Fat 0.2 g Polyunsaturated Fat 0.2 g Monounsaturated Fat 0.0 g Cholesterol 0.0 mg Sodium 58.7 mg Potassium 1,502.2 mg Total Carbohydrate 58.0 g Dietary Fiber 8.8 g Sugars 4.2 g Protein 6.2 g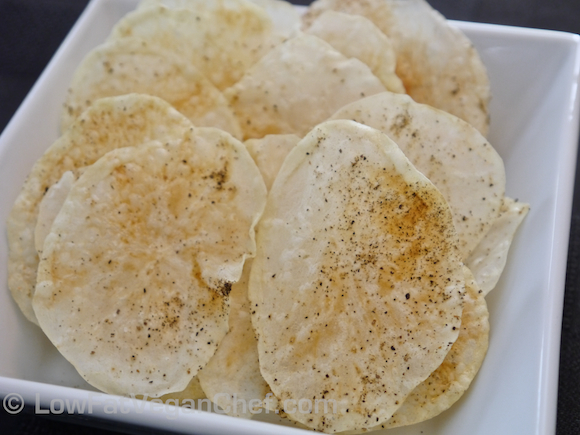 And no the microwave does not cause cancer,  nor does microwaved water kill plants.
What seasonings do you like on your potato chips?