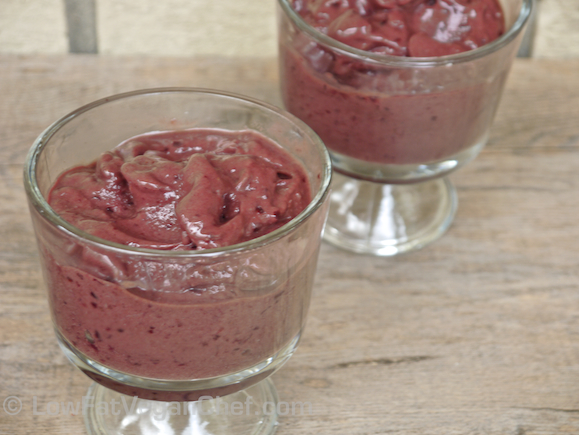 With Summer coming soon you might be craving some sweet warm weather desserts. My favorite is always a fresh homemade blender "ice-cream", which uses frozen bananas for a creamy texture and natural sweetness. Instead of my old staple of "vanilla" I decided to switch it up with some frozen cherries and I have to say I'm absolutely hooked on this recipe! Chocolate cherry anything was basically my weakness growing up, but this version is all natural and actually good for you so there's no guilt!
All you need are a few simple ingredients, unsweetened almond milk, frozen very ripe bananas, frozen cherries, cocoa powder and a blender. I recommend using a Vita-Mix if you're planning on making blender ice-creams frequently (along with smoothies, blended soups, salad dressings and home ground flours). But you can also use a regular blender or food processor (just make sure to let the bananas defrost a little and chop them into smaller pieces to make them easier to blend.
In my Vita-Mix this recipe is ready in about 30-60 seconds (reg blender a minute or two) so it's easy to whip up. You can also serve it as a snack or a light meal instead if you want to! I often make blender ice-cream for my family or dinner guests and everyone raves about how delicious it is, they can't even tell it's vegan. All they know is it's some delicious soft serve ice-cream. I hope you like it too!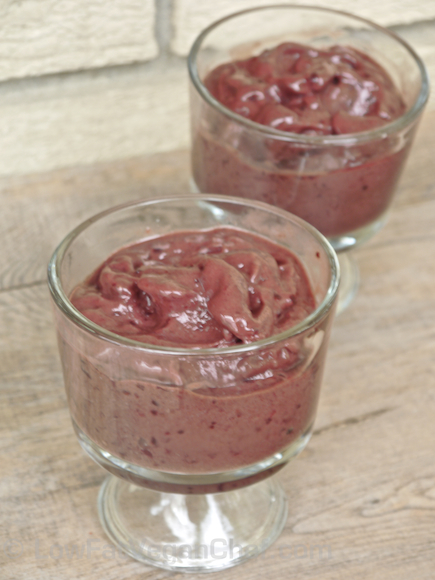 Vegan Chocolate Cherry  Blender Ice Cream
Serves 1-2
Ingredients:
1/2 cup unsweetened almond milk, or other non dairy milk
1 tbsp cocoa or cacao powder
1 large frozen banana (make sure it's very ripe before freezing, this makes your ice-cream naturally sweet)
1 cup frozen pitted cherries (often found at the grocery store or Costco)
Directions:
1. Place ingredients into blender or Vita-Mix in order listed. (If using a regular low powered blender make sure to let the frozen bananas sit for 2-3 minutes on the counter to partially defrost. Then slice them into small chunks so they become easier to blend. Also cut the cherries in half.)
2. Blend the ingredients on medium low to medium speed. If using a Vita-Mix use the tamper to plunge the frozen fruit down into the blades until well combined (30-60 seconds). If using a regular blender or food processor stop the blender periodically to stir as needed. Blend until smooth and cocoa is evenly distributed.
3. Serve immediately. Blender ice-cream is best eaten fresh, but can be frozen if needed.
Variations:
Instead of cherries you can add different berries such as frozen blackberries, raspberries or strawberries. But you made need to add additional sweetener if using tart berries such as a tablespoon of maple syrup.
For regular chocolate ice-cream, substitute another banana for the cherries.
Have you ever had banana ice-cream before? How do you make it?