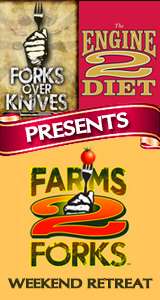 Hey everyone!
I'm going to be attending the Farms2Forks event in LA April 12-14 this year (not as a presenter) but I'm very excited. Why? Because live events are awesome. You get to fully immerse yourself with great information, great food and meet so many inspiring people to get you jazzed up about a low fat vegan and plant based lifestyle.
Last year I attended one of Dr. McDougall's 3 Day Advanced Study Weekends and it was such a positive experience for me I want to try to attend more of these types of events.
This year it's Farms 2 Forks because I have yet to meet the Esselstyn's and Jeff Novick who are offering great lectures I haven't attended before. I also get to listen to Dr. Matthew Lederman (featured in Forks Over Knives) and Dr. Doug Lisle (author of The Pleasure Trap) who I've previously met and were a pleasure to learn from as well.
It's wonderful to get all these plant based experts and doctors in one place because they have so much knowledge and experience we can learn from.
Dates:
Los Angeles, CA April 12-14 – Farms 2 Forks
Chicago, IL May 24-26 – Farms 2 Forks
Atlanta, GA June 28-30 Farms 2 Forks
Claverack, NY Aug 17-18 – Plant Stock @ Esselstyn Family Farm
Full details HERE
These events will cover breakfast, lunch and dinner throughout the weekend, and provide plenty of refreshments and snacks during the breaks.
You'll hear important information from Dr. Caldwell Esselstyn (author of Prevent and Reverse Heart Disease), Dr. Matthew Lederman, (featured in Forks Over Knives), Rip Esselstyn (author of the The Engine2 Diet), Jeff Novick, RD. (featured on Vegsource.com and in the McDougall Program) and Doug Lisle (author of The Pleasure Trap).
You'll also learn tips on shopping and preparing healthy meals at home and have a wide variety of oil free low fat plant based meals to choose from at each meal. (Endless delicious healthy food? Who DOESN'T love that?)
So if you're looking for a way to immerse yourself in a healthier diet and get an insider look at the "how's" and "why's" of a plant strong diet this is the perfect opportunity for you.
And who knows you may even see me at the LA event and get to meet me and say hi in person!
For full details go HERE.
And feel free to share this page with anyone you think might be interested.