Stir fry may be something many of you have made before, but I guarantee you've never made it with my homemade Chinese Garlic Ginger Sauce recipe. I'm going to show you how to make stir fry without any oil, but with tons of flavour. With fresh garlic, fresh ginger and a little soy sauce you can make your own delicious stir fry sauce so there's no need to rely on store bought ones with MSG and high fructose corn syrup. You can also make it in advance to use later on and just store it in the fridge.
I'm not a fan of store bought dressings or bottled sauces because of the questionable ingredients they often contain so hopefully with my video you'll see you can make your own and have them be just as tasty too!
To subscribe to my Youtube channel please click on the video to open it in a new browser and hit the subscribe button beside LowFatVeganChef just under the video. Likes are always appreciated as well!
What I do to save money buying pre cooked brown or white rice (for fast meals) is to cook up a big batch in my Zojirushi 5 1/2 cup rice cooker and then I have enough for that night's meal plus extra to store in bags or tupperware in the fridge or freezer for later. Just a note, cooked rice holds a lot of moisture and must be eaten within 3 days if left in the fridge due to bacteria growth. So please use it within this time or freeze it for food safety. Also you must let it cool before placing it in the fridge or freezer to minimize the bacteria growth as well.
Additionally if you'd prefer to just buy pre cooked brown rice to always have on hand you can check out Uncle Ben's Ready Rice Pouch or Steamed Brown Rice Bowls and microwave it shortly before your dish is ready.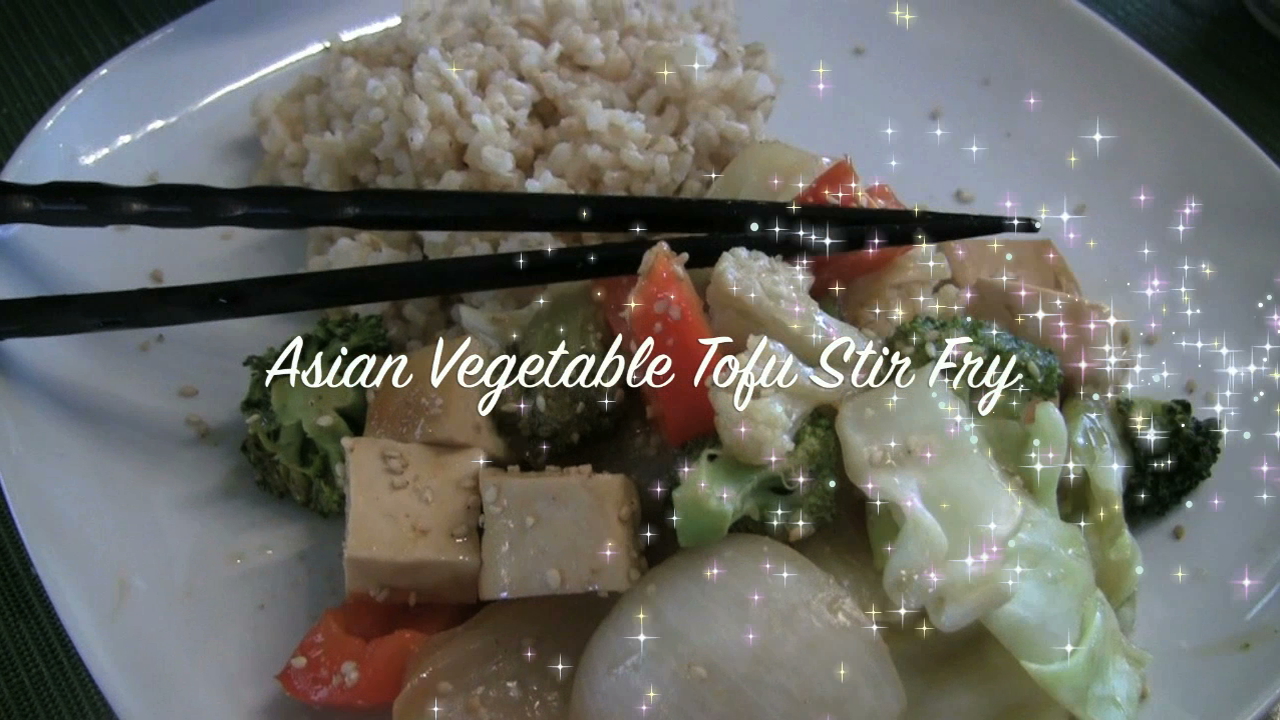 20 Minutes To The Table Recipe for Episode 3
Asian Vegetable Stir Fry with Tofu
Serves 4
Ingredients:
1 package firm or pressed organic tofu, sliced into cubes
1 small onion, peeled and quartered
1/2 red bell pepper, sliced
1/4 green cabbage sliced
3-4 cups broccoli, cauliflower, carrot mix (or stir fry mix)
1 bag of pre cooked brown rice or 3-4 cups fresh cooked (I used homemade)
Chinese Garlic Ginger Stir Fry Sauce
Ingredients:
1/2 cup water
1/4 cup low sodium soy sauce
1/2 cup vegetable broth low sodium
2 tbsp rice vinegar
3-4 tbsp maple syrup or sugar (as needed to balance the spice/acidity)
3 cloves of garlic
1 inch ginger, minced
1/2 tsp granulated onion powder
1/4 tsp white pepper
2-3 tbsp cornstarch (depending how thick you want it)
Directions:
1. Prepare the sauce. You have two options you can either blend it all together and gently heat it until thickened (this does produce some foam from the ginger/garlic fibre so I scooped that off) or you can just mince the ginger and garlic and put everything together in a pan and heat until thickened. Set aside.
2. Prepare the tofu and heat over medium high heat in a non stick pan. Add a little ginger garlic sauce to cook it in. Let it cook for a few minutes while you prepare your veggies.
3. Add the vegetables and stir well. Place a lid over the vegetables and cook 4-6 minutes (depending how big your vegetables are). Taste test, stopping when crisp tender. Heat your rice (if using bagged pre cooked rice) in the microwave for 60-90 seconds.
4. Drizzle in some more sauce and toss to combine.
5. Serve stir fry over rice and drizzle with more sauce as desired.
Enjoy!
What are your favorite stir fry ingredients? What sauce do you usually pair them with?