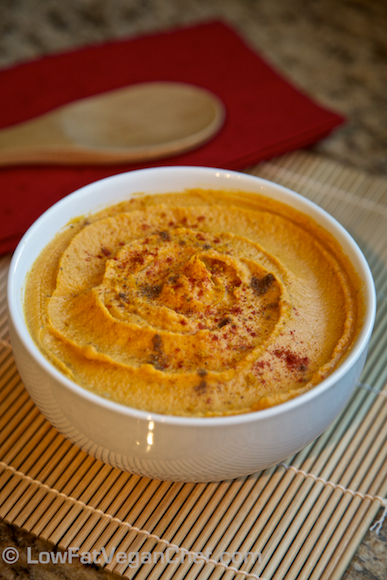 Oh my goodness this yammus yam/sweet potato hummus is deeeeeelicious!
Now you may have seen this available at the store before but I have to tell you making your own is absolute heaven! Plus you get about double the amount for half the price and it's super duper easy to make.
I love making hummus any time of year to eat with fresh crunchy veggies such as celery, cucumber, zucchini, carrots, bell peppers and more. Pretty much anything you love to dip, you can dip into this delectable yammus/sweet potato hummus recipe and I promise you that you will fall in love with it!
I've added some smokey savory spices to kick up the mild yam flavor such as roasted cumin, curry powder and smoked paprika which is a delight mixed with the sweet notes of the yams/sweet potatoes and the apple cider vinegar.
Especially if you are not a fan of traditional lemony/garlicky hummus I know you will like this because it has a lot of flavor without any of the harsh bite. It's also great to use to slather in vegetable sandwiches, wraps, pitas and more instead of high fat mayonnaise.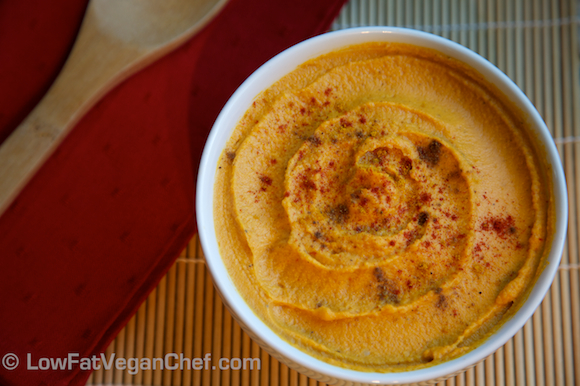 And best of all because it's low in fat, it's lower in calories so there's no guilt if you eat a bowl of it with a plate of veggies for a meal or snack. All you need to make your own yammus/sweet potato hummus is a food processor or high powered blender with a plunger (such as a Vitamix). The natural moisture in baked yams/sweet potatoes makes it easy to cream together with chickpeas and just a touch of tahini.
If you're looking for something fun yet healthy to serve this summer at potlucks, barbecue or dinner parties, this yammus is sure to be a hit. No need for the standard ranch dip and veggies or bland and oily store bought hummus. Plus when you make your own dips, you can control the amount of fat, salt and spices you put in it and come up with your own perfect combo of deliciousness to dip your veggies into!
Check out the recipe below…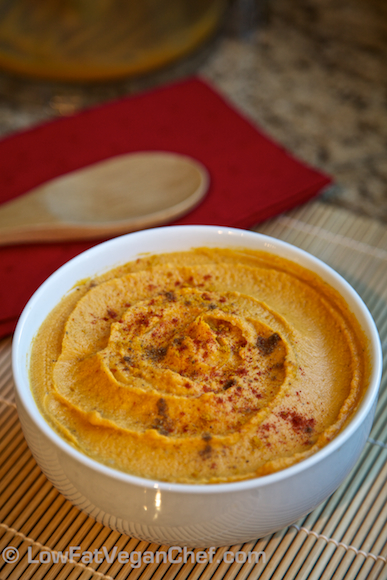 Low Fat Vegan Yammus or Sweet Potato Hummus
(yields approx 3 cups)
Ingredients:
1 1/4 cups mashed yam/sweet potato (1 lb/454g yam/sweet potato; I used 2 small)
2-3 cloves garlic (roasted garlic is even better, I used previously frozen garlic cloves as its not as strong as raw garlic)
1 15 oz. can sodium free chickpeas/garbanzos, drained (reserve some liquid and set aside)
2-3 tbsp chickpea liquid (or as needed to cream hummus)
3 tsp apple cider vinegar
1 tablespoon tahini
1 teaspoon cumin
1/2 tsp curry powder
1/2 tsp smoked paprika
1/4-1/2 teaspoon Herbamare or salt (or to taste)
Fresh ground pepper to taste
Directions:
1. Poke holes in yam/sweet potato and bake at 400 F/205 C for 45-60 minutes (depending on size). Set aside when cool.
2. Pulse garlic in food processor until chopped and then add remaining ingredients. (Make sure to slice open and peel yam/sweet potato and scoop flesh out, don't use the peel.)
3. Process until smooth and adjust consistency as desired with reserved chickpea liquid. Adjust seasonings to taste.
4. Serve with veggie sticks, veggie rounds, pita and more!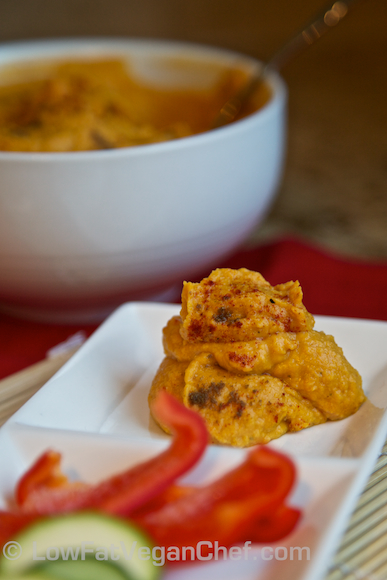 Enjoy 🙂
Have you ever tried yammus or sweet potato hummus? What do you like to eat it with?